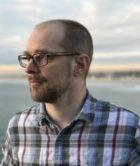 DeWitt Wallace Professor of English
Narrative across the disciplines.
Old Main, 200
[email protected]

James Dawes teaches narrative across the disciplines. His research and courses focus on the ethics and aesthetics of storytelling in fields ranging from creative writing and video game design to international human rights advocacy.  He is the author of several books, including Evil Men, winner of the International Human Rights Book Award, and That the World May Know: Bearing Witness to Atrocity, Independent Publisher Book Award Finalist. He has written for or appeared as the feature guest on media outlets ranging from National Public Radio, the BBC, and Bulgarian National Radio to the Boston Globe, the Chronicle of Higher Education, and CNN.com. He was a Junior Fellow at the Society of Fellows, Harvard University. He received his Ph.D. in English Literature from Harvard University and his M. Phil. from Cambridge University.
In the News
UN fails to agree on 'killer robot' ban as nations pour billions in Autonomous weapons research – James Dawes
The Conversation, Reprinted by over two dozen other news outlets. (December 20, 2021)

The world can halt an arms race over killer robots. Why is the Biden administration standing in the way? – James Dawes
The Washington Post, Opinion section (December 16, 2021)

An autonomous robot may have already killed people – here's how the weapons could be more destabilizing than nukes – James Dawes
The Conversation (September 29, 2021)
The case for and against autonomous weapons systems – James Dawes
Nature Human Behaviour (August 21, 2017)
To understand perpetrators we must care about them – James Dawes
openDemocracy (March. 22, 2017)
Graphic Violence: When Is It Ethical to look? – James Dawes
Australian Broadcasting Corporation RN (Apr. 9, 2015)
Are We Prepared to Bear the Moral Paradox of Evil? – James Dawes
Australian Broadcasting Corporation (Sept. 5, 2014)
Can We Forgive War Criminals? – James Dawes
TTBOOK interview – Wisconsin Public Radio (Sept. 13, 2013)
'Evil Men' by James Dawes
The Washington Post (Aug. 9, 2013)
Understanding Evil
The Chronicle of Higher Education (July 1, 2013)
Evil Men: James Dawes
CBC Radio's The Current (June 6, 2013)
Speaking of Evil
The Brooklyn Rail (June 3, 2013)
Is Empathy Bad?
Harvard University Press Blog (June 3, 2013)
Appearance on Moncrieff
Newstalk Ireland (May 31, 2013)
Evil Men by James Dawes
Times Higher Education (May 30, 2013)
Why a man eats another man's heart
CNN Opinion (May 15, 2013)
Any good from evil?
WNYC Radio – The Brian Lehrer Show (May 13, 2013)
James Dawes describes the complexity of war criminals in 'Evil Men'
MinnPost (May 1, 2013)
Book pick: 'Evil Men' by James Dawes
Minnesota Public Radio (April 30, 2013)
"Conversations with evil men"
This article about the book Evil Men appeared in the Boston Globe (April 28, 2013)
Book Review: Evil Men
South China Morning Post (April 21, 2013)
Presentations
Write Well series video: Every Sentence is a Sandwich
Digital Student Projects
Areas of Study
American literature
Countercultures
Human rights
Literary and language theory
Violence and trauma
Literature and Philosophy
 Fall 2023 Courses 
ENGL 137-01 Novel
ENGL 150-01 Introduction to Creative Writing
Spring 2024 Courses
ENGL 224-01 Video Games: Coding and Narrative
ENGL 265-01 Literature and Human Rights
ENGL 294-01 Dickinson