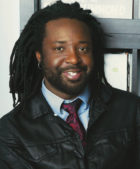 Emeritus Status, English
Creative Writing, fiction, post colonial literature, southern literature, Latin American fiction, criticism and blogs.
Marlon James was born in Jamaica in 1970. His novel, A Brief History of Seven Killings, won the 2015 Man Booker Prize, making James the first Jamaican author to take home the U.K.'s most prestigious literary award. The novel also won the American Book award, the Anisfield-Wolf Book Award, and the Minnesota Book Award. It was a finalist for the National Book Critics Circle Award and was a New York Times Notable Book. Professor James is also the author of The Book of Night Women, which won the 2010 Dayton Literary Peace Prize and John Crow's Devil. His next novel, Black Leopard, Red Wolf will be published in February 2019.
Professor James graduated from the University of the West Indies in 1991 with a degree in Language and Literature and from Wilkes University in 2006 with a Master's Degree in creative writing. His short fiction and nonfiction have appeared in Esquire, Harpers, The New York Times, Granta, GQ, and the Caribbean Review of Books. When James taught at Macalester College, he focused on Contemporary Fiction, Narrative Nonfiction, and introductory poetry.
Fellowships and Honors
Man Booker Prize (2015)
Minnesota Book Award for Fiction (2010, 2015)
Anisfield-Wolf Fiction Prize (2015)
OCM Bocas Fiction Prize for Caribbean Literature (2015)
Council For The Institute Of Jamaica Silver Musgrave Medal For Distinguished Eminence in the Field Of Literature (2013)
Go On Girl Book Club Author Of The Year (2012)
The Dayton Literary Peace Prize (2010)
Finalist, National Book Critics Circle Award For Fiction (2009)
Finalist, NAACP Image Award (2009)
Finalist, Commonwealth Writers Prize (2006)
Publications
Fiction (Novel)
Moon Witch, Spider King                                         Riverhead                  2022
Black Leopard, Red Wolf                                          Riverhead                  2018
A Brief History of Seven Killings                             Riverhead                  2014
The Book Of Night Women                                      Riverhead                  2009
John Crow's Devil                                                      Akashic Books           2005
Fiction (Short Story)
"How To Be A Man"                                                   Esquire Magazine      2013
"Immaculate" (Kingston Noir)                                 Akashic Books            2012
"Look What Love Is Doing To Me,"(Bronx Noir)    Akashic Books           2007
"The Last Jamaican Lion," (Iron Balloons: Hit
Fiction From Jamaica's Calabash Workshop)         Akashic Books            2006
Nonfiction
"Why I'm Done Talking About Diversity," [Lit Hub, Fall 2016]
"Blacker the Berry —On Kendrick Lamar" [The New York Times Magazine
(March 2016)]
"From Jamaica, To Minnesota, to Myself" [The New York Times Magazine
(March 2015)]
"The Other Caribbean City" [New Orleans: What Can't Be Lost: 88 Stories And
Traditions From The Sacred City] Lee Sophia Barclay, ed. The University of
Louisiana at Lafayette Press, (Fall 2010)]
"Growing Up With The King Of Pop," [Granta. John Freeman, ed. (June 2009)]
"Jean Rhys' Worthless Women," [The Caribbean Review Of Books. Nicholas
Laughlin, ed. MEP Publishers (2008)]
"When You're Not White Enough To Write a Black Novel." [The Caribbean Review Of Books. Nicholas Laughlin, ed. MEP Publishers (2006)]
Reviews
The Island Beneath The Sea, by Isabelle Allende  [Publisher's Weekly. Jonathan Segura, ed. Reed Business (April 2010)]
Wonder Boy: Junot Diaz's The Brief Wondrous Life Of Oscar Wao [The Caribbean
Review Of Books. Nicholas Laughlin, ed. MEP Publishers (2008)]
Words To Our Now: Imagination and Dissent, by Thomas Glave" [The
Caribbean Review Of Books. Nicholas Laughlin, ed. MEP Publishers (2006)]