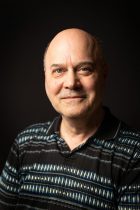 Associate Professor (NTT)
Focuses on issues of representation in media, film and journalism. Publications address representation in visual journalism and documentary, and media treatments of social identity, community, environmental issues, and war and conflict.
Humanities 300
612-998-3512
[email protected]

Michael Griffin teaches courses on the history and analysis of film and photography, media representation, media and culture/society, media institutions, journalism and community media.
Griffin earned his PhD in visual communication and media studies from the Annenberg School for Communication at the University of Pennsylvania, where he also received a CBS Dissertation Fellowship for his work on the industrial shaping of visual aesthetics. Later, he was one of five winners internationally of an Annenberg Scholars Program Post-Doctoral Fellowship for research on visual imagery in television news. Griffin has worked as a documentary filmmaker, edited the Visual Communication Area of The International Encyclopedia of Communication, and has three times been elected Chair of the Visual Communication Studies Division of the International Communication Association (ICA). He has received publication awards for most cited articles in the journals Media, War & Conflict, and Journalism: Theory, Practice & Criticism, and was awared the Honorary Stans Lecture in American History and Politics, "War Images and American Memory," at the Minnesota History Center.
Griffin has advised more than one hundred Ph.D., MA and undergraduate senior theses at the University of Minnesota, the University of Amsterdam, Carleton College and Macalester College, and was named a President's Distinguished Future Faculty Mentor and a President's Distinguished Minority Student Mentor at the University of Minnesota.
He writes and teaches on the cultural history, theory and practice of visual representation in film, photography, television, and new multi-media forms, and on the sociology, politics and democratic functions of media institutions and community media. A sample of recent publications include: "Looking Back: The Shifting Public Life of the Abu Ghraib Photographs," in Challenging Communication Research (2013); "Visual Communication," Oxford Bibliographies Online (2013); "Images from Nowhere: Visuality and News in 21st Century Media," In Visual Cultures: A Transatlantic Perspective (2012);"Media Images of War," Media, War & Conflict 3(1) (2010); "Art as Communication," The International Encyclopedia of Communication 2010; Visual Competence and Media Literacy: Can One Exist Without the Other? Visual Studies 23(2) (2008); "Picturing America's 'War on Terrorism' in Afghanistan and Iraq," Journalism: Theory, Practice, Criticism 5(4) (2004); and "For local political coverage, we need community-based media," the Twin Cities Daily Planet 2010. He frequently comments on contemporary media issues for numerous media outlets and community organizations.
Spring 2023 Office Hours: Tuesdays 3:00-4:30pm and Wednesdays and Fridays by appointment.