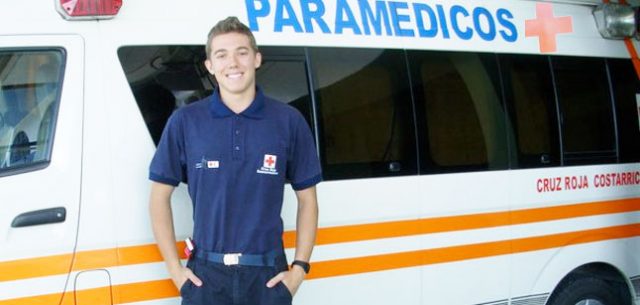 Chopping through 30 miles of jungle on a search and rescue mission while avoiding poisonous snakes and wild boars was just one of the adventures I had last year with a Costa Rican paramedic unit. 
While studying abroad last spring in Costa Rica with the Associated Colleges of the Midwest field research program, I volunteered on a paramedic ambulance for the Red Cross and responded to more than 300 calls, including traffic accidents, fires, farming accidents, domestic violence, women in labor, and even natural disasters. I trained alongside other responders in vehicular rescue techniques using the Jaws of Life, in vertical rescue rappelling on a bridge over a rainforest river, and in other important exercises. 
Though I'd had only a few Spanish classes at Mac, I chose to do my research in a rural town near the Caribbean called Guapiles, where no one spoke more than a few words of English. The Red Cross allowed me to work for them because I had experience as a firefighter/EMT in my hometown of Chipita Park, Colo., where I've been a member of the volunteer fire department since 2010. For more than two months I worked 50 to 60 hours per week answering 911 calls with local responders and, once my Spanish improved, I was able to give much-needed assistance to people in need of medical care.  
My ambulance was one of only two paramedic units serving a 400 square mile area of the country with a population of 200,000. Because of a lack of resources, rural Red Cross committees can only have paramedics and advanced life support equipment on call during the day and not during the night. Often, I worked through the night, when my help was needed most.  
Although I collected data from every emergency response, my research looked specifically at response to traffic accidents. Using data from 41 accidents I responded to, and more than 600 accidents from the Guapiles records, I generated statistically verified functions that modeled with surprising accuracy traffic accident frequency at different times of day and days of the week. 
Using these models I made recommendations to the Costa Rican Red Cross about the strengths and weaknesses of their accident response system and what times of the day and week are most important to have advanced life support and rescue systems on call. I believe these recommendations will save lives in Costa Rica, and now I'm working on adapting my method to be applied to other emergency response systems. 
In medicine I'm as interested in the patient contact side as the research side, and being in Costa Rica I got a ton of experience working with patients from a very different culture. I learned firsthand that many people die of treatable injuries and illnesses because they lack basic health services, such as fully equipped ambulances and clinics. I had the most intense experiences of my life in Costa Rica, and came away with a changed worldview. 
Andrew Flynn '12, a studio arts major who is also taking pre-med classes, plans to take a year off after graduation before attending medical school.