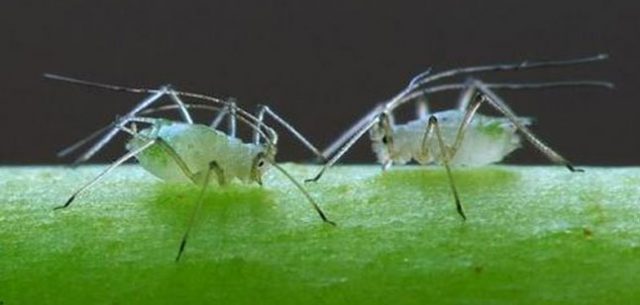 Who could have foreseen that three years later the women would have their research published in the peer-reviewed journal PLOS One?
Death, Devastation, Blood, War, Horror, and Mathematics was the name of the first-year course that won over Olivia Warner '14 and Christa Nilsen '14. Applied math, they decided while taking the class taught by Chad Topaz, made an interesting lens for looking at catastrophes. Who could have foreseen that three years later, mentored by the same professor, the women would have their research published in the peer-reviewed journal PLOS One?
Both students note their research is built on work done by previous Macalester students working with Topaz as well as article co-authors John Paige and Benjamin Mayhew, both seniors. The research in question deals with the phenomenon of swarming, in this case the swarming of aphids. Previous researchers collected data on actual aphids in the lab. Nilsen and Warner analyzed the data—over one million observations—to see if the movements of aphids were influenced by the proximity of other aphids. The answer: Yes.
Why do the social interactions of aphids matter? "Aphids are crop pests," says Warner, who is from Little Falls, Minn. "Understanding their behavior may help us control them, which could have significant implications for farmers and the economy." Warner is majoring in economics as well as applied math and statistics. Her economics honors project investigates how a student's academic major and type of college impacts future earnings. She hopes to work in applied mathematics or quantitative analysis after graduation.
Nilsen, from Springfield, Mass., is majoring in math and educational studies and hopes to become a teacher. "Last summer I ran into a problem in my code that was difficult to resolve. Chad advised me as I worked on debugging, and I tried a billion little changes until one worked."
One of the most valuable lessons of their research, they agree, was the importance of remaining persistent in the face of obstacles. That quality has helped Warner in her honors work and it informs Nilsen's approach to teaching: "The old idea of memorizing important stuff is giving way to showing kids how to filter excess information and use that information." Nilsen has spent the last two winter breaks working with math students at her old school in Springfield. She has also served as a preceptor in several Macalester math classes.
Topaz praises his student researchers, whose work was supported by his National Science Foundation grant and a grant to Macalester from the Howard Hughes Medical Institute. "Though creating new knowledge via scientific research often sounds daunting to students, they're often surprised that, as with so many other things, it's a learned skill," Topaz says. "Christa and Olivia were fearless, diligent, organized, and astoundingly quick learners. By the end of the first week they fully understood the biological problem they were studying and the data set that had been gathered. By the fifth week they had a well-developed mathematical model. By the final week their research was complete and the manuscript was nearly finished."