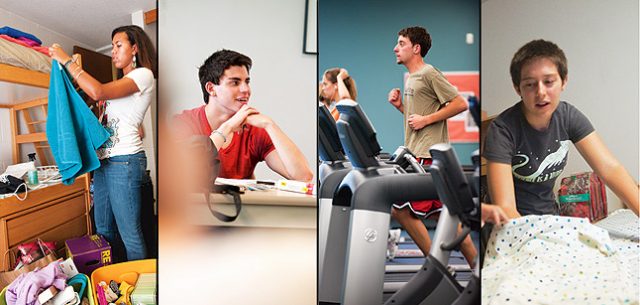 Three years ago we introduced a quartet of new Macalester students. Now that they're seniors, it's time for another visit.
Three years ago Macalester Today profiled four freshmen as they navigated their first year at college. When last we spoke with our Class of 2014 quartet—Ben Bernard, Sam Leopold-Sullivan, Sebastian Martinez Fernandez de Cordova, and Kiah Zellner-Smith—they were still finding their way at Mac. They were making friends, enjoying a variety of classes, and getting used to the Midwest climate, unsure of summer plans, much less life ones.
Half of that group stuck with their original majors: Sebastian and Sam knew from the first that economics and art were for them; they'll graduate in May with degrees from those departments. The other two, perhaps more characteristically of liberal arts students, changed their minds a few times along the way. Kiah ended up majoring in American studies and educational studies and Ben in economics, having started in French and English, respectively.
Coursework, study abroad, internships, extracurricular activities, and friendships have forged our foursome into different, far more grown-up and thoughtful people than they were when they last appeared on these pages.
Macalester Today caught up with the four during fall semester of their senior year. Following are some highlights from those conversations. See for yourself what a difference a few years can make.
Kiah Zellner-Smith
(Minneapolis)
On finding a fit: During the fall of her junior year Kiah, who was already majoring in American studies, took—and loved—two education classes, that led her to add Educational Studies as a second major. "Equity and diversity is my focus," she says. "Now I'd like to attend graduate school in educational policy or administration."
On study abroad: Kiah wanted to live in a country where she wouldn't stand out as a mixed race person and where she could explore race relations as experienced in a country outside the U.S. "I focused on Brazil for those reasons, and was lucky to find a new program that didn't require Spanish or Portuguese," she says. "The first semester I was really homesick, but eventually I learned to love Rio de Janeiro for both its darkness and lightness and learned a lot about my own inner strength." She also worked as a video blogger and last summer was named IES Abroad's video blogger of the year. She spoke about the Rio program at the group's national conference in October.
What's next: "Next year is still uncertain— I'll probably travel and work. I also just applied for an intensive summer workshop with the Institute for Recruitment of Teachers, which prepares students of color for graduate school."
Sebastian Martinez Fernandez de Cordova
(Quito, Ecuador)
On finding a fit: "I was always interested in the big questions in economics and international relations but I never expected to find a passion for finance. I just love it," says Sebastian. "I've been especially influenced by two people: an alum named Khaled Habayeb '03, who has given me school and career advice as well as a tour of his New York office, and economics professor Joyce Minor, who taught me investment banking."
On taking advantage of the liberal arts: As a senior, Sebastian is taking lots of art classes, including acting, "which is amazing," he says. "I like it because it's very different from anything I've ever done before. I'm also taking ceramics—honestly, it's great to do something new."
On failing as a strategy: His biggest accomplishment at Mac, he says, "has been to recognize my failures and grow from them. Most people think failure is bad but actually it's a great tool for innovation and self-discovery."
What's next? Like many seniors, he's unsure, but speculates about interning in Europe or landing a job in the U.S. Sebastian has no plans to move home to Ecuador. "Eventually I want to earn an MBA, but first I need some work experience."
Ben Bernard
(Concord, Mass.)
On finding your major: Ben spent his first two years taking various classes, especially in English and political science because that's what he excelled at in high school. His advice to new students? "Take classes that terrify you because sometimes those are the most rewarding."
On study abroad: Spending a semester directly enrolled at University College London, studying entrepreneurship and e-business, was an eye-opener for Ben. "It was amazing to be exposed to a new kind of college atmosphere," he says. "That school has lots of older students and people from all over the world. I studied with people from Africa and Greece and took business niche classes that Mac just can't offer."
What's next? Ben is working with another Mac student on an Internet startup called One Music Portal, a site designed to help people discover and discuss music. "We're shopping around for funding right now, and I hope to keep working on this startup after graduation."
Samantha Leopold-Sullivan
(Tucson, Ariz.)
On study abroad: Sam spent last semester in Copenhagen, Denmark, at the Danish Institute for Study Abroad program, where she especially enjoyed classes in Scandinavian textile design and integrated sustainability. She also traveled to Sweden, Finland, and Scotland.
On art immersion: As co-leader of both ArtAlliance and MacYARN and a member of MacPics, Sam is deep into the Mac arts scene. She also works as a student supervisor in the Art and Art History Department, helping teachers prepare studios for classes and installing shows in the Art Gallery.
On a risk that paid off: "Moving off campus with friends has been great, both for quality of life and for the quality of schoolwork I've gotten done. I do better when I have some space."
What's next? Sam plans to take a year off to work and make art in the Twin Cities, and then apply for an MFA program. "I hope to make my living making and teaching art—with a focus on sustainability."