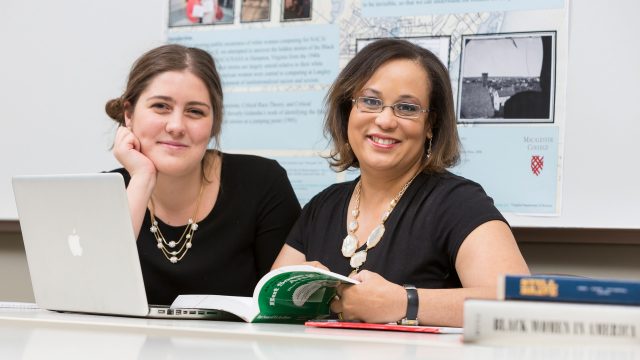 "After being onsite at [the former] Chesterville Plantation, now part of NASA, the honors thesis chapter essentially wrote itself with the emergence of uncanny connections to slavery." — Lucy Short '15
Editor's Note: Congratulations to American studies professor Duchess Harris on the publication of her book this month, "Hidden Human Computers: The Black Women of NASA." Harris' grandmother was among the 11 black women mathematicians hired by NASA during World War II. The movie Hidden Figures is also based on their story. The story below is the about how Harris, along with Lucy Short '15, researched this work and was featured on our website last year.
Dozens of African American women worked for NASA as expert mathematicians from the 1940s to the 1960s and almost no one knows about it. Segregated within NASA facilities in Hampton, Va., well-educated Black women used slide rules and pencils to do the calculations for flights by astronauts John Glenn and Alan Shepherd. 
That this history is little known makes it ripe for research by collaborators Lucy Short '15 (St. Louis) and American studies professor Duchess Harris, whose grandmother, Miriam Daniel Mann, was one of these extraordinary women. 
Their collaboration began when Professor Harris invited Short, an American studies major, to join her in researching the human "computers," as these women and their White women counterparts were known. 
Professor Harris found this project compelling not solely because of her grandmother's work, but because, "I am the descendant of enslaved Africans who became the first free Blacks in America. Because of them, I am here." 
They applied for and received a student-faculty research grant that supported travel to Hampton, home of the National Advisory Committee for Aeronautics, now known as NASA's Langley Research Center. There they met with local collaborator Margot Lee Shetterly (a Black descendant of Confederate general Robert E. Lee and daughter of retired NASA engineer Robert B. Lee) as well as historians at the Hampton History Museum and at NASA. They also visited the archaeological site of the Great Contraband Camp, a community of freed Blacks. 
In 1831, Virginia enacted anti-literacy legislation to prevent the education of slaves and freedmen. But in the 1860s, thanks to the efforts of educator Mary Smith Peake and sympathetic generals at nearby Fort Monroe, former slaves had their first opportunities to obtain an education, culminating in the Hampton Normal and Agricultural Institute (now Hampton University), which became the alma mater of Booker T. Washington and scores of other Black educators and leaders. The Black women who became the computers at NASA were required to first take a course at Hampton.
 "While we were touring NASA, Mary Gainer, the center's historic preservation officer, pointed out a building used by the computers," says Short.  Professor Harris asked, 'Is that where my grandmother would have worked?' 
"'No,' she said. 'That's where the White women worked. The Black women were in another building about a mile away, on the other side of the gate.'" These were women calculating the trajectories for America's first manned space flights—segregated in a building with few amenities at a research center built on the site of the former Chesterville plantation. 
The interconnections of the computers, the plantation, pioneering educational efforts, and a community of freedmen interested the Virginia Foundation for the Humanities, which provided a grant for Shetterly, Short, and Harris to expand their study. This grant was followed by a sustainability grant from Macalester, which allows further exploration of this unsustainable, segregated way of life.
 Short is continuing the research as part of her senior honors project, which focuses on Black feminism. Another product of this work is a digital archive, Human Computers at NASA, developed in collaboration with the Macalester Library. 
 "The project has been a wonderful culmination of my American studies major," says Short. "After being onsite at [the former] Chesterville Plantation, now part of NASA, the honors thesis chapter essentially wrote itself with the emergence of uncanny connections to slavery. I feel so lucky to have support from Macalester to pursue research on a microcosm of the invisibility of Black women's bodies."