Macalester students each have a unique story and experience to share. With diverse backgrounds, varied interests, and curious minds, they'll answer your questions and share helpful advice.
Let's connect
What time works for you?
You can select from a range of dates and times to chat. We'll send you all the information you need to connect. If you're curious about the students you'll talk with, take a glimpse at their profiles shown below on this page.
Mac Students Participating in Chats
When you schedule your chat, the student designated for that time will reach out, and they'll be ready to share their experiences and answer your questions.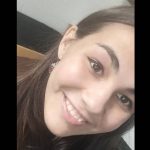 Aliya Nadeeva (she/her/hers)
Kazan, Russia
Aliya is a first-year student at Macalester, hailing from Russia. In high school, she attended UWC Red Cross Nordic in Norway. She hopes to major in Computer Science or Economics and minor in Music and German. In her free time she loves skating and outdoor activities.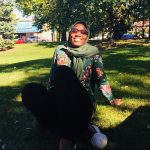 Anna Diagne Sène (she, her, hers)
Dakar, Senegal
Anna is considering majors in Political Science, International Studies, and Arabic. When she's not in class she's involved in Student Government, the campus newspaper, the poetry team, and the Muslim Student Association. She also works as a student coordinator of the Global Ambassadors Program in the International Admissions Office. Born and raised in Dakar, Senegal, she completed high school at the United World College in Norway. Outside class, she loves reading, writing poetry, and volunteering with orgs on and off campus.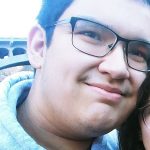 Anthony Chin (he/him/his)
Cleveland, Ohio
Anthony is a Psychology major who also did an internship with the Minnesota DFL. He likes to explore local restaurants and has been involved with student advocacy around climate justice and equity.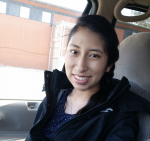 Ashley Vargas (she/her/hers)
Aurora, Colorado
Ashley is a first-generation Latinx college student, majoring in Political Science with minors in Psychology and Statistics, and a concentration in Legal Studies. After being named a Chuck Green Fellow, she interned with the Hennepin County Attorney's Office, and considers the collective experience to be life-changing. Ashley knows the Twin Cities has connected her to incredible law firms…and incredible restaurants.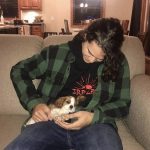 Brahim Bouzrara
Minneapolis, Minnesota
Brahim is a History major and a Spanish minor. He's a member of the Macalester Muslim student association and co-leader of Macaleskaters, the Mac skateboarding club.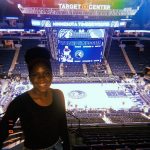 Ceilidh Smith (she/her/hers)
Brooklyn, N.Y.
Ceilidh is interested in a Biology major with a concentration in Community and Global Health. Being from New York, Ceilidh wanted to experience something different than a large, crowded place. The small class sizes and the connection between professors and students drew her to Mac.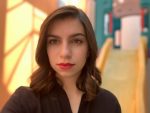 Diana Paz Garcia (she/her/hers)
Mexico City, Mexico
Diana majors in Political Science & International Studies with a concentration in Human Rights and Humanitarianism. She's ready to share information on student organizations, research with professors, internship opportunities, and where to get the best tacos in the Twin Cities. She began her time at Mac with Lives of Commitment—a program focused on community engagement in the Twin Cities.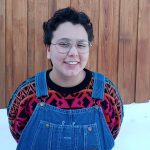 El Alcala (they/them)
Austin, Texas
El is a first year student who academic interests include Studio Art and Psychology. El has joined Chorale, the Trans Identity Collective and a Career Connections mentoring program. They've also discovered the Twin Cities are a great spot for bird watching!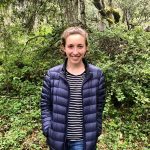 Ella Rehman (she/her/hers)
Burlingame, California
Ella is an English major and an Art History minor. She's involved with Macalester literary magazine, Chanter, and also volunteers with Habitat for Humanity and Macalester's Program Board.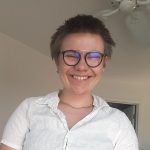 Erin Leary (he/she/them)
Reno, Nevada
Erin is a Physics major who is also interested in Environmental Studies. They are also involved in the radio station and the sketch comedy club on campus. Look for Erin to be exploring local museums. local shops, or volunteering with Habitat for Humanity.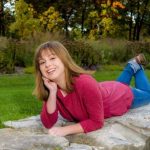 Eva Stromgren (she/her/hers)
Minneapolis, Minnesota
Eva is a Geography major, with a minor in Political Science and a Concentration in Human Rights and Humanitarianism. She has done an internship helping clients apply for United States citizenship. She also participates in Quiz Bowl, yoga, and The Mac Weekly student newspaper.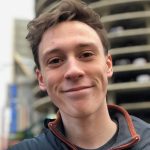 Gabe Reynolds (he/him/his)
Saint Paul, Minn.
Gabe is an Environmental Studies major, with a Community and Global Health concentration. The cities have connected him to jobs, internships, and miles of bike paths. He is continually inspired by the diverse backgrounds of his peers, and he would recommend taking every opportunity you get to learn and experience new things.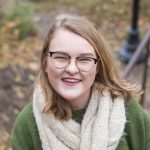 Grace McDonough (she/her/hers)
Stillwater, Minnesota
Grace hasn't declared a major yet, but she is interested in Political Science, International Studies, Middle Eastern Studies and Islamic Civilizations. Originally intent on leaving Minnesota for college, she ultimately fell in love with Macalester's focus on international and civic engagement.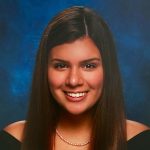 Inaya Laubach (she/her/hers)
Bethesda, Md.
Inaya is a Neuroscience major with a concentration in Community and Global Health. Her desire to give back to her community led her to apply for Macalester's Lives of Commitment program, where she met her first friends at Mac.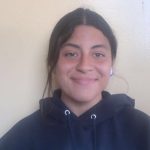 Jade Otoya (she/her/hers)
San Francisco, California
Jade is interested in a pre-law path. She is passionate about political activism and was drawn to Macalester because she was seeking a college with tremendous commitment to civic duty. As a native Californian, she's also learned that gloves are a must-have for enjoying Minnesota winters.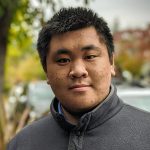 Jason Tran (he/him/his)
San Francisco, California
Jason is a Neuroscience major, with a Chemistry minor, and is on the pre-health professions track. He is a first gen student of color and very interested in a wide variety of things across campus. He's learned how to embrace Minnesota winters, and has also been invloved in the music department and the Mac Esports team.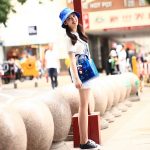 Jiayi Sun (she/her/hers)
Lanzhou, China
Jiayi is pursuing a major in Psychology and a minor in Japanese Studies. She sought a college where internationalism and diversity were priorities, and she found it at Mac. Her first volunteering experience at Macalester was at the Jie Ming Mandarin Immersion Academy, 3 miles from campus.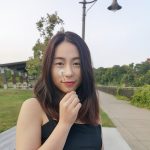 Jiaying Wu (she/her/hers)
Suzhou, China
Jiaying spent her last two years of high school at UWC Dilijan, located in a small town in Armenia. She came to Macalester for its diverse student body, metropolitan location, and its internationalism-fueled courses. Jiaying particpated in the DataFest 2021 Challenge and is a member of the Girls Who Code College Loop. Ask her about being a Computer Science and Applied Math/Statistics major at a liberal arts college. Outside of class, she also loves cooking and exploring restaurants in the Twin Cities!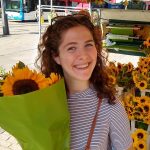 Julia Chamberland (she/her/hers)
Grinnell, Iowa
Julia is an Environmental Studies major, who also has a strong passion for the Arts. You can find her in Concert choir, participating in the current student-led production "Como La Tierra," or working on sustainability and environmental activism efforts.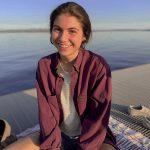 Julia Ricks (she/her/hers)
Carnation, Wash.
Julia is majoring in Geology, with a minor in Biology. She has had great experiences in classes like Dinosaurs and Mineralogy, and enjoys all of the field trips in the Twin Cities and Minnesota. Playing music is a passion of Julia's–she plays trumpet in the Jazz band and started the Macalester pep band.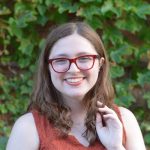 Lizzie Gehling (she/her/hers)
Dubuque, Iowa
Lizzie majors in History and Classical Archaeology. In her first year, Lizzie met her future roommates at a Mac football game, by explaining the game to them in real time. She feels lucky to be so close to the Minneapolis Institute of Arts, which has become one of her favorite museums.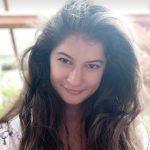 Masa Holocsi (she/her/hers)
Hungary
As a new international student, Masa is grateful for Macalester's tight-knit community. She has discovered that Covid-19 precautions haven't tempered the sense of community on campus and is looking forward to spring in Minnesota.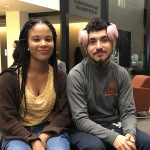 Muriel Ambrus (she/her/hers)
Minneapolis, Minn.
Muriel is considering an American Studies and Political Science double major. She sees now that she didn't need to worry so much about academics. If you put the work in, professors and staff want to support your success. Muriel is from the Twin Cities, so she can recommend sites to visit and places to eat.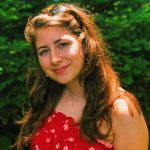 Sage Patchett (she/her/hers)
Evanston, Ill.
Sage is still undeclared, but interested in Biology and English for majors, and an Art minor. Her first-year course gave her the opportunity to take photography in college, explore the Cities, and meet one of her closest friends. She specifically sought a liberal arts education because of the emphasis on comprehensive learning.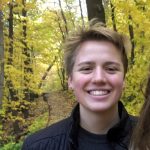 Siri Hoff (she/her/hers)
Northfield, Minnesota
Siri is an Economics major, and also intends to minor in Political Science. She's the Vice President of the MacSwing Dance club, is a peer sex educator, and has played intramural soccer and field hockey. For fun, Siri loves to use public transportation to explore the area's restaurants and parks.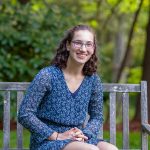 Talia Chait (she/her/hers)
Boston, Massachusetts
Talia's academic interests include Psychology and data science. She's in her first year at Mac and is a member of the Women's Varsity Tennis team, as well as the Student Government Program Board.
Quick questions
Maybe you have just one or two questions and email would work best. Macalester students are here for those too. Just email our ambassadors, and they'll reply with answers, help, and guidance.