Global Ambassador Program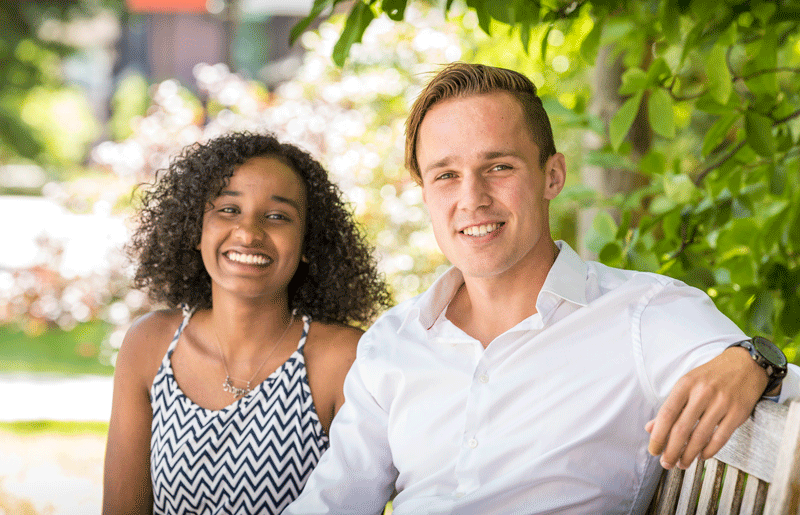 We are the student coordinators of the Global Ambassadors Program and also UWC alumni. This program makes it possible for current Macalester students to serve as resources for prospective international students during the admissions process.
I'm Floyd, class of 2021, originally from the Netherlands. I spent the last two years of high school at UWC Costa Rica. I am an Economics major and Spanish minor. Outside of class, I am part of the Macalester Men's Soccer team, a board member on the Student Athlete Advisory Committee, and the coordinator for the Special Olympics Youth Athletes Program at Macalester. Without a doubt, you can wake me up for Dutch apple pie at any time during the night!
I'm Rayan, class of 2022, from Sudan and this is my second year at Mac. I attended high school in a small town in Armenia, and came to Macalester because I was especially drawn to the diverse student body community and the Human Rights & Humanitarianism concentration. During my free time, I am involved in Model UN, Mock Trial and Theater performances. If you see me around, stop me and say hello!
We have both really enjoyed our time at Macalester. We decided to become the student coordinators of the Global Ambassadors Program because we are determined to help prospective international students find their home at Macalester.
Take a moment to fill out a short inquiry form that we can help you learn more about the things that interest you. If you specify that you would like to get in contact with a current international student, we will help answer your questions and to provide you with the students' perspective of Macalester. If you have any other questions or concerns, please do not hesitate to email us at globalambassadors@macalester.edu.
We look forward to hearing from you!
Sincerely,
Rayan and Floyd
Mac Around the World
The Global Ambassador Program offers prospective students the opportunity to meet with current student and alumni volunteers. Use this interactive map to learn where our global ambassador volunteers are located and where Admissions staff are traveling to meet with prospective students.
Let us know about your interest in talking with a global ambassador in the Additional Questions section of the Prospective Student Form.
Green = Alumni volunteers by country
Blue = International student volunteers by country