Metro Five: Liberal Arts in the City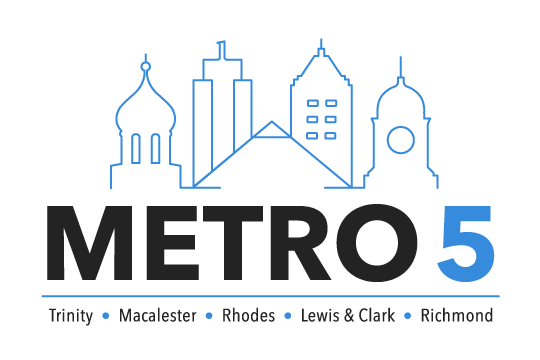 Student Program
Saturday, February 20, 2021 at 2:00 PM – 3:00 PM Central Time
Love small classes but also want the energy and opportunities of a city? Access to internships and research, vibrant cultural centers, and strong post-graduate outcomes are just three of the characteristics that these five colleges share. Join us to learn more about why these selective, liberal arts colleges in city settings are teaming up to provide insight into the admission process and college experience. Just don't ask us which city has the best food — that's a topic where we are certain to disagree!
Presenters:
Elyan Paz, Director for Recruitment, Macalester College
Eric Staab, VP for Admissions and Financial Aid, Lewis & Clark College
Lauren Sefton, Senior Associate Director of Admission, Rhodes College
Adrienne Oddi, Dean of Admissions, Trinity College
Erica Riesback, Associate Director of Admission, University of Richmond
Counselor Program
Tuesday, February 23, 2021 at 12:00 PM Central Time
High school counselors and advisors are invited to join our admission leaders for an open conversation about where we are in the admission cycle, some of our biggest challenges and opportunities, and how we can better serve you and your students.
Presenters
Jeff Allen, VP for Admissions and Financial Aid, Macalester College
Adrienne Oddi, Dean of Admissions, Trinity College
Eric Staab, VP for Admissions and Financial Aid, Lewis & Clark College
J. Carey Thompson, VP of Enrollment and Dean of Admission, Rhodes College
Gil Villanueva, Associate VP and Dean of Admission, University of Richmond