Alumni College is the place for alumni to learn, play, connect with faculty, plan a trip (or dream about one). Alumni College holds everything that connects you with your roots back at Mac.
Available Online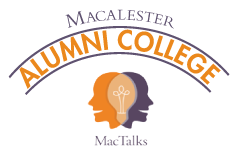 MacTalks
Short lectures by our outstanding faculty–have lunch with a professor at your desk.
Write Well
Quick, entertaining tips about writing from faculty and staff across the college.