---
When faced with a challenge, members of the Macalester community rally together to help one another and those in need. While we recognize everyone is in a different space right now and having different experiences, we hope these pages offer you ways to connect, creative activities to keep you entertained, and ideas on how to help others. We hope this brings comfort and inspiration to you as it connects our alumni community. Macalester is always at its best when we take things on together.
We are #MacTogether
Make sure to check back to the website often for updates on events, helpful resources, and ways we can support our Macalester community during this time.
We will get through this together.
Check out the Holiday Highlights Newsletter
The Department of Entrepreneurship and Innovation has a monthly newsletter; this month showcasing several Mac Alumni owned small businesses. View the Alumni Small Business Directory to see a full list or submit your own small business.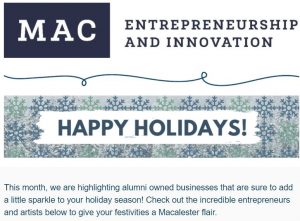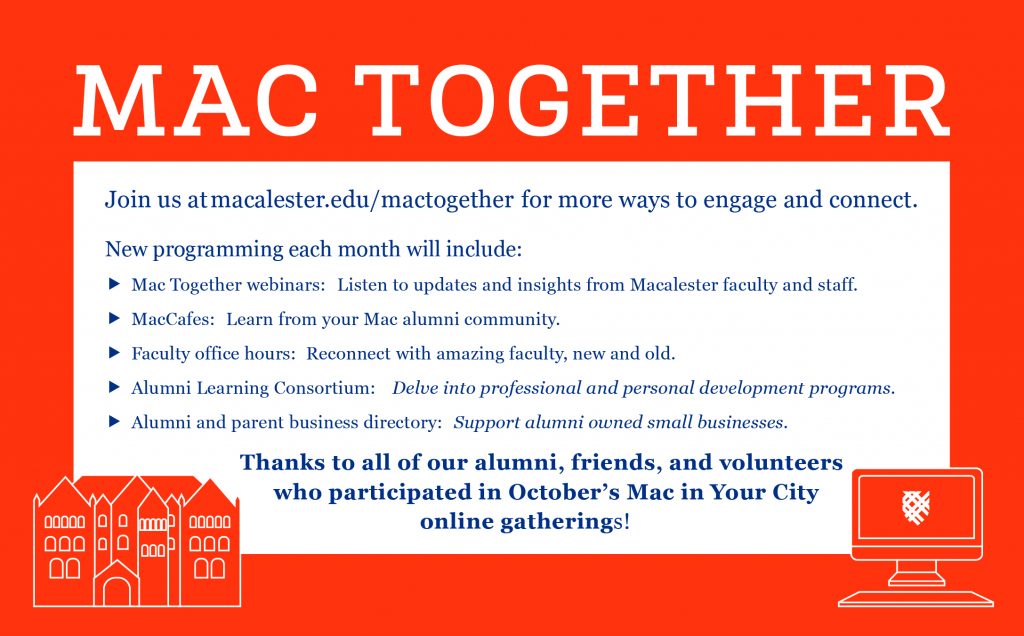 Land Acknowledgement
We would like to take a moment to honor the fact that we at Macalester are on Dakota land. This is the ancestral homeland of the Dakota people who were forcibly exiled from the land because of aggressive and persistent settler colonialism. We make this acknowledgment to honor the Dakota people, ancestors, and descendants, as well as the land itself.