LEARN, GROW, BE
Looking for ways to support emotional wellbeing or new things to try while staying in? Here are ways to help you keep your mind, body, and spirit well while physical distancing.
Mind
Life Long Learning
MacTogether Webinars
The Mac Together Webinars provide an opportunity to hear updates and insights from Macalester faculty and staff. These are around timely events occurring on campus and in the world around us.
Upcoming MacTogether Webinars
Mac Cafe Series
The Mac Cafe series features alumni from a variety of notable fields and interests to discuss their personal and professional passions in a casual online setting for interesting and relevant learning. Join your fellow alumni for a 45-minute virtual Zoom coffeehouse chat to hear some of the amazing stories and experiences Mac Alums are engaging in. Bring your cup of coffee, tea, breakfast or lunch, and questions to spark conversation about world events and professional accomplishments while connecting with the Macalester community. 
Faculty Alumni Office Hours
Professor's office hours are something most students took advantage of during their college years. Now that you have graduated, Faculty Alumni Office Hours provide a setting to relive those moments and hear from faculty members about their current pursuits, fond memories, and Macalester today.
Upcoming Faculty Alumni Office Hours
Get creative and bring the Idea Lab Home. Follow the Idea Lab on Instagram for fun projects.
Body
Thrive in Place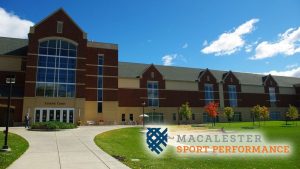 Macalester Athletics is hosting virtual wellness sessions titled "Thrive in Place". All are welcome to participate. Find additional home workouts from Mac Sports Performance on Instagram
Spirit
Submit to an Alumni Zine
Each year Macalester holds three special graduation ceremonies to recognize and honor the contributions of graduating seniors: Rites of Passage for students of color, Honoring the Journey for first-generation graduates, and Lavender Graduation for LGBTQIA seniors. These events are always touching, soulful, beautiful, and moving for all – and the loss of the opportunity to gather in person is felt acutely by seniors, faculty, staff, and family alike.
We want to help the Class of 2020 feel included in this magic by including alumni voices through the gift of your advice, support, and care in the form of our alumni zines. These zines – Facing Forward: The Macalester Alumni of Color Zine; Honoring the Journey Ahead: A Zine for Macalester First-Generation Alumni; and Inscription: A Macalester LGBTQIA Alumni Zine – are created and organized by alumni, and will be mailed to seniors after commencement.
Contribute by submitting this form: Zine submission form. Alumni who have submitted before are strongly encouraged to submit again with new reflections for the time in which we find ourselves. Alumni are welcome to submit to multiple zines as long as each entry is unique. 
Journaling Prompts
We are living through history. Why not take this time to put some of your thoughts and experiences down on paper? You may end up being the Samuel Pepys of our time…or at least provide some interesting reading for future you. Not to mention it's proven to be therapeutic. Whether you go long-form, or take a bullet journal approach, here are some ideas to get you started. 
One line a day — this is a great way to get started if you haven't journaled before (or since grade school) or don't have much extra time. Commit to writing just one sentence each day about what you saw, did, felt, etc. 

Mood tracker — fill in color-coded boxes, create a rating scale, or just use your words to check in with how you're doing emotionally today. 

Gratitude log — in the midst of this crisis, take stock of what brings you happiness. Make a list of the things in your life you are grateful for, and the people that you most appreciate (bonus points if you send them a note to share your gratitude!)

"A challenge I've overcome is…" — remember that you are resilient and have tackled big challenges in the past. Write about something tough that you've dealt with and reflect on the people, things, and exercises that helped you through.

Partake in some light plagiarism — copy down the quotes, poetry, song lyrics, and passages that make you smile, make you laugh, make you feel at peace, or otherwise inspire you 

Cabin fever to-do list — make a list of things you can do to take a break from the news, cheer yourself up, or just mix it up while social distancing. Yes, "things to watch on Netflix" counts, not every to-do list has to be productive. On that note…

Keep track of the great content you've engaged with — make lists of the books you've read, performances you've streamed, recipes you've tried, and other things that you've used this time to enjoy

"Things I'm looking forward to" — write about the people you are excited to see, places you want to visit, and things you can't wait to do when it is safe to do so
Journal with a Group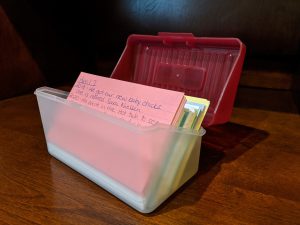 Start a journal with your family, friends, roommates, or loved ones. This can be a fun way to reflect back on the years.
Get a stack of 3×5 index cards (or larger if you want to write a lot) and a box to hold them in.
Create a card for each day of the year, labeling in the uper left corner.
Every day write the year on the card and something you all want to remember together.
Next year you will come back to that same day and see what you wanted to remember and get to add to the card something for that year.
Eventually, you will have several years listed and be able to see what was special about that day each year.
Macalester Coloring Book
Did you know there was a Macalester coloring book? Pull out your crayons or colorful pens to spend some time destressing while remembering Good Ole Macalester!