Department News
Renovations are complete for the Macalester Art & Art History Department. Phase I included new Art History classrooms, a media viewing room, a Visual Resource Center, new offices for art historians and the stunning Law Warschaw Gallery in the Art Commons. Phase II included completion and dedication of the beautifully equipped Joan Adams Mondale Hall of Studio Art in 2014, attended by Vice President Walter Mondale. The building won a 2014 AIA Minnesota honor award for its architecture.
Faculty News
Professor of Art and Department Chair Chris Willcox received a $30,000 fellowship from the George A. and Eliza Gardner Howard Foundation in Providence, RI. She is one of nine recipients who represent the fields of the History of Art and Architecture, Painting, and Sculpture. Willcox's project is called The Still Point. In March 2018 she had a painting exhibit, Home, in the Atrium Gallery at Artistry in Bloomington, MN. She had a solo show at the Macalester Gallery entitled "The Beginning (Again): New Paintings by Chris Willcox," in the Fall of 2016. She presented her show, 90° South, at the Minneapolis Institute of Art in 2012, where she also gave a talk on the work.
Wallace Professor of Art Ruthann Godollei has a solo exhibit Hoopla, at Grand View University in Des Moines, IA, January 2020. She was awarded a Spring 2019 Fulbright Research Chair at the University of Alberta, Edmonton, Canada. Her work was in Printed Matter: print works by faculty from the Department of Art, University of Alberta, Canada, at the Strzemiński Academy of Fine Arts Łódź, Poland, May 2019. She had work in Multiple Ones: Contemporary Perspectives in Printmedia, at Pacific Lutheran College in Thousand Oaks, CA, Sept. 2019, previously at the Hunterdon Art Museum, Clinton, NJ, in 2018. She had solo exhibits at Macalester College in 2018 and Soo Visual Arts Center in Minneapolis, and at Concordia College, St. Paul in 2016. Several prints were accepted for the 2016 East Coast Screenprint Biennial, Arts Center of the Capital Region, Troy, NY. She won a Juror's Choice Award at Stand Out Prints, an international juried exhibition, Highpoint Center for Printmaking, Mpls. MN, 2016. She had work in Dada Ist Ein Hundert, an international exhibit of Dada-influenced typographic letterpress art, which toured Europe. Her work was in "What's Right, What's Left: Democracy in America," a juried national exhibit at Phoenix Gallery, NYC, in 2016. It was reviewed in Wall Street International, Feb, 3, 2016 by Daniel Gauss. She had seven prints accepted for the "9th Biennale Internationale d'Estampe Contemporaine de Trois-Rivières" (BIECTR), Québec, Canada. Her work was in "Printwork," a juried survey of contemporary printmaking at AIR Gallery, Pittsburgh, PA in 2014. It was reviewed in the Pittsburgh Tribune Review, Dec. 27, 2014 by Kurt Shaw.
Edith M. Kelso Associate Professor of Art History Joanna Inglot received a grant from the International Research & Exchanges Board (IREX) to support research on her new book Feminism on Trial: Gender, Art, and Politics in Post-Communist Poland, 1989-2014. She spent the 2014-2015 academic year on sabbatical in Warsaw examining artistic and socio-political dynamics of post-communist transformations and their impact on feminist art. In addition to working on her book, Professor Inglot is also writing a chapter for the edited anthology Collaboration, Empowerment, Change: Women's Art Collectives. She completed an article, "Ornament & Crime: Parastou Forouhar and Transnational Feminism," and presented a paper on the subject at the Feminist Art History Conference at American University in Washington, DC. She also curated an exhibition on Parastou Forouhar at Macalester College in March 2013.  In recent years, Dr. Inglot presented papers at international conferences such as Looking at Feminist Art Beyond the Borders: Dialogues Between the U.S. and Eastern Europe held in Lisbon and Transnationalism and the Politics of Power In Contemporary Turkish Art in Venice. She also was invited to speak at the University of Wisconsin-Madison's Alumni Symposium, where she delivered a lecture on Identity Politics and Multiculturalism in Contemporary Turkish Art, part of her broader research on contemporary art in Turkey. She lectured on her 2007 book, WARM: Feminist Art Collective in the Twin Cities and problems with the Second-Wave Feminism, at Hamline University in 2012. Inglot curated an exhibition of the work of Harriet Bart for the  Law Warschaw Gallery in the Janet Wallace Fine Arts Center.
Associate Professor of Art History, Kari Shepherdson-Scott had an article accepted for publication in Art Bulletin, for 2018. She wrote "Race behind the Walls: Contact and Containment in Japanese Images of Urban Manchuria" in The Affect of Difference: Representations of Race in East Asian Empires, edited by Christopher Hanscom and Dennis Washburn in 2016. She also published "Toward an 'Unburnable City': Reimagining the Urban Landscape in 1930s Japanese Media," in the May 2016 issue of the Journal of Urban History. "Fuchikami Hakuyō's Evening Sun: Manchuria, Memory, and the Aesthetic Abstraction of War," was published in Art and War in Japan and Its Empire, 1931-1960. Her research has recently been published in the Journal of Decorative and Propaganda Arts and Journal of Asian Studies.
Assoc. Professor Stan Sears retired as of Jan. 2020 and continues working on multiple public art projects across the country. He completed sculptural components at 3 stops for the Central Corridor Light Rail in the Twin Cities. He is currently working on a project for the University of Wisconsin–La Crosse and finished the platform for the Duarte Station on the Gold Line Light Rail in Los Angeles. He also created sculptural elements for the bridge over Highway 100 in St Louis Park, MN and sculptural railings and cast concrete pediments for the bridge over Ayd Mill Road on Hamline Avenue in St. Paul. Living in Stockholm, WI, has encouraged Sears to start working on a new series of floating and land-based sculpture. Art students frequently intern at his Stockholm studio. In the Summer 2011 Sears and Samantha Leopold-Sullivan received a faculty/student research grant; Leopold-Sullivan presented her research at a poster session at Macalester. During the summer of 2011, Sears held a lantern festival at Stockholm, WI, which included a public artist team from England.  In 2018, Sears's work was featured in A Material Education:  The Art & Science of Stanton Sears, written by Laura B. Coleman and published as part of a series by Macalester's DeWitt Wallace Library.
Serdar Yalcin, assistant professor of Art History, joined the faculty in Fall 2017. His research interests include history, art and archaeology of the ancient Mediterranean and the Near East from the late fourth millennium BC to Greco-Roman antiquity. He received his PhD from Columbia University in 2014.
Megan Vossler, assistant professor of drawing NTT, was awarded an art residency at Yaddo in 2018. She received a Minnesota State Arts Board Grant in 2013. Vossler organized EKPHRASTIC 230, an experiment in collaborative multi-panel storytelling at SooVac Visual Arts Center in Minneapolis, 2018 and EKPHRASTIC 2.0, in 2017. Hosting dozens of artists as well as writers responding to the work, the project included Profs Willcox and Godollei, and Macalester students and alumni. Supported by a grant from the NEA, this project resulted in a book published in 2018. Vossler had a solo exhibit, Terra Firma, 2016 at Augsburg College in Minneapolis. She had a solo show at the Macalester Gallery entitled Overlook: Landscape Studies by Megan Vossler, in 2012. She was the featured artist in Diacritics, vol. 39.2, Spring 2012. Ten of her drawings from 2006 through 2010 are featured in this issue. Published by Cornell University, Diacritics was one of the first academic journals to bring continental theory to the U.S.
Eric Carroll, visiting assistant professor in photo and design, had a solo exhibit A Light Year of Lead, at Bethel University Gallery opening Sept. 27, 2019. He had work accepted for the Ballarat International Foto Biennale, Australia, 2017. He gave a talk on his work at RMIT, Melbourne Aug. 24, 2017. His work can be seen in a video segment on MN Original  on PBS. His on-going project "G.U.T. Feeling" was published in Le Monde's special magazine (July-Sept. issue)  to commemorate the 100 year anniversary of Albert Einstein's theory of relativity. Standard Stars,  photos produced from an archive of decayed astonomical photographs was on display in the Smail Gallery, Olin Rice Science Center, Macalester College until May 2017.  In the Summer of 2015, Carroll furthered his "G.U.T. Feeling" project with a residency inside The Bakken Museum of Electricity's collections, where he studied the magical world of Radionics.  An exhibition of the work he did there was on view at the Bakken in 2016.
Summer Hills-Bonczyk, visiting assistant professor of ceramics, is a Minneapolis-based sculptor and performance artist. She has a solo show in Antigua, Guatemala opening January 2020. She was featured in the June 2016 issue of Edina Magazine which highlights how she integrates her yoga and artistic practices into mindful travel. She received a 2013 Jerome Foundation grant for travel to India and Guatemala to visit sacred ceremonial caves to research and create art about the phenomenology of empty interior space.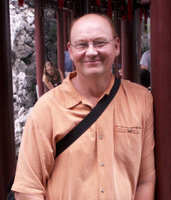 Gary Erickson, died May 17, 2016. A visiting assistant professor, he taught ceramics at Macalester since 1995. He received a BA in Studio Arts from Hamline University and an MFA in Ceramics from the New York State College of Ceramics at Alfred University. His abstract ceramic sculpture has been shown internationally with exhibitions at the Minneapolis Institute of Arts, Weisman Art Museum and the Galleria Oriente in Santiago de Cuba. He won an Honorable Mention in the Gyeonggi International Ceramic Biennale 2015, Icheon-si, Korea. He had solo exhibits at Minnesota State University, Mankato in 2014 and at the Jingdezhen, China, International Academy of Ceramics. He was one of 4 international ceramic artists accepted for a residency at the Taller Cultural in Santiago de Cuba. On a Freeman grant in 2007, he traveled to Sanbao Ceramic Art Institute in Jingdezhen, China and returned for several arts residencies there. His work is held by Renwick Gallery of the Smithsonian American Art Museum, the Weisman Art Museum, and the Cuban Institute of Friendship with the People. He received a grant from the National Endowment for the Arts, a Minnesota State Arts Board Fellowship and a McKnight Artist Fellowship. His research in China was included in the production of a teaching video about Jingdezhen porcelain.  He produced beautiful ceramic architectural tiles and pottery and maintained a working ceramics studio in Minneapolis. He also taught salsa dance classes through the Physical Education department at Macalester.
Studio Art Student News
Sydney Petersen '19, Isabel Le and Miya Ito, '19 were selected for the Art Department's postgraduate apprenticeship program for 2019-2020.
Kai Arnone and  Kendall Dickinson received 2017/18 Joan Adams Mondale Scholarships for ceramics.
Lachlan Hinwood, '17 Ilana Budenosky, '17 and Maja Bendtsen, '17, were selected for the Art Department's 2017 postgraduate apprenticeship program.
Victoria Leixin Qian, '17, received an MFA in photography in 2019 at Parson's School of Design in NYC.
Hao Guo, '16, is in the graduate journalism program at UC Berkeley in 2017.
Sherry Muyuan He '16, received her MFA from the Minneapolis College of Art & Design in 2018. She is an assistant professor at City University of New York, NYC.
Michael Kreher, '16 and Simon Koda, '16 were selected for the Art Department's postgraduate apprenticeship program 2016.
Hannah Campbell '14, received an MFA in Furniture Design at Herron School of Art and Design, Indiana University, Indianapolis in 2017.
Anna Van Voorhis, '14, is in the MFA program at the University of Minnesota, Minneapolis.
Samantha Leopold-Sullivan,'14, received an MFA in sculpture from Alfred University in 2019.
Legacy Russell '08, is an associate curator, exhibitions at The Studio Museum in Harlem as of 2018.
https://www.artforum.com/news/studio-museum-in-harlem-names-legacy-russell-associate-curator-exhibitions-76161
Larsen Husby, '12, is the subject of a TPT television segment in the series MN originals, Season 10, Episode 5, aired 6/16/2019. He walked every street in Minneapolis for his project Long Trace of Minneapolis.
Maja Bendtsen received the 2016 ceramics scholarship in honor of art alumna Joan Adams Mondale.
Printmaking II students donated original works to benefit Simpson Housing Services in the Art4Shelter show and sale at Burnett Gallery in the Chambers Hotel, Mpls in 2013, 2014, 2015, 2016, 2017 and 2018.
Egzon Sadiku, Avielle Suriya and Simon Koda received 2014 ceramics scholarships in honor of art alumna Joan Adams Mondale. The scholarships were presented in person by Vice President Walter Mondale.
Heba Amin 02, is exhibiting work at the Berlin Biennial in 2018. She was in the Istanbul Biennial 2017. Her photographic work "Antiquity Thieves" was recently acquired by the British Museum.
Greg Fitz, '99, was selected to participate in Out of Sight, a survey of contemporary art in the Pacific Northwest, August  2017.
Jen Bervin, '92, was in the group exhibition "Explode Every Day: An Inquiry into the Phenomena of Wonder," at Mass MOCA in 2016.  She was awarded a $24,000 Mandarin Oriental Arts Fellowship for work in Suzhou, China and was named a 2016-2017 Fellow in SETI Institute's Artists in Research program.
The Minnesota State Arts Board awarded grants to eight Macalester alumni and two Art and Art History faculty members in 2013. Project grants are for artists at all stages of their careers, to support artistic development, nurture artistic creativity, and recognize the contributions individual artists make to the creative environment of the state of Minnesota.
Macalester art students worked with visiting artist Tattfoo Tan to create Free Seed Libraries,  installed at public venues, Fall 2012.
Hanna Geil Neufeld '13 and Chris Willcox participated in a show at MCAD titled Intersections, an exhibition of collaborative work between women chairs and former chairs of art and art history departments in the Twin Cities and a student of their choosing. The opening for that exhibit was held at MCAD on Jan. 20, 2013. Two panel discussion/artist talks were held Feb. 2 and Feb. 15 and a Walker Art Center curator gave a lecture discussing the collaborative process on Feb. 8.
Two different groups of Macalester students and alumni formed printmaking collectives in Minneapolis in 2011. Emma Colon, Jacque Kutvirt, Andrew Gramm, Noah Exum and Aaron Rosenblum, among others, formed Living Proof, where they design and print posters, T-shirts, and 2018 hand-printed calendars of original art.
Lela Pierce '08, and Larsen Husby, '12, were awarded international art residencies from the Soap Factory in Mpls., to go to Kultivera in Tranas, Sweden in August 2017.
Art History Student News
Eleanor Hohulin '19 received the Donovan Art History Academic Travel Award to support her research project on Belgian Surrealism in 2018.
Di Cui '17, received her Master's degree from Pratt Institute in 2019.
Crystal Yam received the Donovan Art History Academic Travel Reward to research Dada art in Germany in 2017.
Maya Aguayo Schmidt-Feng, '14, is Associate Producer at Interactive One in Brooklyn, NY. She was a Research Intern with the Visual Arts department at the Walker Art Center.
Camille Erickson '14 is in the graduate program at the Medill School of Journalism, Northwestern University. She was the Administrative Assistant in the Department of Contemporary Art at The Minneapolis Institute of Art.
Parker Field presented a paper at the ACTC Symposium at the Minneapolis Institute of Arts in April 2015, titled "Reflections on Tomatsu Shomei's Atomic Bomb Damage: Wristwatch Stopped at 11:02, August 9, 1945, Nagasaki." He is a Research Assistant with The Arshile Gorky Foundation.
Art History Students Michelle Lee, Camille Erickson and Maya Aguayo Schmidt-Feng presented their art history capstone papers May 7, 2014. All 3 were on the Dean's List 2013.
Camille Erickson won the Celender Prize for Art History 2014. Michelle Lee and Maya Aguayo Schmidt-Feng won 2014 Art History Merit Awards.
Michelle Lee received a Mellon Mays Undergraduate fellowship at Macalester.
Brittany Rubin delivered a presentation entitled "Such a Pure Female Creature": die Brücke's Dresden Portraits and the Study of Sexology" at the First Annual ACTC Undergraduate Art History Symposium on April 14, 2012, at St. Catherine University. This was the first Annual ACTC Undergraduate Art History Symposium, which featured the scholarship of promising art history students.
Doris Zhao '12, is a Curatorial Assistant at The Studio Museum in Harlem. She submitted an article based on her art history capstone paper entitled, "Oscar Niemeyer in São Paulo: Paulistano Antropofogia in Brazilian Modernism and Urban Design" for the Collegiate Journal of Art, an undergraduate art history journal published at Dartmouth College. She presented this paper at the Undergraduate Association of Art Historians at Indiana University in 2012.
Hilary Schroeder was an intern in the Department of Decorative Arts, Textiles, and Sculpture at the Minneapolis Institute of Arts and in Spring 2011 received an Honorable Mention in the Gateway Competition for Excellent Writing in the Humanities Division for her paper Intimate Gazes: Jacob Adriaensz Backer and the Seated Female Nude.