---
Events
Upcoming Events
Past Events
Congratulations to Art & Art History Honors Students and Award Recipients
Ema Erickson (Studio Art)
Four Rocks is an installation of eight large scale oil pastel drawings, which can be arranged in various configurations and whose boulder-like figures host various communities of moss and lichen, obscuring their boundaries and evoking the role that relationships play in the formation of the self. Ema is also a winner of a Merit Award in Studio Art.
Maya Varma (Art History), "Nalini Malani's Medea Project: Gender and Nationhood in Postcolonial India"
Considering Medea's historical interpretations as a mistreated wife and a villainous mother, this thesis examines how Malani transforms Medea into a metaphor of resistance to British colonialism and anticolonial nationalism in post-Partition India. Maya is also the winner of a Merit Award in Art History.
Dada Wang (Art History), "Embodying Resistance: The Performance Art of Ma Liuming, Zhang Huan, and He Yunchang"
Relying on critical theories of Michel Foucault and Giorgio Agamben, this project interrogates the biopolitical domination of the Chinese Communist Party, revealing the strategies that artists Ma, Zhang and He deployed to retaliate against government sanctioned subjugation. Dada is also the winner of the Donald Celender Prize in Art History.
Ruby Elliott Zuckerman (Studio Art), "guilt free homecoming"
Ruby's 7ft x 10ft mixed-media drawing is a meditation on place, memory and nostalgia, especially in the Ashkenazi Jewish diaspora. Ruby has also won a Merit Award in Studio Art. 
Additionally, Rebecca Grossi is the winner of the Joan Mondale Ceramics Award in Studio Art, and Marissa Mohammed has earned a Merit Award in Studio Art.
Printmaking II students donated original works to benefit Simpson Housing Services in the Art4Shelter show and sale at Burnett Gallery in the Chambers Hotel, Mpls in 2013, 2014, 2015, 2016, 2017, 2018 and 2020.
News
Past News
Department News
Department News
The Gary Erickson Empty Bowls event scheduled for March 29 will not take place this school year, 2020. At a later time, the planners will determine when it can be rescheduled. In the meantime, please know that community needs are larger than ever at this moment in time. We invite you to make an Empty Bowls donation to our partner, the Hallie Q. Brown Community Center, or any other cause that you find compelling right now. All donations to Hallie Q. Brown are tax deductible and support their food shelf in the Rondo neighborhood of St. Paul.
The Art & Art History department collaborated with the Spanish Department and the Latin American Studies Department to create a Day of the Dead Ofrenda altar in 2018 and 2019. In 2019, the event was attended by members of the Mexican Consul and 500 other guests. In 2020, the Spanish Department/Latin American Studies  and the Art & Art History Department created separate ofrendas, due to the pandemic.

Renovations are complete for the Macalester Art & Art History Department. Phase I included new Art History classrooms, a media viewing room, a Visual Resource Center, new offices for art historians and the stunning Law Warschaw Gallery in the Art Commons. Phase II included completion and dedication of the beautifully equipped Joan Adams Mondale Hall of Studio Art in 2014, attended by Vice President Walter Mondale. The building won a 2014 AIA Minnesota honor award for its architecture.
Faculty News
Faculty News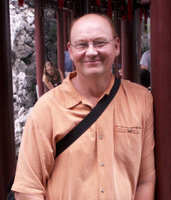 Gary Erickson, died May 17, 2016. A visiting assistant professor, he taught ceramics at Macalester from 1995-2016. He received a BA in Studio Arts from Hamline University and an MFA in Ceramics from the New York State College of Ceramics at Alfred University. His abstract ceramic sculpture was shown internationally with exhibitions at the Minneapolis Institute of Arts, Weisman Art Museum and the Galleria Oriente in Santiago de Cuba. He won an Honorable Mention in the Gyeonggi International Ceramic Biennale 2015, Icheon-si, Korea. He had solo exhibits at Minnesota State University, Mankato in 2014 and at the Jingdezhen, China, International Academy of Ceramics. He was one of 4 international ceramic artists accepted for a residency at the Taller Cultural in Santiago de Cuba. On a Freeman grant in 2007, he traveled to Sanbao Ceramic Art Institute in Jingdezhen, China and returned for several residencies there. His work is held by Renwick Gallery of the Smithsonian American Art Museum, the Weisman Art Museum, and the Cuban Institute of Friendship with the People. He received a grant from the National Endowment for the Arts, a Minnesota State Arts Board Fellowship and a McKnight Artist Fellowship. His research in China was included in the production of a teaching video about Jingdezhen porcelain.  He produced beautiful ceramic architectural tiles and pottery and maintained a working ceramics studio in Minneapolis. He also taught salsa dance classes through the Physical Education department at Macalester.
Studio Art Student News
Studio Art Student News
Bimbola Akinbola, '11, was a featured speaker at the Macalester American Studies Conference, precarious futures / troubled pasts / ethical return, March 5-6, 2020.
Lachlan Hinwood, '17, Ilana Budenosky, '17 and Maja Bendtsen, '17, were selected for the Art Department's 2017 postgraduate apprenticeship program.
Michael Kreher, '16 and Simon Koda, '16 were selected for the Art Department's postgraduate apprenticeship program 2016.
Hannah Campbell '14, received an MFA in Furniture Design at Herron School of Art and Design, Indiana University, Indianapolis in 2017.
Anna Van Voorhis, '14, is in the MFA program at the University of Minnesota, Minneapolis.
Ruby Arnone and Kendall Dickinson received the 2017/18 Joan Adams Mondale Scholarships for ceramics.
Legacy Russell '08, is an associate curator of exhibitions at The Studio Museum in Harlem as of 2018.
https://www.artforum.com/news/studio-museum-in-harlem-names-legacy-russell-associate-curator-exhibitions-76161
Maja Bendtsen received the 2016 ceramics scholarship in honor of art alumna Joan Adams Mondale.
Egzon Sadiku, Avielle Suriya and Simon Koda received 2014 ceramics scholarships in honor of art alumna Joan Adams Mondale. The scholarships were presented in person by Vice President Walter Mondale.
Greg Fitz, '99, was selected to participate in Out of Sight, a survey of contemporary art in the Pacific Northwest, August  2017.
Jen Bervin, '92, was in the group exhibition "Explode Every Day: An Inquiry into the Phenomena of Wonder," at Mass MOCA in 2016, with a catalog published by Prestel in 2017.  She was awarded a $24,000 Mandarin Oriental Arts Fellowship for work in Suzhou, China and was named a 2016-2017 Fellow in SETI Institute's Artists in Research program.
The Minnesota State Arts Board awarded grants to eight Macalester alumni and two Art faculty members in 2013. Project grants are for artists at all stages of their careers, to support artistic development, nurture artistic creativity, and recognize the contributions individual artists make to the creative environment of the state of Minnesota.
Macalester art students worked with visiting artist Tattfoo Tan to create Free Seed Libraries,  installed at public venues, Fall 2012.
Hanna Geil Neufeld '13 and Chris Willcox participated in a show at MCAD titled Intersections, an exhibition of collaborative work between women chairs and former chairs of art and art history departments in the Twin Cities and a student of their choosing. The opening for that exhibit was held at MCAD on Jan. 20, 2013. Two panel discussion/artist talks were held and a Walker Art Center curator gave a lecture discussing the collaborative process.
Two different groups of Macalester students and alumni formed printmaking collectives in Minneapolis in 2011. Emma Colon, Jacque Kutvirt, Andrew Gramm, Noah Exum and Aaron Rosenblum, among others, formed Living Proof, where they designed and printed posters, T-shirts, and 2018 hand-printed calendars of original art.
Lela Pierce '08, and Larsen Husby, '12, were awarded international art residencies from the Soap Factory in Mpls., to go to Kultivera in Tranas, Sweden in August 2017.
Art History Student News
Art History Student News
Art History students attended the College Art Association's (CAA) 108th Annual Conference in Chicago from February 12-15, 2020, with Edith M. Kelso Associate Professor of Art History, Joanna Inglot.
Crystal Yam received the Donovan Art History Academic Travel Reward to research Dada art in Germany in 2017.
Maya Aguayo Schmidt-Feng, '14, is Associate Producer at Interactive One in Brooklyn, NY. She was a Research Intern with the Visual Arts department at the Walker Art Center.
Parker Field presented a paper at the ACTC Symposium at the Minneapolis Institute of Arts in April 2015, titled "Reflections on Tomatsu Shomei's Atomic Bomb Damage: Wristwatch Stopped at 11:02, August 9, 1945, Nagasaki." He is a Research Assistant with The Arshile Gorky Foundation.
Art History Students Michelle Lee, Camille Erickson and Maya Aguayo Schmidt-Feng presented their art history capstone papers May 7, 2014. All 3 were on the Dean's List 2013.
Michelle Lee and Maya Aguayo Schmidt-Feng won 2014 Art History Merit Awards.
Michelle Lee received a Mellon Mays Undergraduate fellowship at Macalester.
Brittany Rubin delivered a presentation entitled "Such a Pure Female Creature": die Brücke's Dresden Portraits and the Study of Sexology" at the First Annual ACTC Undergraduate Art History Symposium on April 14, 2012, at St. Catherine University. This was the first Annual ACTC Undergraduate Art History Symposium, which featured the scholarship of promising art history students.
Doris Zhao '12, is a Curatorial Assistant at The Studio Museum in Harlem. She submitted an article based on her art history capstone paper entitled, "Oscar Niemeyer in São Paulo: Paulistano Antropofogia in Brazilian Modernism and Urban Design" for the Collegiate Journal of Art, an undergraduate art history journal published at Dartmouth College. She presented this paper at the Undergraduate Association of Art Historians at Indiana University in 2012.
Hilary Schroeder was an intern in the Department of Decorative Arts, Textiles, and Sculpture at the Minneapolis Institute of Arts and in Spring 2011 received an Honorable Mention in the Gateway Competition for Excellent Writing in the Humanities Division for her paper Intimate Gazes: Jacob Adriaensz Backer and the Seated Female Nude.
Special Opportunities
Special Opportunities
Ceramics students, alumni and Prof. Hills-Bonczyk created vessels for the Empty Bowls fundraiser project 2019. Proceeds benefitted the Hallie Q. Brown Community Center and their food shelf.
Print II student Andrew Vrable Miles helped Prof. Godollei screenprint support materials for a Yes Men civic art project aimed at raising awareness of the inequity and racism with the proposed Line 3 oil pipeline in Duluth, Minnesota, October 2019.
Students and alumni printed for Prof. Godollei's Northern Spark arts festival project, a multilingual all night live print giveaway at the Little Mekong Night Market site, St. Paul, MN, June 2, 2017.
Crystal Yam '17 received the first Donovan Art History Academic Travel Award to do art historical research on the Dada collagist Hannah Höch in Berlin, December 2016.
Painting II students created murals in the hallways and stairwells of the newly renovated Studio Art Building, 2016.
Simon Koda '16, Egzon Sadiku '16 and Ariana Zaia '16 received the Joan Adams Mondale Scholarships for ceramics. Vice President Walter Mondale presented the first scholarships in person in November 2014.
Art History student Parker Field '15, presented a paper at the ACTC Symposium at the Minneapolis Institute of Arts in April 2015.
Art students worked with visiting artist Tattfoo Tan to create Free Seed Libraries to be distributed at public venues as part of the International Roundtable 2012 and continue to this day.
Students hand printed postcards highlighting St. Paul neighborhoods disrupted by the Light Rail project, supported by a grant from the Irrigate initiative.
Print students created a portfolio for exhibit at the Tokyo Fine Arts University, Fall 2008. A copy is on view at the Macalester Humanities Resource Center.
Pei-Hsuan Wang '10, traveled to Jingdezhen, China, with ceramics professor Gary Erickson to see porcelain production in the city where it was invented. They stayed at Sanbao Ceramics Art Institute and visited universities, museums, and artists' villages, Summer 2009.