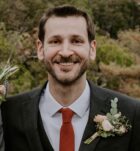 Visiting Assistant Professor
Systems Neuroscience & Genetics
Marc is a neuroscientist interested in understanding how brain systems generate emotion or underlie cognition, and how these same systems go awry in neuropsychiatric conditions. His research uses genetic methods to monitor and manipulate brain cells and circuits in behaving mice. When not in the lab or classroom, Marc enjoys listening to a copious amount of music, playing Ultimate frisbee, traversing the Minnesota tundras on his fat tire bike, and subjecting his dog to the joys of reinforcement learning.
BA: Saint Olaf College
PhD: University of Minnesota