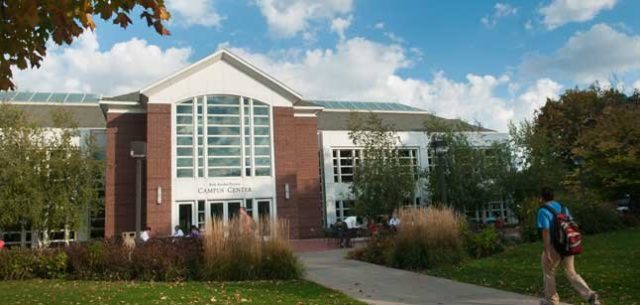 The Ruth Stricker Dayton Campus Center fosters community by providing centralized facilities and services for programs that encourage interaction, fulfill daily needs, promote development, embrace diversity, generate revenue, and cultivate connections to the college.
A gathering place for the campus community on a daily basis for food, conversation, activities, presentations, performances, and services, it is also an accommodating place in which to welcome alumni, friends, and the larger community! With its meeting rooms, open spaces, and specialized activity areas, the Campus Center supports a great variety of programs and activities that draw people together to exchange ideas, information, and fellowship.
Services available in the Campus Center:
Open Pantry: Open during all building hours, closed weekly re-stocking. Closures are posted outside the pantry.
Mailing Services: Open 8 a.m.-4:30 p.m. Monday-Friday. During J-Term Break, hours will be 10 a.m. – 2 p.m. Monday – Friday.
ITS Printing Station: Open all building hours and located in Activities Center next to McPherson Atrium on 2nd Floor.
Exercise Space: Open all building hours & located in CC 216. The exercise space is closed throughout the remainder of Module 2 and J-Term break due to the executive order by Governor Walz.
Campus Center Hours
Winter Break Hours

December 19 – January 18
Monday, Tuesday, Friday
10 a.m. – 6 p.m.
Wednesday, Thursday
10 a.m. – 2 p.m.
Saturday – Sunday
CLOSED
Academic Year Hours 
Monday – Friday: 7a.m. – 1 a.m.
Saturday & Sunday: 10 a.m. – 1 a.m.