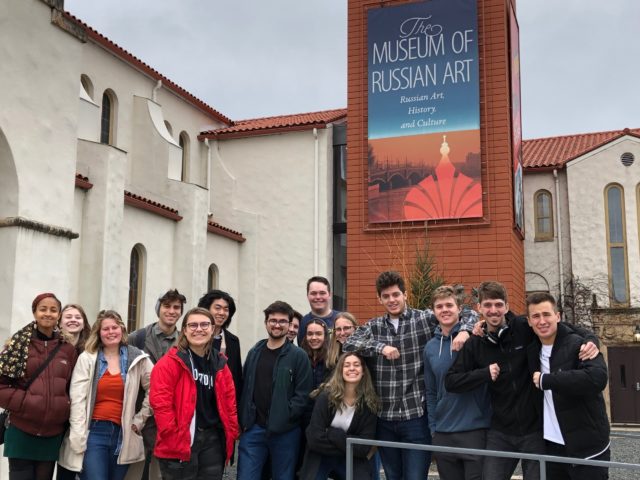 The Community Engagement Center strives to provide necessary resources and support for faculty who would like to incorporate civic engagement in their curriculum. We have included a number of resources related to academic civic engagement, including various academic journals, reports on tenure and promotion, and rubrics for student evaluations.
Contact Derek Johnson in the Community Engagement Center with potential ideas for incorporating community-based learning into the curriculum. He can assist faculty members with establishing partnerships with local community organizations.
Project Pericles® at Macalester College seeks to develop a structure and culture that intentionally support and promote a civically engaged campus.
Project Pericles at Macalester began through a generous grant from Eugene Lang (National Project Pericles) and trustee emeritus Don & Adele Garretson. Macalester College joined Project Pericles in 2003, as one of ten inaugural institutions and hosted the first Project Pericles Conference in 2004.
Project Pericles at Macalester is:
A multifaceted effort to renew our civic commitments and make structural and cultural changes in order to cultivate in students the skills and motivation for a life of civic engagement.
An opportunity to infuse social responsibility into all areas of the college, i.e. to create a civically engaged campus with institutional norms, structures, and protections that actively encourage and support civic engagement.
A building block for a long-term comprehensive approach to education that develops informed and active citizens and strengthens communities.
For more information on public scholarship, civic engagement and Project Pericles at Macalester, see Macalester Professor Andrew Latham's paper,
"Liberal Education for Global Citizenship: Renewing Macalester's Traditions of Public Scholarship and Civic Learning"
Faculty Resources
Faculty Culture & Development for Civic Engagement
Jameson, J., Clayton, P. H., & Jaeger, A. (2012). Investigating faculty learning about community engaged scholarship. Michigan Journal of Community Service Learning, 18(1), 40-55. View PDF
O'Meara, K. (2011). Faculty civic engagement: New training, assumptions, and markets needed for the engaged American scholar. In J. Saltmarsh & M. Hartley (Eds.), To serve a larger purpose: Engagement for democracy and the transformation of higher education(pp. 177-198). Philadelphia, PA: Temple University Press. View PDF
O'Meara, K., Sandmann, L. R., Saltmarsh, J., & Giles, Jr. D. E. (2011). Studying the professional lives and work of faculty involved in community engagement. Innovative Higher Education, 36(2), 83-96. View PDF
O'Meara, K. & Niehaus, E. (2009). Service-learning is…How faculty explain their practice. Michigan Journal of Community Service-Learning, 16(1). 1-16. View PDF
Integrating Civic Engagement into Courses and Majors
Association of American Colleges and Universities (Fall 2017). Civic Learning in the Major by Design. Peer Review. 19 (4). https://www.aacu.org/peerreview/2017/Fall
The National Task Force on Civic Learning and Democratic Engagement. A Crucible Moment: College Learning & Democracy's Future. Association of American Colleges and Universities. View PDF
Place-Based Education
Siemers, Cheryl K.; Harrison, Barbara; Clayton, Patti H.; Stanley, Talmage A. (2015) Engaging Place as Partner. Michigan Journal of Community Service Learning. 22(1). View PDF