This moment calls for everyone's active engagement in social justice and antiracism work in the local Twin Cities community — with an urgent focus right here on campus — and beyond. We all —
especially those of us who identify as white
— must work to dismantle racism and white supremacy as we also work to reimagine, support, and strengthen just and equitable communities near and far.
Unlearning White Supremacy is a space for all those who hold white privilege and institutional power to reflect on our internalized white supremacy (although all are welcome to the space). Whether you are a student, staff, or faculty, and wherever you are in processing your relationship to whiteness, we emphatically call you to join us! Please email unlearningwsmac@macalester.edu to join the listserv. This group hosts occasional large meetings as well as regular reading groups throughout the academic year. Also make time to talk with other folks you know, be it friends, family, coaches, or colleagues about white supremacy, systemic racism, and how you can address your role in it.
Campus Compact's Social Change Wheel centers anti-racism and equity in a variety of ways to work for social change. This tool illustrates that it takes many approaches over time to make real progress toward positive social change. The drop downs below describe the approaches, and offer a few first steps you can take in the Twin Cities.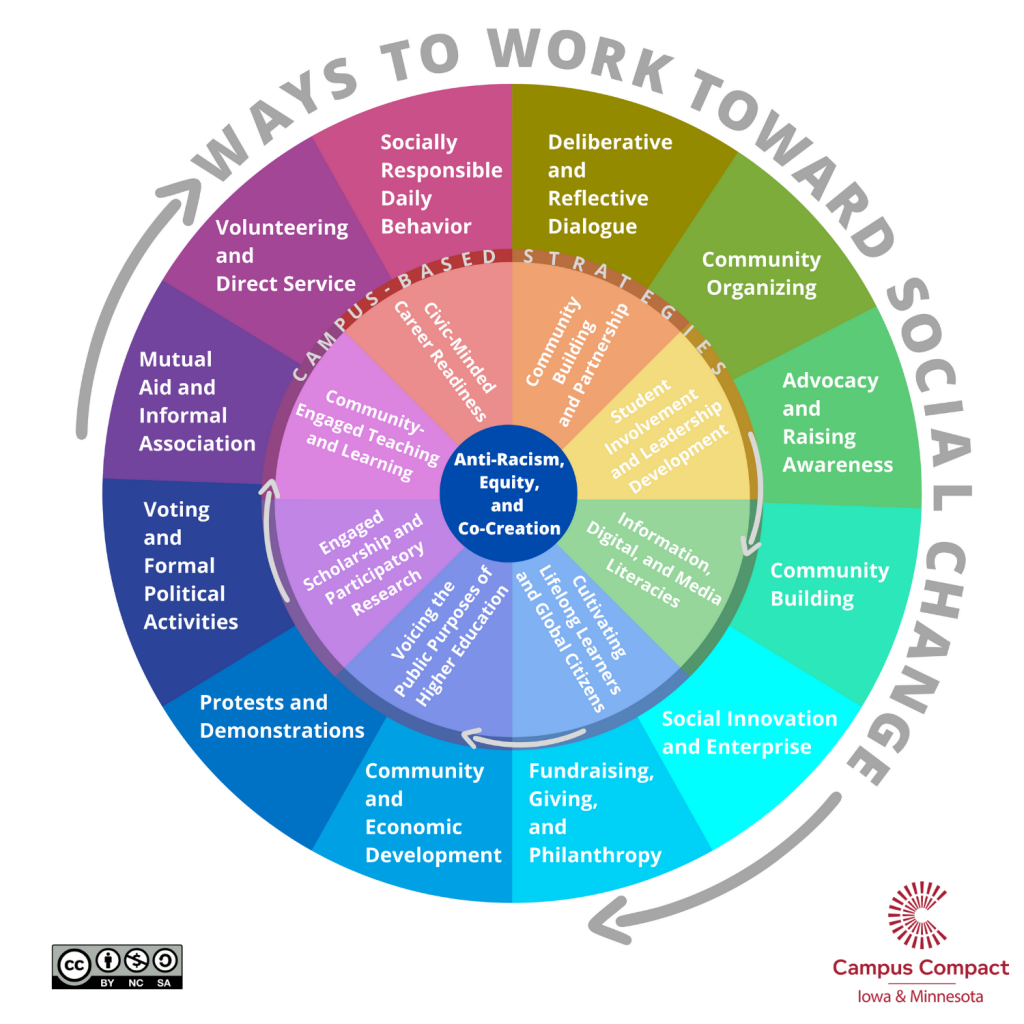 Deliberative & Reflective Dialogue
This strategy includes activities such as ongoing dialogues or story circles with people that are different than you. One central premise is deep and active listening. Here are some examples: 
Embody the Change Circles provide a weekly space for individuals to reflect upon their personal values and how they want them to show up in their everyday lives and community.  Participants are provided ongoing training in empathetic listening and skills in facilitating the reflection of others.
Perspective Collective is a CEC initiative that involves ongoing dialogue with elders in the local community.
Join the Unlearning White Supremacy listserv or join their meetings (usually bi-weekly). This Mac community is made up of people compelled to critically examine the force of white supremacy in our world, communities, and personal behaviors in order to begin the work of dismantling it and moving toward collective liberation. Currently they are hosting regular reflection circles. 
Diversity, Equity, and Inclusion (DEI) Learning Group  Macalester Library and ITS Diversity, Equity, & Inclusion (DEI) Learning Group
Race and Policing: History and Possibilities for the Future  Macalester alumni webinar and Q&A with Duchess Harris, professor of American Studies
Academics for Black Survival and Wellness  Initiative for academics to honor the toll of racial trauma on Black people, resist anti-Blackness, and white supremacy, and facilitate accountability.

Community Organizing
This strategy entails bringing people together to act collectively in a shared interest or common goal. Community organizing often includes mapping relationships and power dynamics, and deciding on collective action. Some examples:
Learn and practice the principles and skills of organizing through the Community Organizing Cohort. Civic Engagement Center staff and professional organizers host a space for students to more deeply articulate their self interest and to find their place in movements for social change.
ISAIAH  A multi-faith community organizing group that has partnered with Macalester on community organizing development, trainings, and projects. Vivian Ihekoronye '13 and  Ollin Montes '17 are field organizers. Isaiah's Facebook and Twitter pages link people to information, events, and actions.
Voices for Racial Justice  Building power and strategies for racial justice using organizing, leadership training, community policy and research.
CTUL (Centro de Trabajadores Unidos en la Lucha)  Organization focused on workers' rights based in South Minneapolis. Facebook and Twitter accounts link people to information, events, and actions.
CUAPB (Communities United Against Police Brutality)  Organization has been working on police brutality issues locally for several decades.

Advocacy & Raising Awareness
This strategy involves supporting public policy. Advocacy groups often gather information and communicate via videos, social media, or print communication to the general public or to specific decision makers. Some examples: 
Reach out and contact an elected official about the issues most important to you. The Minnesota State Legislature is in session January through mid-May, and we encourage everyone to communicate with state elected officials about issues that you care about. Our Minnesota Governor is Tim Walz. If you live on campus, your Minnesota Senator is Erin Murphy and your Minnesota Representative is Kaohly Her. 
We also encourage you to communicate with local and national elected officials. 
There are countless issues you may want to advocate for. Below are a few local organizations focused on racial justice and environmental justice. If you would like to connect with other kinds of advocacy work, contact the Civic Engagement Center. 
Showing up for Racial Justice  A network of groups working to undermine white supremacy and to work toward racial justice.
MN350 MN350 has a number of different initiatives currently focused on environmental justice and sustainability. 
Minnesota Interfaith Power & Light  Organization works with faith communities on environmental issues across the state. 

Community Building
This strategy entails strengthening the capacity of local residents or associations to work together by supporting opportunities for interpersonal interaction. Oral history projects and neighborhood clean-ups fit into this strategy. Examples include:
St. Paul's infrastructure of 17 District Council neighborhood organizations supports a lot of community-building work. Union Park District Council and the Macalester Groveland Community Council are longtime partners of Mac, and have hosted the college's Off Campus Student Employment (OCSE) students in addition to partnering on academic projects.
Gathering and sharing the histories of neighborhoods, especially places that have have experienced significant trauma from institutional racism, is another way to facilitate community building. An example is Macalester's long-term relationship with the Rondo neighborhood, including the  History Harvest project. 
The Mapping Prejudice project explores structural racism by researching and mapping racial covenants in the Twin Cities. 
POC Online Classroom  Founded by Abaki Beck '15, this resource aims to "amplify the voices of marginalized communities, educate others and ourselves on critical social justice issues, empower marginalized peoples, and incite change."


Fundraising, Giving & Philanthropy
This strategy focuses on raising or contributing funds or requested goods or materials to a cause or an organization. It includes hosting a fundraiser, spreading a specific need across social media, and gathering contributions for a food drive. While there are unlimited causes and organizations that you could support, some examples of this strategy include:
GiveMN is an online platform to support organizations and schools in Minnesota, and Network for Good allows you to search for organizations and causes across the country in order to make a contribution. 
This resource lists a number of ways to make donations to support racial justice in Minnesota. 

Community & Economic Development
This strategy focuses on creating economic opportunities for individuals and groups. It includes supporting new and existing small businesses with technical support and access to loans. Examples include:
The Neighborhood Development Center supports new and existing small businesses throughout the metropolitan region. Other organizations that do similar work often focus on a specific geography or cultural community. Below are some examples:
Lake Street Council  A long-term Macalester nonprofit partner is raising funds to help rebuild Lake Street businesses, many of which are family-owned and owned by immigrants and people of color. Matt Kazinka '11 is the Senior Strategic Initiatives Manager. Donations are accepted here.
Latino Economic Development Center supports the Latino business community in Minneapolis, St. Paul, and throughout Minnesota. 
NEON (Northside Economic Opportunity Network) has compiled a helpful resource of organizations and initiatives assisting and restoring Northside businesses and community organizations.  See the resource here. Also NEON's Twitter feed has updates on events, articles and needs.

Protests & Demonstrations
This strategy involves public disagreement with a situation or policy and directly calling for change. Engaging in protests and other acts of civil disobedience is a fundamental expression of free speech within a democracy. For those drawn to participate in protests and demonstrations, research groups and individuals involved in organized actions in advance to make informed decisions about where and how you would like to engage. Also, keep in mind the safety of yourselves and others as you make decisions about if and how to engage in protests and demonstrations.
Given the very ephemeral nature of protest plans and need for up-to-date information, we recommend following organizations of interest to you on social media as well as local organizers. Also, consider amplifying their work via your social media contacts. Examples of prescient, active organizations include:
See Mac's Safety When Protesting document with helpful information and resources.

Voting & Formal Political Activities
This strategy involves motivating others to participate in and influence public policy via formal political channels. This includes voter drives and volunteering for a political party or candidate. Examples include:
Mobilize Mac efforts last fall supported Mac students, faculty, and staff to engage in the 2020 General U.S. Election and continues to support a coalition of people from across campus to engage with our formal political system. 
Consider volunteering for a candidate in an upcoming election. Locally, the St. Paul mayoral race will take place in 2021. 


Volunteering & Direct Service
This strategy involves getting directly involved with non-profit organizations and schools to address community needs. There are countless examples of ways to volunteer, but it is more complicated in the time of COVID-19. Examples include:
The Civic Engagement Center's Galaxy Digital online platform is a cultivated list of volunteer opportunities. Civic Engagement Center student leaders have identified specific opportunities for Mac students, and most can be done virtually from anywhere. Examples include virtual tutoring and mentoring of youth, virtual English classes for immigrant and refugee adults, and writing letters to seniors who live in residential communities. 
If you can't find what you're looking for, let us know at cec@macalester.edu and we will help you to identify engagement opportunities that fit your interests.