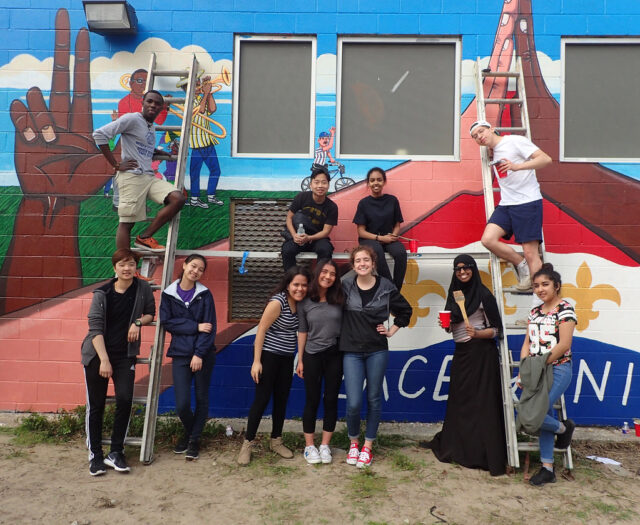 The Community Engagement Center offers students many entry points to community involvement. Students can participate in leadership programs that develop citizenship skills through trainings, reflection, and meaningful work.
Students can also pursue individual or group service experiences consistent with their interests and passions.
Bonner Scholars
The Bonner Scholars Program seeks to transform the lives of students by providing "access to education and opportunities to serve." More than 40 Bonners engage in sustained partnerships in the the local community. The work of the Bonner Foundation strengthens student development, community impact, and campus infrastructure while promoting civic engagement, community building, diversity, international perspective, spiritual exploration, and social justice. The Bonner Community Scholars Program partners with the Department of Multicultural Life, Career Development Center, Admissions and Financial Aid to support students.
Email Ruth Janisch  [email protected]
Lives of Commitment
Lives of Commitment empowers first-year students to engage off-campus with the broader Twin Cities community and build community on-campus with other students, staff, and faculty committed to social change. Groups of 4-8 students volunteer at a community organization once per week, often in English Language Learning programs for immigrants and refugees, or in literacy & homework programs for K-12 students. Participants also meet twice per month to share in large group dinner conversations, small group reflections, and immersive community events. This program has been a catalyst for generations of Macalester students seeking to live an enriching and justice-oriented life — there's no better way to get to know your surroundings! Email Sam Wegner [email protected]
Off-Campus Student Employment
More than 80 students each year earn their financial aid awards at local nonprofits and meet monthly for discussion and training on social change. Students serve as liaisons between their organization and the college and attempt to link the assets and resources of both institutions.
Email Derek Johnson [email protected]
Civic Engagement Organizers
This program is made up of the student leaders in the CEC office who educate the campus about social issues, nurture relationships with local nonprofit partners, and recruit volunteers. Students attend a retreat at the beginning of the year and participate as a group in regular civic education and leadership development opportunities throughout the year.
Email Derek Johnson [email protected]
Opportunities Abound
Macalester students have several opportunities to connect with a variety of youth groups who visit Macalester. Opportunities Abound leaders can indicate a preference for working with elementary, middle, or high school youth. During the year long commitment leaders are supported through monthly training sessions (held the first Tuesday of each month from 4:30-6 p.m.) that include topics such as developing multicultural competencies in working with youth, the role of a mentor and boundary issues, college test preparation and the college application process. Email Ruth Janisch  [email protected]
In addition, The Community Engagement Center advises students, faculty, and staff about volunteer opportunities available with community partners. The CEC works closely with individuals to help match their schedules, interests, and volunteer goals with a partner organization.