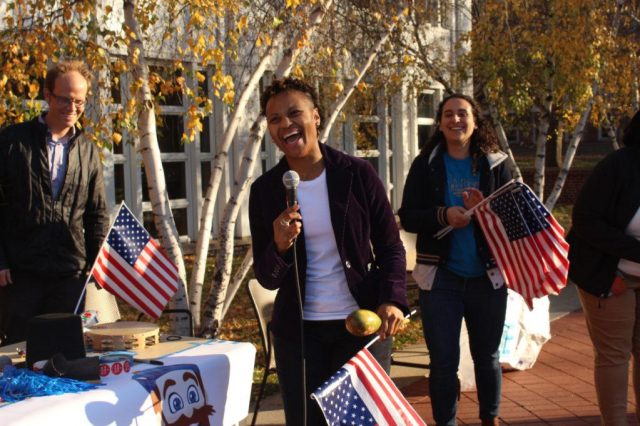 Democratic Engagement
Elections provide an important opportunity for civic engagement, conversation across difference, and thinking together about the rights and responsibilities of our democracy. In preparation for each national and local election, the Civic Engagement Center works collaboratively with faculty, staff, and students across the Macalester community to cultivate a campus culture that encourages participation by all students, regardless of whether they are eligible to vote or not. Some examples include:
educational activities

continued community organizing training

voter registration on campus

voter registration off campus

issue-based education and engagement

civil dialogue

educational activities with K-12
These actions are part of an overall Engage 2020 effort among colleges and universities nationwide who are committed to the following principles:
Developing civic preparedness is a core element of the mission of American higher education.
Participating in American political life helps students learn from a diversity of ideas and people while developing skills for lifelong, active citizenship.
Empowering students and teachers to engage with the complex issues facing the country are crucial facets of higher education's contributions to the common good.
Mac Civic Action

Mac Civic Action is a student group that formed in 2019, whose sole mission is to promote engagement with democracy by connecting students, faculty, and staff with resources on- and off-campus. With the Civic Engagement Center as their advisor and sponsor, they also collaborate with Campus Vote Project and the League of Women Voters of St. Paul. On the 2019 National Voter Registration Day, Mac Civic Action registered nearly 100 student voters.
Proud Member of: