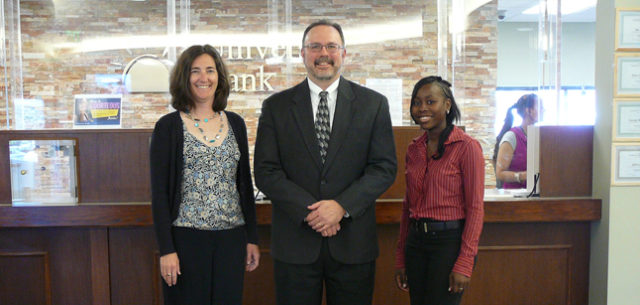 Macalester College – Community Bank Partnership
Investing money involves making socially responsible choices.  Increasingly Macalester College began recognizing its public role and responsibilities as an institutional citizen in the Twin Cities.  It recognized that while the local community benefits from the efforts of individual students and faculty who contribute time and expertise, the time was ripe for a more multifaceted project that would embody institutional civic engagement.  In 2007 Macalester College chose to make a significant financial investment in Sunrise Bank, which supports economically distressed communities in the Twin Cities.
Karin Trail Johnson, Associate Dean of the Institute for Global Citizenship and Director of the Civic Engagement Center, working with several alums, introduced this initiative with an interest in exploring meaningful ways in which the college can strengthen local communities. As she puts it, "through a commitment of both financial assets and human capital we are making a holistic investment in St. Paul neighborhoods. Our students are working as interns and classes are researching micro-lending, green banking methods, and culturally appropriate banking with Sunrise Bank."
This relationship holds many research and internship opportunities for students as well as a socially responsible investing option for every member of the Macalester community.  Thus far, five students have interned at the bank.
Katie Clifford '09 and Corina Serrano '08 were the first students to take advantage of the partnership by interning at Sunrise Bank for one semester. As an environmental studies major, Clifford leveraged her academic knowledge to research and develop a new green banking method, which she proposed to Sunrise Bank's senior management teams. Serrano, who is an economics major, researched socially responsible investing trends and products. She analyzed the fast-growing "Community Investing" sector, which channels capital to low-income communities that are generally considered "unbankable."
How can the Macalester community participate?
Open a banking account at Sunrise Bank.
Consider one of several internships available to Macalester students.
Designate your deposit dollars to support Sunrise Bank's Socially Responsible Deposit Fund (SRDF).
Enroll in a class that will research and engage urban issues and social investment.
Complete service projects in core, urban neighborhoods.
Aparna Bhasin '10 (Environmental Studies & Economics) was next to seize the internship opportunity.  Bhasin undertook various projects including evaluating an Environmental Loyalty Program that would be made available to customers and allow them to generate rewards and points as a result of environmentally friendly spending.  She described her internship as "not simply a part-time job, but instead an important learning experience."
In his internship, Needham Hurst '11, an economics major and a GIS minor combined his academic interests with his passion for community planning.  Hurst analyzed the unique contribution of Sunrise National Bank's loans to social return in the local community.  Sunrise Bank empowers stakeholders to create value in and around their communities through access to credit.  Financial capital enables local change-makers to actualize their dreams while reinvesting in communities that have been historically discriminated against through redlining and divestment.  Hurst found that $20 million in loans creates $133 million in social return (property values, taxes, jobs, incomes, spending).  Hurst was then invited to present with David Reiling, the CEO of Sunrise Community Banks (UNB and two of its sister banks) at Socially Responsible Investing (SRI) in the Rockies, the premier national annual gathering of investment professionals and related organizations who work to direct the flow of investment capital in transformative ways.
Yeukai Mudzi '12 used her internship to leverage her academic knowledge and the values she has gathered from living with people of diverse religious, economic and cultural backgrounds both at Macalester and at a United World College. Mudzi explored the extent to which adaptation to the prevailing Western Banking system is a part of the decision to migrate to the US, versus the extent to which the banking system should become more culturally and/or religiously sensitive. She chose to explore this question within the Somali population. Minnesota hosts the largest Somali population of all the states in the USA and over 98% of this Somali population is Muslim. Islamic finance prohibits some significant things such as interest that are permissible in the conventional western banking system. This research into Islamic finance and outreach to the Somali community is relevant because Sunrise Bank's sister bank, Franklin received approval to open a branch in Karmel Mall, the largest Somali Mall in the Twin Cities. The internship confirmed the commitment of the Sunrise Community Banks to understand their community so as to be the leader in improving this urban community.
Social Impact
The SRDF can make a significant impact on the lives of individuals and communities. To learn more about how Sunrise Bank Makes Money Matter, go to www.sunrisebanks.com.
Socially Responsible Deposit Fund
In addition to internships and class projects, members of the Macalester community can also get involved in this collaboration by depositing in Sunrise Bank's Socially Responsible Deposit Fund. A Sunrise Bank ATM in the Campus Center makes it convenient to participate. This fund offers a socially responsible investment option that supports economically disadvantaged communities in the Twin Cities. Sunrise Bank's "double bottom line" assures competitive interest rates, while also offering a way to improve local urban neighborhoods. The SRDF has grown to over $95 million, which has already allowed the bank to issue several loans to develop affordable housing and support small business owners and non-profit community organizations.
Macalester College and Sunrise Bank are pleased with this partnership aimed at strengthening the core urban communities of the Twin Cities. The partnership directs financial and human resources to designated neighborhoods. Macalester College and Sunrise Bank share institutional commitments to sustainability, supporting local communities, and working for the common good.