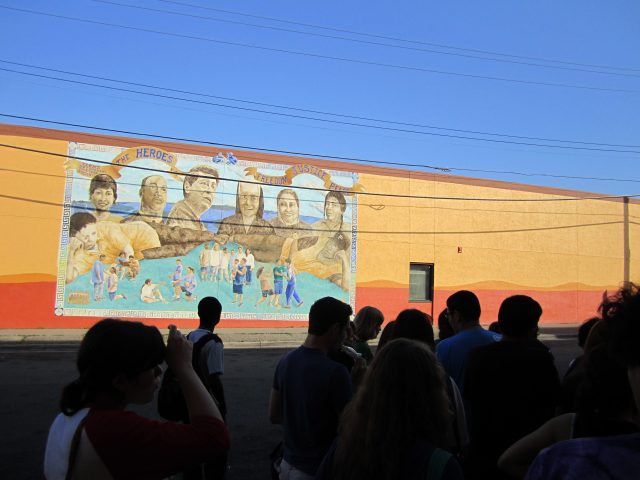 Reflective and Vocation Programs
College is a  place we pull forth all of the strands of our history, beliefs, talents and desires, and through their interface weave together a meaningful life. We learn to integrate the life of the mind, the understandings of the heart and the experience of our actions. It is a place where we develop what Aristotle calls "practical wisdom," to be able to discern truth, act with empathy and make difficult decisions based on one's own presenting and emerging values. We begin to see how our life can be of service to the needs of the world.
The Civic Engagement Center's programs on vocation and reflection provide students with space and time to bring life's big questions to both what they are learning in the classroom and experiencing in the world. These programs aim to help students explore what is most important to them and to then strive towards aligning their life's work with their deepest convictions. We provide space to determine where we can make meaningful contributions in both global societies and local communities that are in need of responsive, thoughtful and ethical leadership.
Reflection
Being a reflective person doesn't always come easy in our busy and demanding lives. However, reflection can be cultivated over time and through practice, be integrated into one's daily life. Intentional reflection then provides us with a lens in which life is imbued with meaning, allowing us to better understand ourselves, as well as the nuances and complexities of our world. Our programs provide space that is set aside from academic and extracurricular demands so students can step back and take in a panoramic view, giving them insight to then act more intentionally in the moment. Since our own view can be limited, our programs are all community-based, allowing students to help each other uncover truths about themselves and the world that they might be unable to see on their own.
Vocation
Is life simply internally driven, or do intellectual questions, family need or social injustice often draw our lives in directions once inconceivable? Vocational discernment is the act of listening to where life is calling us to act in the world.  It is a process that helps us translate self-discovery into concrete life decisions. Through our programs student learn to develop and enlarge their life narrative, gaining insight into how their one story contributes to a larger public good.
"Young adults are being cheated because they are not being asked big enough questions. They are not being invited to entertain the greatest questions of their own lives or their times."
–Sharon Daloz Parkes
"It is only with the heart that one can see rightly. What is essential is invisible to the eye."
–Antoine de Saint-Exupery, The Little Prince