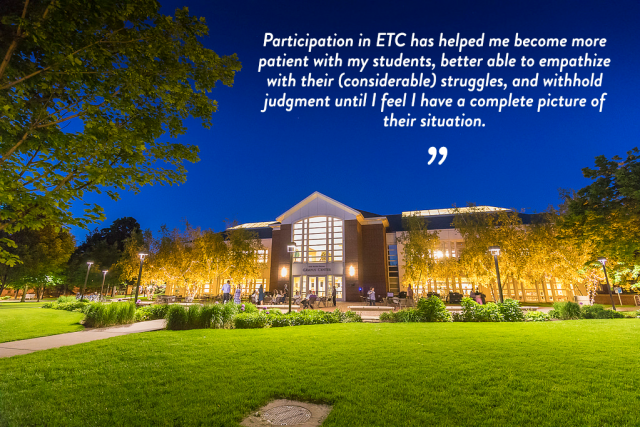 The Embody the Change (ETC) Circle program is being offered to staff and faculty fall semester, starting with a Zoom training in September (details will be sent to those who sign up below).
The ETC Circles program provides weekly reflection circles focused on making changes in your life to more fully embody your best self. It is a peer led, confidential space with rotating leadership that provides accountability for making changes, be they social or personal. Over 250 students have taken part and found the experience strengthens their sense of self so they can be more effective leaders and change agents in the world.
We recognize that staff and faculty members also need time to reflect on what is getting in the way of their greater purpose in work and life. Participants will attend an hour and a half training (to be scheduled based on participants availability) to enhance or learn skills in empathetic listening, self-reflection, and motivational interviewing. Circles meet for 45 minutes during the work day for the duration of one semester. Circles could happen over the lunch hour or another time with permission of one's supervisor.
Please SIGN UP by 8:00am Monday, September 7.
If you have questions feel free to contact Eily Marlow marlow@macalester.edu.
"Participation in ETC Circles has helped me become more patient with my students, better able to empathize with their (considerable) struggles, and withhold judgment until I feel I have a complete picture of their situation. I think I'm also getting better at having difficult but necessary conversations that I dread, but recognize as valuable."