Arranging the pieces, finding what holds
Yearning for a community that goes deeper – spiritually, ethically and vocationally? Seeking a conversation that can hold your many identities and experiences all in place? Wanting a space that will engage the anxiety of transition as an opportunity to discover the fullness of self?
The Senior Keystone provides seniors a space to ask bigger questions with peers and join together their academics with questions of meaning and purpose to encourage both their theological mind and ethical practice. This community meets throughout senior year with a four day January retreat prior to the beginning of classes. The Keystone community in turn hosts reflective spaces for their senior class to reflect on the dilemmas and openings that emerge in times of transition and vocational discernment.
Impact
The Senior Keystone integrates ethical, spiritual and philosophical questions with a student's full identity through:
Thinking about the meaning of seniors' experience with Macalester liberal arts education.
Exploration of ethical questions surrounding responsible human engagement.
Development of spiritual practices to apply to post-graduation transition.
Integration of identities through reflection on lived experience.
Discovery of how one's academic disciplines connect with bigger questions of meaning and purpose.
Nurturing moral courage for life outside of Macalester.
Program Structure
Leaders and students alike bring personal and ultimate questions to the circle along with important writings and materials that have aided them in negotiating such questions. These are the questions that drive to the heart of students' education, life and future. All participants in the program practice staying close to questions that are personal to remain open and vibrant during this senior transition.
Program Details
Applications are due on Monday, August 7, 2017.
The community meets every other Tuesday evening from 4:30-6:15 throughout senior year. Snacks and beverages are provided.
A half day retreat will be held on Monday, September 4th (Labor day) to bring the community together.
The January retreat will take place Sunday through Wednesday prior to the first day of class and is a mandatory component.
Student attendance at all of the gatherings is crucial for community building and continuous dialogue.
Students will have the opportunity to help facilitate spring semester conversations focusing on both vocation and transition for their fellow seniors.
Student attendance at all of the gatherings is crucial for community building and continuous dialogue.
The group is facilitated by Kelly Stone, Chaplain of the College and Eily Marlow, Program Associate for Vocation and Reflection.
If you have questions or want more information, please email Eily Marlow at marlow@macalester.edu or call 651-696-6738.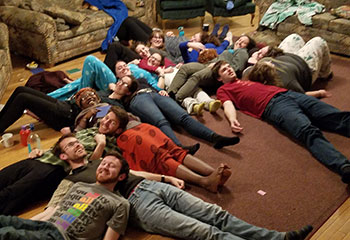 Quotes from recent Senior Keystones
"Because we are entering into a space of many unknowns after graduation, it was important for us to look to the greater spiritual knowledge held inside ourselves. We looked within to re-examine powerful moments of destabilization, realization, and connectivity within our time at Macalester, to discover instances in which we have known without knowing."
"Keystone led me to examine the ways in which I make decisions–whether by head, heart or gut. Looking to all of these sources of knowledge is important in living an integrated life."
"I would tell any junior that the Keystone experience is at once grounding and formative. The promise of intentional community is something not offered most other places on campus and allows for connection with peers on a new and deeper level."
"I felt that the intentional community provided through the senior keystone was centering during my senior year, which has been hectic and confusing. Themes addressed, such as embracing vulnerability and staying connected with loved ones despite distance, helped me grapple with uncertainties and challenges I face as I move towards graduation. The programming also provided a space to be heard and to hear others, which can often get lost in the bustle of classes and work."