Vocational Conversation Circles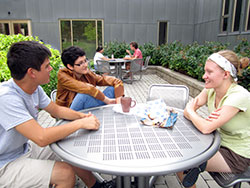 Enhance your summer research experience! We offer conversation circles for students engaged in research to further explore how their summer experience is informing their sense of vocation.
The act of reflection is an essential practice to understanding how the experience of research is informing your understanding of your life's work. These conversations will also explore how you are making meaning of your experience more broadly. You may feel isolated in your summer research or project and this experience will provide a peer community to connect with to discuss personal struggles, successes and vocational aspirations.
Questions we explore:
Where am I finding meaning in my work? (In the everyday tasks? In my own learning? In the knowledge that I am making a contribution?)
What am I learning about myself through this process?
Am I expressing my values through my work, and if so how?
How is this experience informing my ideas of my future?
How am I finding balance between work and my life outside?
Can work simply serve the purpose of supporting one's life or must I feel passionate about it?
---
Summer Porch Conversations
After a busy school year, summer is the perfect time to reflect on some of life's big questions. We gather students throughout the summer for dessert and informal conversations on important life matters.
Some of the past years' themes:
Living an Undivided Life
Research and Activism
Local or Global? Vocational Choices in a Complex World
Living Purposefully this Summer
Vocational Quandaries in the Sciences
Doing Good Work within Imperfect Systems
Living a Purposeful Summer
Flourishing at Work
Responding to Continual Global Tragedy
Finding Meaning in the Everyday