Welcome to the 2021-22 School Year!
September 30, 2021
After analyzing both the costs associated with a mid-pandemic program and the likelihood that we would actually be able to go, the Department of the Classical Mediterranean and Middle East has postponed the next offering of its popular January in Rome program until 2023. Information about the course is always available on our January Programs website. Watch for announcements of a spring round of applications in April. If you have questions about the 2023 program, please contact Beth Severy-Hoven at severy@macalester.edu.
September 1, 2021
INCOMING FIRST YEAR STUDENTS: Participate in the World Languages at Macalester SCAVENGER HUNT!  Visit the websites of the departments offering world languages at Macalester. Find the answers to the following questions (https://forms.gle/Eu2xrTdSr6BcRxcv7) on the homepages of each department. Fill in your responses and submit by September 1, 2021 for a chance to win a gift card to Shish, a beloved Middle Eastern restaurant near the Macalester campus.
June 5, 2020
Antiquity Now, Spring 2020
The Spring 2020 edition of our newsletter, Antiquity Now, is here. This Antiquity Now has been created under the unusual circumstances of the COVID-19 pandemic, and some of the effects of that crisis are reflected in the pages. The newsletter does not include news of the wave of responses in the wake of the death of George Floyd, a wound that is very recent, and raw; and built on a long history of racism. This Antiquity Now covers the semester that ended just before this response to systemic racism erupted, and may seem jarringly upbeat. In this Antiquity Now we are celebrating the achievements of our department during a challenging semester. Those achievements include work against injustice that our community has been engaged in for years; work which is apparent within these pages, and particularly evident when our alumni share what they have gone on to do with their majors.
We began June with a new college President, Dr. Suzanne Rivera, who has said, "The college sits at the center of our nation's broken heart today. We must stand up and do something to repair it." When we return, and even now while we are apart, we will stand up where we can to repair the nation, and the world beyond.
April 28, 2020
Bringing Our World to Students' Homes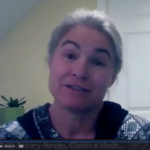 Taking our Spring Sampler visits online, Professors Brian Lush and Beth Severy-Hoven provide an introduction to the department for admitted students.

April 15, 2020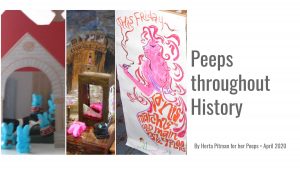 Throughout History, Peeps have Overcome, by Herta Pitman
Take a moment to view the PeepsShow SlideShow
and learn how Peeps of the past have managed adversity.
April 10, 2020
Classics Department Video Introduction, story by Herta Pitman, video of Classics Faculty by Admissions


Professors Beth Severy Hoven, Andy Overman, Nanette Goldman, and Brian Lush got together in mid-March (before social distancing became the norm) to make a video to introduce our department to admitted students who are not able to visit campus in person this spring. The video, while technically imperfect, perfectly captures our welcoming and supportive professors, and provides a quick overview of the major. See it here: https://youtu.be/ghMHdKKthuM
April 1, 2020
Meet a Classics Major, by Andy Overman
Dr. Anthony Fauci, a son of Italian immigrants, grew up in Brooklyn and The College of the Holy Cross College where he majored in Classics. He was captain of the basketball team, following in the footsteps of Boston Celtic great Bob Cousy He attended Cornell Medical School. He is the 40th most cited researcher alive today and has served in Public and Global Health for over forty years.
In a recent interview with Al Jazeera Fauci offered one of the wisest and far-reaching epidemiological statements ever uttered when describing how to best fight an epidemic:
"You don't skate to where the puck is. You have to skate to where the puck is going be."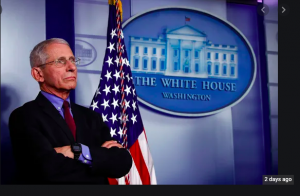 Dr. Fauci, Classics major and, a wise hockey informed Medical philosopher. It doesn't get any better than that. We are in good hands.
March 20, 2020
Staying in Touch/UPDATES written to our current students by Andy Overman
As Majors and Minors in Classical Mediterranean and Middle East we value you very, very much. I and my fantastic colleagues think the world of each and everyone of you.  You mean so much to us, to our department, and to our college community.  I am so sorry this strange episode has come upon us and you especially in the midst of your college career.
But we will all make it through this and we will be a stronger community as a result.  Our department wants you to know we are here for you.  Anything you might need, any questions you have, rumors you may have heard, and any other concerns you have, please reach out to me or Brian, Nanette, Beth or Greg.  We are here and want to try to stand together and support one another in every way possible.
So I have heard from some of you but by no means all. So please reach out to me and let me know where you are, how you are doing and if you need anything at all.  OK?  Let's stay in touch with one another and remain strong as a community.  We are here for you and we are all here for one another.
I have had a chance to see some of you this week and I commend you on how you are dealing with all of this, maintaining both your character and your usual high standards!
So we will keep you updated on anything we hear and know.  And please touch base and stay in touch.  You all are amazing!
With a Big Hug and Elbow Bump!
 Spring 2018
We Are Now the Classical Mediterranean and Middle East!

A name change for our department was approved by the college faculty today, February 13, 2018. We are now
the department of the Classical Mediterranean and Middle East!  This change has been made to better reflect the scope of the department's work. Please bear with us as we work out the kinks in making changes. For a while at least, our old name will appear in places where we haven't yet made the change.
Spring 2017
April 
Student Made Arabic Language Learning Videos
Three students from the Spring 2017 Advanced Arabic Independent Study Ruth Kendrick '17, Nick Bascuñan-Wiley '17, and Abby Massell '18 created a Youtube page where they uploaded videos explaining colloquial Arabic words and phrases in order to prepare students planning to go abroad where Modern Standard Arabic isn't as common.
Fall 2016
December
Professor Wessam El-Meligi Publishes Graphic Novel
Professor Wessam El-Meligi published his first graphic novel, Y and Y, about two children in a war-torn city. Although written in English, the novel was originally inspired by a writing activity in Arabic class. It is published by Seshat Press and is available at Common Good Books and Amazon.
October
Fall 2016 Newsletter Available Now
The fall 2016 issue of Antiquity Now, the Classic Department's newsletter, is available now.  In it you will find pictures and stories about: what can be found on our web page, courses that will be offered in the spring, alumni news, and more; including news about an exciting Omrit project. ​ Printed versions are available in the office beginning November 1. The latest issue of Antiquity Now is available on-line here.   Newsletter Archives are here.
Tips from Antiquity, by alumnus Aaron L. Beek
Aaron looks to Classics for tips on how to fix elections. Read his advice from the ancients here:

Summer 2016

August

Macalester Students Write More SMAC
The latest issue of Studies in Mediterranean Antiquity and Classics (SMAC) is now available online. The journal features the outstanding research of Macalester undergraduates in the study of ancient Mediterranean people and cultures. The students in Spring 2016 CLAS 362: Intermediate Greek Poetry served as the editorial board for this issue. Find it here.
July 2016
Classics Alum Report
Machal Gradoz
'12 shared news and a picture. She says, "I'm currently working on a survey project in Greece with
Joey Frankl
'14 and
Grace Erny
'11, and we, being the proud Mac alumni we are, staged a photo op at a Hellenistic fortification in our survey area. We thought you all might enjoy it, so I've attached it. It's great to be back with them and reminisce about both Macalester and Omrit!"
She is headed to Ann Arbor this fall to start at IPCAA's PhD program at the University of Michigan, where, Machal tells us, "
Kate Larson
'05 just finished her PhD, so I'll just miss her, but I hope to represent the Mac name as well as she did!"
Joey Frankl
adds that he "just finished the second year of my Masters in Classical Archaeology at CU Boulder (following in Grace and Machal's footsteps)."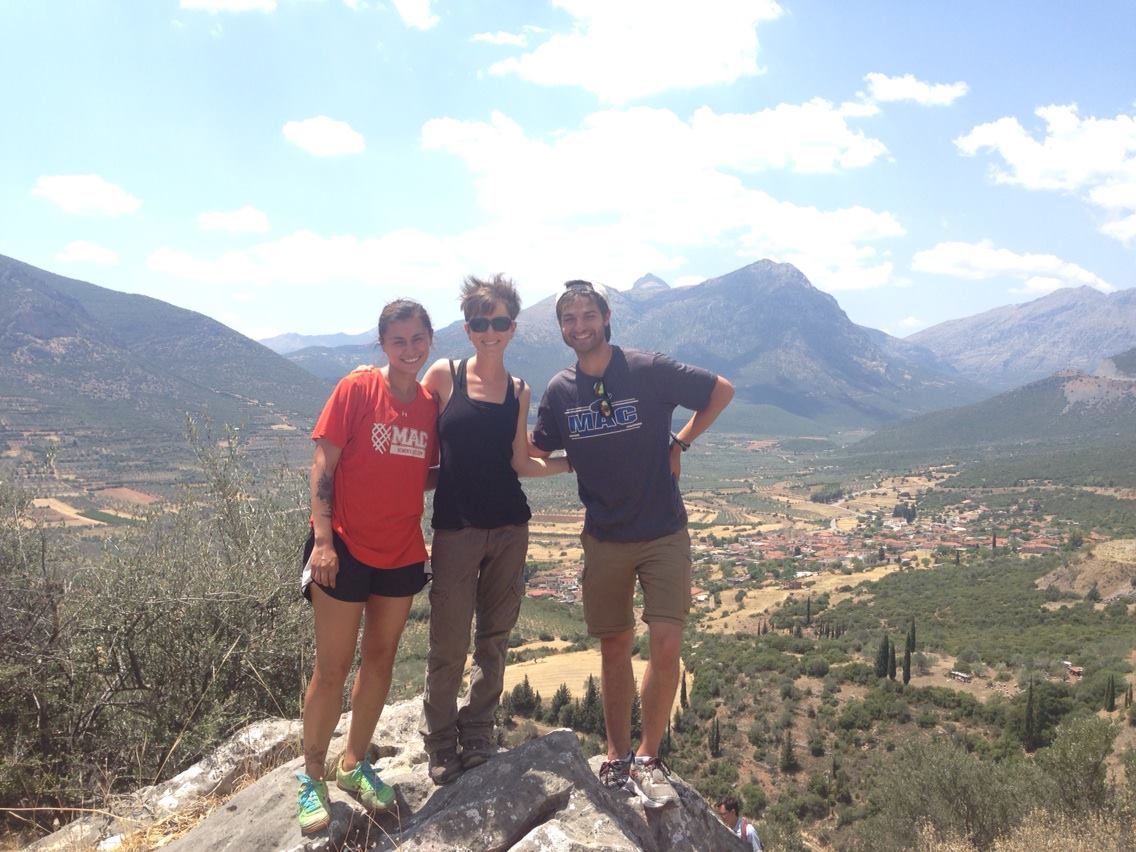 Machal Gradoz, Grace Erny and Joey Frankl
Spring 2016
May 2016
Spring 2016 Newsletter Available Now
The spring 2016 issue of Antiquity Now, the Classic Department's newsletter, is available now.  In it you will find pictures and interviews and stories about: 2016 department prizes, alumni news, courses that will be offered in the fall, ​Classics' study away programs; and more news, including news about Beth Severy-Hoven winning Macalester's Rossman Excellence in Teaching Award, and opportunities that appeal to classicists.​ The latest issue of Antiquity Now is available here.   Newsletter Archives are here.
April 2016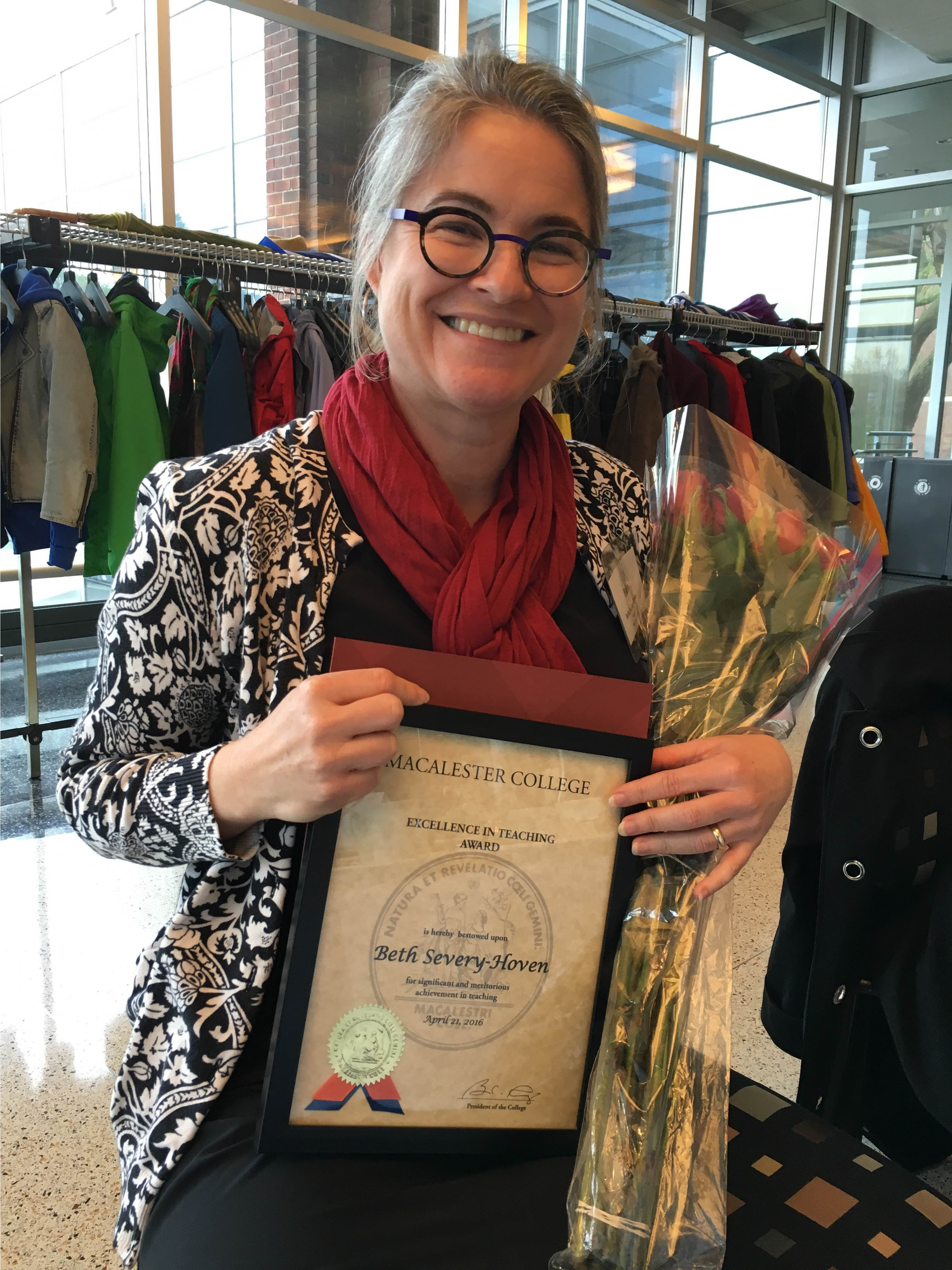 Beth Severy-Hoven Wins Macalester Teaching Award
Beth Severy-Hoven has been awarded Macalester's 2016 Jack and Marty Rossmann Excellence in Teaching Award, which recognizes "a faculty member who has been identified by colleagues and students as exemplifying the teaching goals of Macalester College."
We are delighted that the award committee selected her from among an outstanding cohort of excellent teachers, thankful to her students for being a big part of her success, and truly lucky to have her as a colleague who sets a constant example of excellence, generosity, and balance for us all. Please join us in congratulating Beth on this fitting acknowledgment of her contributions.
Read the full Award citation here.

Performance of Plautus' "Curculio"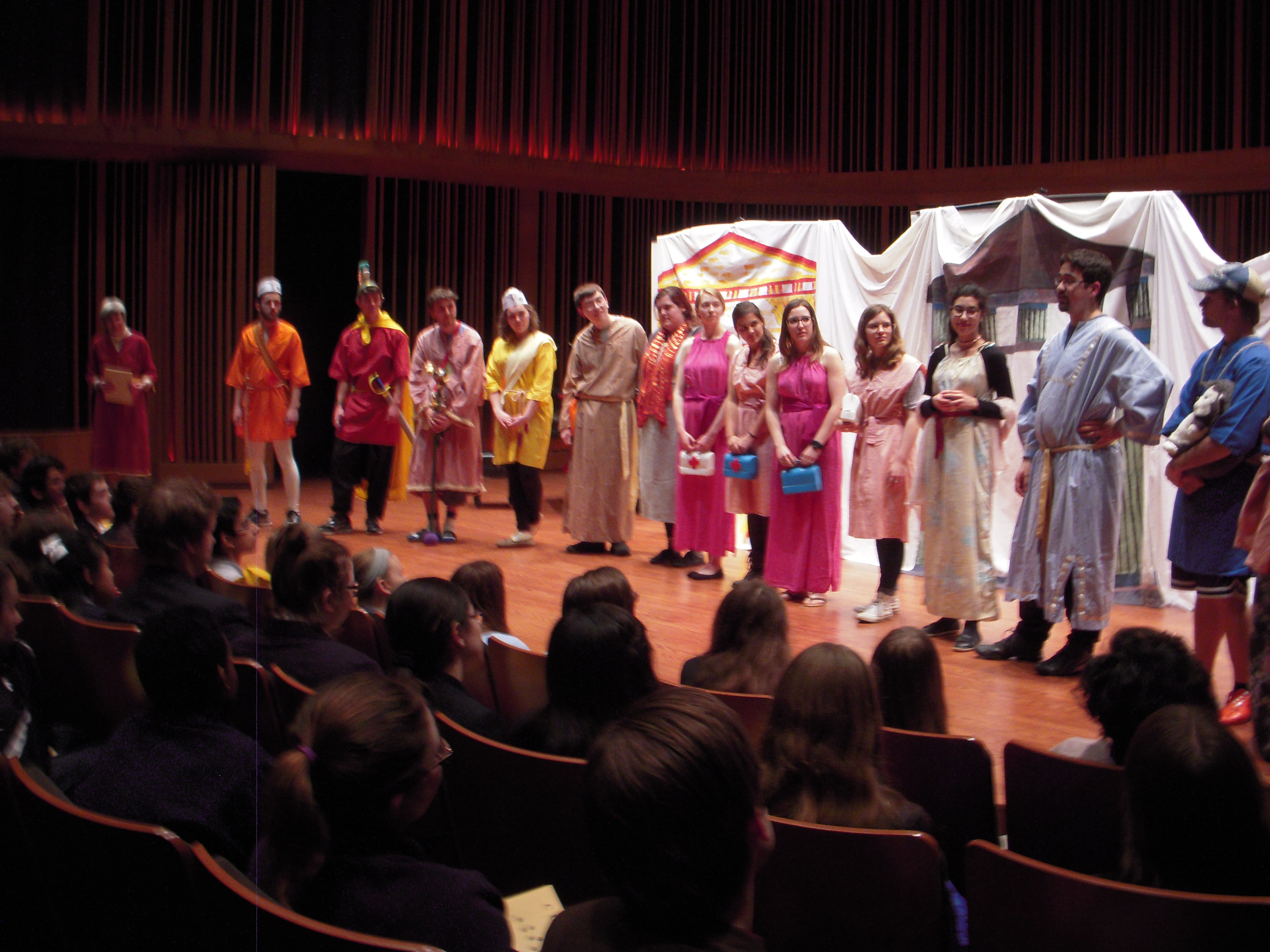 On March 9, students from St. Olaf performed Plautus' ancient Roman comedy "Curculio" in a musical mixture of English and Latin, under the direction of Saint Olaf professor Anne Groton. The audience included Classics students and professors, and nearly one hundred students from Parnassus Preparatory school, a college preparatory classical K-12 institution.
Macalester Classics' Own Journal: Studies in Mediterranean Antiquity and Classics
The students in CLAS 362: Intermediate Greek Poetry serve as the editorial board for issues of the journal Studies in Mediterranean Antiquity and Classics in Spring 2016. SMAC features the outstanding research of Macalester undergraduates in the study of ancient Mediterranean people and cultures. Papers address the languages, literatures, material culture, societies or history of the broad ancient Mediterranean world, including Greece, Rome and the Middle East. SMAC is published online, and issues can be viewed  at http://digitalcommons.macalester.edu/classicsjournal/.

The Classics Department is sponsored two events in March:
The first was Plautus' "Curculio" performed in a mixture of Latin and English on our campus by St. Olaf students. The show took place on Wednesday, March 9th. Flier here.
The second was a field trip to a dance performance of DIDO AND AENEAS with live orchestra, chorus, and soloists conducted by Mark Morris at the Northrup Auditorium at the University of Minnesota.  Flier here.
January in Rome


Nanette Goldman, Brian Lush, and Andy Overman led a group of 23 on an exploration of Rome for the winter break course, "January in Rome." One participant, Michelle Coblens, Classics major, 2016, made a video about it. See it here.
Fall 2015
Fall 2015 Newsletter Available Now
The fall 2015​ issue of Antiquity Now, the Classic Department's newsletter, is available now.  In it you will find pictures and interviews and stories about: one student's​ study away experience, alumni news, courses that will be offered in the spring, ​upcoming study away programs, an Omrit 2015 photo album​; and more news, including news about about newly-tenured Professor Brian Lush, Arabic House, capstones, and opportunities that appeal to classicists.​ The latest issue of Antiquity Now Is Available Here.   Newsletter Archives Are Here.
Opportunity Updates on the Classics Website
An "O​pportunity U​pdates" section is now available on our website. It's a place to look for nice-to-know things that our department is often asked to share with our students: calls for papers, internship opening notices, recruiting, grad and study away program notices, and more. Find It Here.
Spring 2015
King Herod Comes to Saint Paul
The Classics Department hosted an event about Archaeological Discovery, Architectural Preservation, and Experiential Education in Northern Israel on Thursday, May 28. The speakers were the President Yona Chen of Tel-Hai College in Northern Israel and Professor Andrew Overman of Macalester. The public was invited to this first public lecture about a unique collaboration between Macalester and Tel Hai in Northern Israel. It was an opportunity to hear about the exciting discovery of Herod's Temple complex at Tel Omrit by local students and scholars which has ​cast new light on Roman, Jewish and Christian history in Northern Israel; and learn about the crucial cooperative effort to save these discoveries for future generations. A brochure about the project can be found here
Fall 2014
Introduction to Museum Studies Exhibition
Students in the Introduction to Museum Studies course have created exhibits that are on display December 8-11, 2014 in multiple campus locations. To learn more about their projects, and to find out where to see the exhibits, see the catalog here.
MESIC night at Arabic House
Arabic House will host an event about the house and the MESIC concentration on Monday, November 17 from 5-6. For a further details, see the flier here.
Consider Classics Courses for Spring 2015
Classics courses explore the literature, cultures, and archaeological remains of the ancient Mediterranean world. The languages taught in Classics: Arabic, Greek, Hebrew, and Latin; are utilized as the basis of interpretation of ancient texts, societies, and material culture. Students find that study of the ancient Mediterranean sheds much light on contemporary problems, concepts, and values.  We've created a handy handout to help you decide where to begin in Classics. Find it here.
Registration for Spring 2015 runs November 17-December 5.
Introducing Antiquity Now
The first issue of Antiquity Now, the Classic Department's newsletter (linked here) was published in early October.  In it you will find pictures and interviews and stories about: some of the many ways students pursued their classics interests during the summer; a report from the new Arabic Cottage; a listing of the latest Classics Department prize recipients, including the new Jeremiah Reedy Prize; updates from our professors, exciting new courses offered by the department this year, and information about how you can help support travel and research for our students.
Spring 2014
Arabic Cottage Opens in Fall 2014
Starting in September 2014, the Classics Department's Arabic language students have the option of living in The Arabic Cottage.  An article about the new opportunity appeared in this issue of the Mac Weekly.
Modern Tools for Ancient History
Professor Andy Overman's Roman World course had a unique assignment this semester – an Essignment. Students selected a crucial aspect of Roman History from the syllabus and designed a web-based project. Some were digitial shorts, some videos, others elaborate and colorful powerpoint presentations on dynamic chapters in Roman History. The class held a vote to choose their favorite.
Click on these links to view some of the top vote-getting Essignments from the course:
And the winning Essignment: