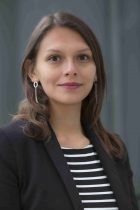 Assistant Professor
Arabic literature, early Islamic history, Islamic late antiquity
Old Main 312
651-696-6853
pklasova@macalester.edu

Pamela Klasova specializes in classical Arabic literature and early Islamic history (7th-9th century CE). She is particularly interested in the relationship of Arabic culture with the broader world of Late Antiquity. In her scholarship, she underscores the cosmopolitan and multicultural nature of the early Islamic empire and the interactions of Arabs with Greek, Syriac, Persian, Sogdian, etc., -speaking peoples. She is currently preparing a book that explores Arabic oratory as a key aspect of imperial power under the Umayyad dynasty (661-750) and its most famous governor, al-Hajjaj b. Yusuf al-Thaqafi. Her other research interests include Arabic poetry and myth and Arabian traditions of magic and divination.
Professor Klasova teaches Arabic language as well as courses on Arabic literature and history (in English). She looks forward to developing a dynamic Arabic curriculum at Macalester. In Spring 2021 she will offer a course that will explore Islamic history and the relationships between Muslims, Christians, and Jews through the eyes of medieval travelers and exiles.
Born in La Paz, Bolivia, Professor Klasova was raised in Prague, the capital of the Czech Republic. She began her university studies at Charles University, continued at Leiden University in the Netherlands, and earned her Ph.D. from Georgetown University in Washington, D.C. She has studied, traveled, and excavated in many cities in the Middle East, including Damascus, Cairo, Tunis, Tehran, Beirut, Amman, and Petra. Prior to Macalester, she spent two years as an Andrew W. Mellon Postdoctoral Fellow at Bowdoin College in Maine.