College Access Macalester Opportunities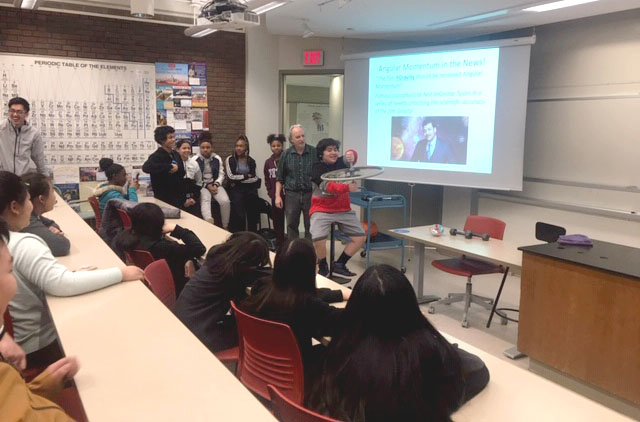 Opportunities for Success at Macalester
Opportunities for Success include programs, initiatives and services for prospective and current Macalester students.  These opportunities exist within and outside of the classroom, pre-orientation programs, first year programs, academic assistance, intentional living communities, and student support services.
This program is designed to increase the number of historically underrepresented students at Macalester who are selected to participate in and receive opportunities for study abroad/away, internships, fellowships, and scholarships, and to increase their application and admittance to graduate and professional schools.
Macalester's Bonner Community Scholars Program is a four-year civic engagement scholarship program providing financial support, leadership programming, community involvement opportunities, and a social network. Fifteen first-year students are admitted each year; at least half the students are first-generation college students.
The mission of the Lealtad-Suzuki Center for Social Justice is to integrate the ethos and values of historically underrepresented peoples, discourses, thoughts, and ideas as a catalyst, supporting an increasingly inclusive model of doing work across the College.
The Community Engagement Center at Macalester College supports local K-12 education through a variety of different ongoing options including volunteering, work-study and course-based opportunities.
The College Access Organizer serves as a liaison to the Lealtad-Suzuki Center, the Max Tutoring Center, Admissions Office, Financial Aid Office and local College Access non-profits.
The fundamental objective of the Mellon Mays Undergraduate Fellowship is to encourage and support minority students and others with a demonstrated commitment to eradicating racial disparities to pursue doctorate degrees in core fields of the arts and sciences.
Macalester is participating in the Louis Stokes Alliances for Minority Programs (LSAMP) grant, which is aimed at increasing the quality and quantity of students of underrepresented groups successfully completing science, technology, engineering and mathematics (STEM) baccalaureate degree programs, and increasing the number of students interested in, academically qualified for and matriculated into programs of graduate study.
With on-campus mentoring, paid summer research and other opportunities, this fellowship is intended to increase the number of underrepresented students who pursue graduate study, research, and/or teaching careers in higher and post-secondary education. Up to four sophomores to participate in the program.