English Department Events for 2019-2020: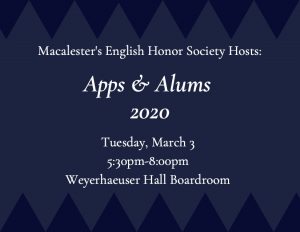 Apps & Alums Career Event, March 3, 5:30-7:30 in Weyerhaeuser Boardroom
This event is an evening for English alums and majors/minors to come together for conversations about life post-graduation and career paths taken. This is a casual event but businees casual or comfortable is recommended. Heavy appetizers provided. Sponsored by the English Honor Society.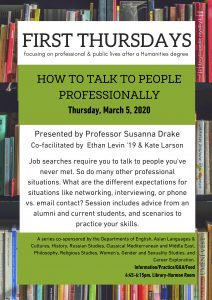 First Thursdays Humanities Career Workshop – session 5. "How To Talk To People Professionally" March 5, 4:45-6:15pm in Harmon Room
This session is led by Professor Susanna Drake, Ethan Levin '19 and Career Explorations' Kate Larson. This session will explore: what are the different expectations for situations like networking, interviewing, or phone vs. email contact?
This session includes:
Advice from and an alum and current students
Scenarios to practice your skills
All students in the Humanities are invited. Soup supper.

POP TALK: Dark Fairytales, March 11, 5-6:00pm in Old Main 4th Floor Lounge
We would like to invite students to our POP TALK: Dark Fairytales (rescheduled from last semester) with Professor Penelope Geng and English major Dalton Greene. POP TALKS is a series of discussions on a POPular culture topic with different English faculty leading each talk. The POP TALK will be held 5-6pm in Old Main 4th floor lounge and students from all across campus are welcome. Please pop in for some POPular culture talk and popcorn.