English Department Events for 2018-201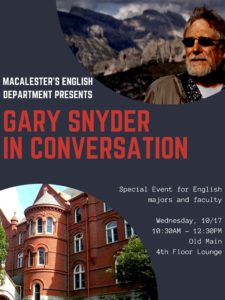 Wednesday, October 17, Gary Snyder in Conversation with the English Dept, 10:30am-12pm, OM 4th Fl Lge.
All English majors, minors and faculty are invited.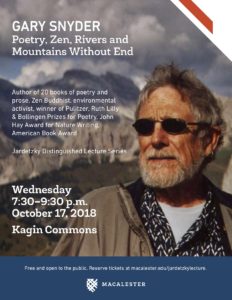 Wednesday, October 17, Gary Snyder Reading and Discussion, 7:30-9:30pm, Kagin Commons.
Free and open to the public but tickets are required – at macalester.edu/jardetzkylecture.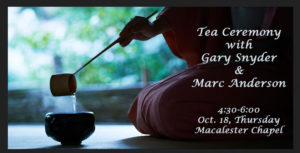 Thursday, October 28 Tea Ceremony with Gary Snyder & Marc Anderson, 4:30-6pm, Chapel
Open to the students and faculty in the participating Mac departments.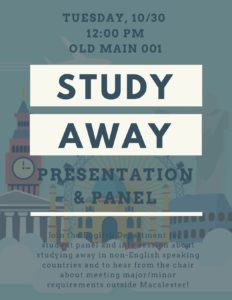 Tuesday, October 30 Study Away Presentation and Panel, 12-1:00pm in Old Main 001. Pizza.
This is a student panel and info session about studying away in non-English speaking countries. English dept chair will also talk about meeting major/minor requirements outside of Macalester.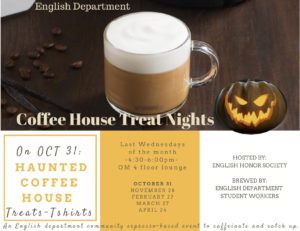 Wednesday, October 31 Haunted Coffee House Treat Night, 4:30-6pm in OM 4th Fl Lounge.
Enjoy espresso drinks, scary treats and frightening activities with English friends. Also, the new English Department Tshirts will be revealed and distributed. Don't miss the fun!
Thursday, November 1 first thursdays Humanities Career Workshop series, 4:45-6:15pm Harmon Room
Session #2 tonight Applying to Graduate School will be led by Professors Ernie Capello, Matt Burgess and Amy Elkins. All students in the Humanities are encouraged to attend one or all of these sessions focusing on professional and public lives after a Humanities degree. No RSVP needed. Soup Supper.