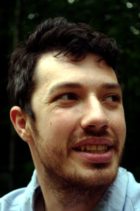 Visiting Assistant Professor, English
Poetry; creative nonfiction; fiction; hybrid/mixed form writing; ecopoetics and ecocriticism; documentary filmmaking.
Old Main, 208
651-696-6179
bvoigt@macalester.edu
Benjamin Voigt grew up on a horse farm in upstate New York. He studied English and Environmental Studies at Macalester, and received an MFA in Creative Writing from the University of Alabama, where he was a Graduate Council Fellow. He is currently at work on his first book, a collection of poems about humans, computers, and other animals.
Areas of study
poetry
creative nonfiction
fiction
hybrid/mixed form writing
ecopoetics and ecocriticism
documentary filmmaking
Sprin 2019 Courses
ENGL 294-03 The Place of Place: Writing Setting
ENGL 394-02 Writing Resistance