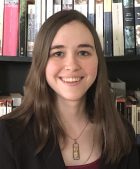 Visiting Assistant Professor, English
Nineteenth-century British literature and culture, especially Victorian memoirs and the novel; women's studies; history and theory of the novel.
Old Main
mmerte@macalester.edu

Melissa Merte teaches and researches nineteenth-century British literature and culture, with a particular interest in theory of the novel and women's studies. She is working on her first book project, which considers the relationship between literary form and romantic-economic desire in Victorian narratives. Her first article, "Plotting an Economic and Romantic Path Forward: Miss Matty's Tea Shop and the Gendered Cycles of Cranford," appears in Texas Studies in Literature and Language. Her second, "Moving Beyond Progress: Retracing the Narrative and Social Cycles of Margaret Oliphant's Hester," is forthcoming in Studies in the Novel.
Areas of Study
Nineteenth-century British literature and culture, especially Victorian memoirs and the novel
Women's studies
History and theory of the novel
Fall 2021 Courses
ENGL 137-02: Novel: Through the Mind's Eye
ENGL 294-05: Beyond Marriage
Education
Ph.D. University of Minnesota
M.A. University of Rochester
B.A. State University of New York at Binghamton