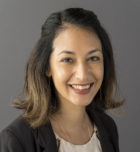 CFD Postdoctoral Fellow, English
Medieval Literature and Culture; Early Globalities; Chaucer; Medieval Romance; Travel Literature; Adaptation and Cinema Studies; Comparative Race Studies; Postcolonial Theory; Gender and Sexuality Studies; Digital Pedagogies
Old Main 213
651-696-6508
slomuto@macalester.edu
she/her

Sierra Lomuto currently holds a Consortium for Faculty Diversity Postdoctoral Fellowship, which will transition to the position of Assistant Professor in 2020. She teaches courses on medieval literature and culture, including Chaucer and adaptation, the global Middle Ages, travel narratives, medieval race, and medieval romance. Her teaching and research interests focus on medieval histories of global contact and the literature they engendered; the formation of racial ideologies in the Middle Ages; and contemporary appropriations of the medieval past. She is currently working on her first book, Exotic Allies: Race, Literature, and the Construction of Mongols in Medieval Europe, which revises and expands her doctoral dissertation. She has given invited talks at the University of Virginia, George Washington University, New York University, University of Iowa, University of Missouri-Kansas City, Amherst College, St. Joseph's University, and Linfield College; and she was featured as an emerging scholar at the 7th Annual Ferrari Humanities Symposium at the University of Rochester. With the generous support of a Wallace Scholarly Activities Grant from Macalester, Professor Lomuto spent Summer 2019 at The Morgan Library in Manhattan, conducting research about the incomparable Belle da Costa Greene, the Morgan's first librarian and director, and the first black fellow of the Medieval Academy of America who passed as white during her lifetime. 
Professor Lomuto is a co-founder of Medievalists of Color and is on the Mentorship Committee of the New Chaucer Society. She has a PhD in English from the University of Pennsylvania; an MA in American and English Literature, and a BA in Creative Writing and Gender, Sexuality, and Women's Studies, both from Mills College; and is a former community college student from the San Francisco Bay Area. 
Public Writing
Scholarly Writing
"The Mongol Princess of Tars: Global Relations and Racial Formation in

The King of Tars,

c. 1330."

Exemplaria

31.3 (2019). Link

here

.

"

Becoming Postmedieval: Why We Need to Leave the Middle Ages Behind

." Special anniversary issue:

Race, Revulsion, and Revolution

, eds. Mary Rambaran-Olm, Bre Leake, and Micah Goodrich.

postmedieval

11.2 (2020). Forthcoming

"Race and Vulnerability: Mongols in Thirteenth-Century Ethnographic Travel Writing."

Deconstructing Medieval Margins and Marginality

, eds. Debra Blumenthal, Kathryn Reyerson, Tiffany D. Vann Sprecher, and Ann Zimo. Routledge. Forthcoming

"Chaucer, Geoffrey: Teaching in Classroom."

The Chaucer Encyclopedia

, ed. Richard Newhauser. Wiley. Forthcoming

"Teaching Race in the Arthurian Literature Classroom," with co-author Shokoofeh Rajabzadeh.

Approaches to Teaching the Arthurian Tradition

, ed. Dorsey Armstrong. Modern Language Association. Forthcoming
Fall 2019 Courses
Professor Lomuto will be on leave Fall 2019.