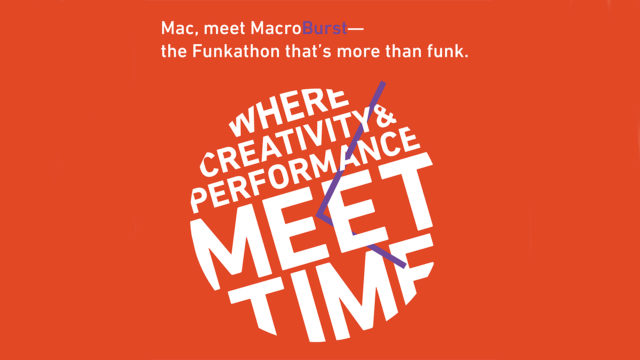 Congrats to 2018 MacroBurst Winners!
1st place MacroBurst team Winnie and the People incorporated writing, performing, artwork, soundscape, and projection to reassure college students that life continues on through good and bad in "A Bedtime Story for College Students." Winnie and the People: Marisa Peredo '20, Trevor Zapiecki '19, Katie Lund '18 and Anna Bruijn '18.
2nd place trio 25 Squats created a musical piece called "I Wanna Eat." Using doo-wop and body percussion, they sang about their collective love of food and their experiences with food allergies. 25 Squats: Ashanté Alford '18, Hosea Ogeleka '20 and Sohini Ghosh '18.
3rd place team Sad Boi Mixed Tapes blended raw folk, pop/musical theater and different vocal and composition styles in their song "Shapes." They relied on minimal instrumentation to focus on the lyrics and power of their voices. Sad Boi Mixed Tapes: Miriam Stoner '18, Noah Stieglitz '18 and Isaac Gamoran '18.
Introducing MacroBurst – the Funkathon that is more than funk. Find a team of 3-6 friends and apply online between Friday, January 26-Sunday, January 28!
Held non-stop from 4:30 p.m. Friday, February 16 to 8:00 p.m. Saturday, February 17, put your hearts and minds together to build an original artistic performance. Centered around a theme, to be announced at the start of the event, everything must be produced within the 24-hour period and the possibilities are infinite: make a song, combine capoeira and free jazz, film a horror movie musical, perform a one-act play, yodel an epic poem, do electronic music, stage a satirical soap opera, perform a dance, stage a fashion show. Allstar alumni creatives are brought in from across the country to inspire, mentor and judge.
MacroBurst culminates in the 2018 Showdown, where each team has 2 minutes to set up and 4 minutes to perform their completed work to the alumni judges. The three top teams win cash prizes of up to $1000. Artists, musicians, originators, performers, entrepreneurs, makers, creatives of all types – this is your chance to bring your friends together to celebrate innovation, foster community and boldly reimagine what's possible.  More Information For Students
Questions? contact eship@macalester.edu
Cash Prizes
Each team is eligible to win one of three cash prizes:
| | |
| --- | --- |
| 1st Place: | $1,000 |
| 2nd Place: | $750 |
| 3rd Place: | $500 |
Judges reserve the right to split and adjust prize money allocations. Prize-winning students will need to file a W-4 form at the event (if they do not have one on-file with the college) and the requisite taxes will be withheld from prize awards.
---
Past Funkathon
2016's winning group, Kingdom Roots, created this music video.