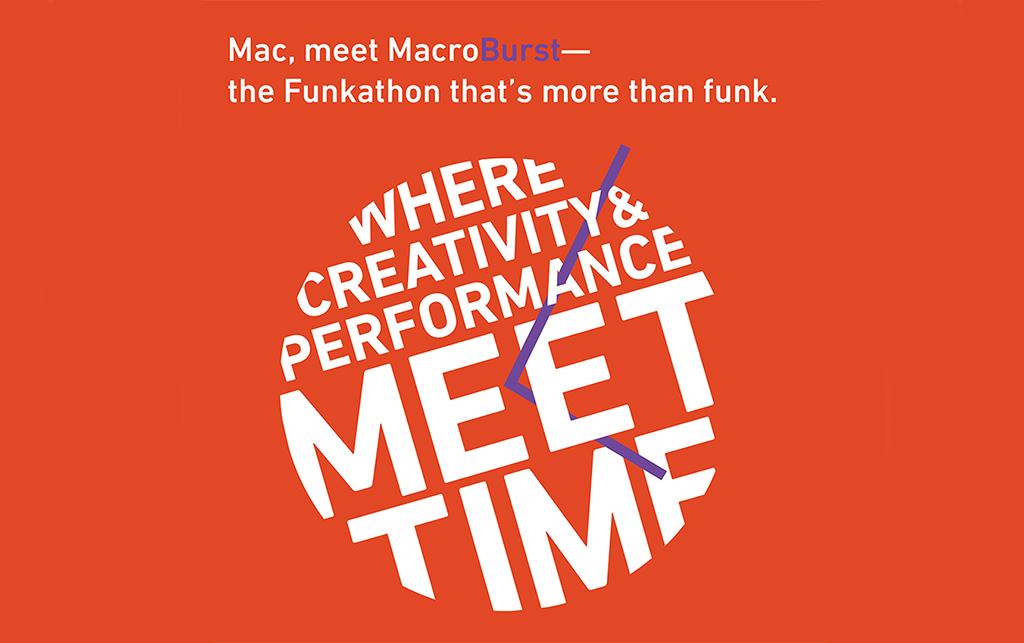 2018 MACROBURST SCHEDULE
*Snacks and beverages provided in 2nd floor JWall throughout the event

Friday, February 16

4:30 – 5:00 pm
Check-in and folder pick-up
Mairs Concert Hall, Janet Wallace Fine Arts Center
5:00 – 5:30 pm
Judges & Teams Event Kickoff
Mairs Concert Hall, Janet Wallace Fine Arts Center
5:30 – 7:00 pm
Dinner for students (teams can start working at any point)
Lowe Dayton Arts Common, Janet Wallace Fine Arts Center
6:00 – 7:30 pm
Judges Dinner
Khyber Pass Cafe, owned by Emel Sherzad '89
8:00-10:00 pm
Judges visit teams
Lowe Dayton Arts Common, Janet Wallace Fine Arts Center
12:00 pm
Midnight PIZZA
Lowe Dayton Arts Common, Janet Wallace Fine Arts Center
open until 3:00 am!
IDEA LAB
Dewitt Wallace Library 2nd floor

Saturday, February 17

7:00 – 10:00 am
Coffee & Bagels
Lowe Dayton Arts Common, Janet Wallace Fine Arts Center
9:00 am – 12:00 pm
Hot Brunch
Lowe Dayton Arts Common, Janet Wallace Fine Arts Center
10:00 am – 2:00 pm
Judges visit teams
Lowe Dayton Arts Common, Janet Wallace Fine Arts Center
11:00 am – 1:00 pm
Formal Feedback Judge meetings
Classrooms, Janet Wallace Fine Arts Center
11:30 am – 2:30 pm
Tech check – teams assigned time
Mairs Concert Hall, Janet Wallace Fine Arts Center
1:00 pm
Teams turn in Registration Sheet
Lowe Dayton Arts Common, Janet Wallace Fine Arts Center
2:30 – 3:30
Judges Gathering with Kate to learn about Entrepreneurship and eat tacos
Dewitt Wallace Library, 2nd Floor in room 250
3:00 – 4:15 pm
Taco Bar for students
Lowe Dayton Arts Common, Janet Wallace Fine Arts Center
3:20 – 4:10 pm
Teams pack up/clean room and check out
Classrooms, Janet Wallace Fine Arts Center
4:15 PM
Doors open for Final Presentations
Mairs Concert Hall, Janet Wallace Fine Arts Center
4:30 – 6:15 pm
FINAL MacroBurst Showdown
Mairs Concert Hall, Janet Wallace Fine Arts Center
6:15-6:30
Intermission
Mairs Concert Hall, Janet Wallace Fine Arts Center
6:30-6:45
Awards Ceremony
Mairs Concert Hall, Janet Wallace Fine Arts Center
7:00 PM
Judge's Dinner
Macalester College Briggs House
JUDGING MATRIX
| | | |
| --- | --- | --- |
| Form | The piece should be comprehensive. If interdisciplinary, the piece should hold together. It should be clear that the team thought deeply about the audience's point of view in their presentation. | 10 |
| Collaboration | Teamwork should be evident. The team members should be working toward the same goal, as a unit. All team members should contribute, and all contributions should work toward their shared goal. | 10 |
| Theme and Creativity | Innovation and uniqueness are key. The piece should be novel, creative, and engaging. Originality by itself is insufficient, look to how the creative elements work together. They should present a cohesive, artistic whole. | 10 |
| Performance and Style | The performance style should be consistent with the purpose of the work. It should also be well executed, which is to say, the performance and stylistic choices should not draw attention to the artifice of the work unless that is consistent with the artistic purpose of the piece. | 10 |
| Risk | The team should be stretched artistically. They should leave their comfort zone, however, it shouldn't be obvious that's what's happening. Bravery is being the only one who knows you're afraid. | 10 |
EVENT OVERVIEW
Macroburst (formerly Funkathon) will be held Friday, February 16th to Saturday February 17th in the Janet Wallace Fine Arts Center.
Team captains have to be in Arts Common (Janet Wallace) at 4:30 PM on Friday. Teams can start working in an assigned room after receiving packet and T-shirts. Team members will be able to come in and out of Olin Rice and Janet Wallace throughout the event until 12:30 AM. Doors are locked between 12:30 AM and 7:00 AM for safety reasons.
Showdown will be held in Mairs Concert Hall in Janet Wallace at 4:30 PM after dinner. INVITE YOUR FRIENDS AND FAMILY!
FOOD
Snacks and beverages will be available throughout the event. Meals will be at scheduled times. Please check the schedule for information as to location and meal time.
ORIGINALITY
Your work must be the original of the team and created during the event. However, team members are encouraged to consult peers, interested faculty, Macroburst judges, and planning committee members with any questions about performance and recording. Macalester College has no claim to the concepts, ideas, works developed during and for the Macroburst.
Friends and Family
Friends and family are invited to the semifinal round and/or the Showdown.
They must stay for the full event duration and not leave after you have presented.
Family and friends are also welcome to visit (but not hang around) during other portions of the event.