2015 Mac Startups Teams
Artdefy
Artdefy is an online community that helps artists in the Twin Cities metro area connect to make safer spaces for collaborative art and expression. Artdefy is for artists who fall into one or more of the following groups: cis women, trans women, trans men, non­binary people & gender non­conforming people. In other words, artists who are not cis men.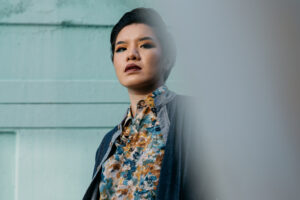 Vincy Chan '15
Vincy Chan is a recent graduate of Macalester College with a Music Major in Jazz Voice. This is his first attempt at entrepreneurship and he is thrilled to work with Judith Wodzak to bring local artists together through building a social networking website.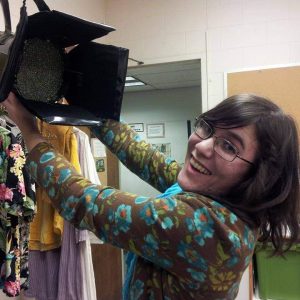 Judith Wodzak '15
Judith is a 2015 graduate of Macalester College, where she majored in music and linguistics. As a female singer, actor, director, and fiber artist, she is committed to helping artists of marginalized identities express themselves and is excited to be working with Vincy Chan on new ways to make this happen.
---
Compost Cart
Compost Cart is a compost pick­up service for students living off campus. It's convenient, affordable and environmentally friendly!
Stephanie Shimota '17
Steph is a rising junior from Minnesota studying geography, environmental studies and community and global health.
---
Unanimus
Unanimus is a mobile app that helps groups of friends decide where to eat a meal together. By accounting for each person's dietary restrictions and preferences, Unanimus identifies and suggests the best restaurant options for the group.
Sam Gilbert '17
Sam is a rising junior at Macalester College, majoring in mathematics and computer science. He's looking forward to a career in software engineering. For now, he enjoy playing chess, poker and pool.
Jonah Kaplan '16
Jonah is a rising senior at Macalester where he's majoring in Political Science and minoring in Classics. He's passionate about building a community of entrepreneurs at Macalester, cooking curry, and listening to electronic funk music.
---
CoART Designs
I am currently working on designing a unique and fun Macalester paisley design that incorporates different themes and motifs that embody the spirit of Macalester.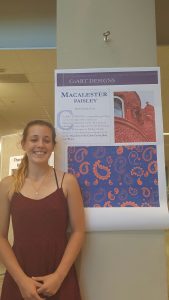 Cora Trout '16
Cora is a rising senior at Macalester. She is a French and Classics double major. She recently returned from studying abroad in Paris, France.
---
Hop-In
Hop­-In is an app that organizes carpools between Macalester students. Our mission is to give people without vehicles better access to grocery stores. There is monetary incentive for persons who are willing to drive others, creating a mutually beneficial experience with Hop­-In.
Blaise Yokoyama '17
Blaise is an Economics and Computer Science double major from San Diego, California, and is fascinated with the power that entrepreneurship brings to individuals to fulfill the needs of their communities.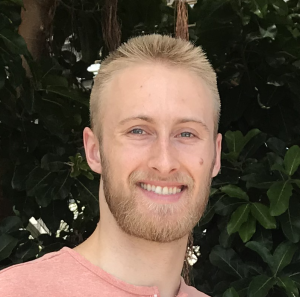 Peter Bertel '17
Peter is a computer science and philosophy double­ major interested in entrepreneurship and creating products that add value to people's lives.
---
Plannd
Plannd solves the problem of date ideas (Where to go? What to do?) and plans it out for them.
Nichil Kantelal '16
Nichil is a rising senior at Macalester College, majoring in economics and applied math. He is originally from Portugal, but has studied away in Dubai, Wales, and now the U.S. Currently, he is leading the team behind Plannd. His job is to manage the day­-to­-day tasks whilst continually working on the finance and marketing of the start­up.
Onur Unal '16
Onur is a rising senior double majoring in Economics and Applied Mathematics & Statistics, with a minor in Computer Science. His passion is finding things he doesn't understand and figuring them out.
---
VendFresh
VendFresh brings quality, affordable food to you. We accomplish this by working with local restaurants to bring great meals to a nearby, convenient machine.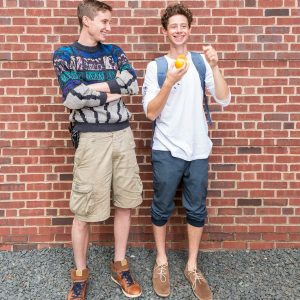 Zach Willert '17
Zach is from Newton, Massachusetts. He is studying Economics and Political Science.
Olivia Wolf '17
Olivia a rising junior at Macalester currently studying Psychology. In her spare time, she enjoys reading comic books, watching Quentin Tarantino movies, and going on runs to the Mississippi River.
---
NÜDL
Nüdl is the brainchild of Alex Dangel and Caitlin Toner, two Macalester Students looking to make the world a slightly cooler place with better recipes for all! As an online user­-generated recipes database, Nüdl connects Macalester students with their friends to learn new recipes. Cooking really happens with the help of your friends, not the countless recipes websites online.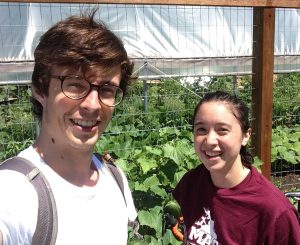 Alex Dangel '16
Alex is an Economics major. Since high school he's lived in South Africa, Argentina, and France. Each of these places has inspired his passion for food and cooking. That's why he's working on NÜDL, an online Macalester food community.
Caitlin Toner '15
Co-­founder of NÜDL. Geography major. Haiku lover.