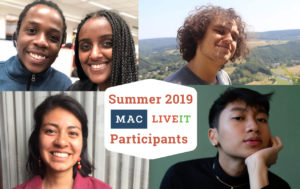 LAB
Bruno Stojcic '21
LAB (Learn! Advance! Bridge!) is a summer program held in Bosnia and Herzegovina, which focuses on providing talented youth access to practical education in the fields of Biology, Chemistry, and Physics. My personal, as well as the experience of my peers, showed that one of the biggest challenges of the Bosnian educational system is the lack of learning practical skills relevant for employment both in and out of the country, a problem that is most vivid in the field of sciences. The summer school is going to implement the peer-to-peer teaching and learning approach, where teachers are going to be local university students in the field, which will give them the needed working experience. With this project, I am hoping to boost the education in the field of sciences, advance the working experience of youth which will improve their chances for future employment, and bridge the gap between youth in the post-conflict society of Bosnia and Herzegovina!
Para Chuparse Los Dedos
Susanna Morales '20
Para Chuparse Los Dedos is a project aimed to connect various generations of Central American immigrants in the Bay Area to the food culture of their family's country of origin. The project will take place in San Francisco, California and consists of creating a series of cooking workshops aimed to teach participants on how to cook a Guatemalan, Nicaraguan, and Salvadoran dish. In addition to the workshops, a cookbook will be made which will include recipes and the stories behind who makes the dishes and where they come from.
Empowering Underrepresented Youth Through STEM
William Enin '22 and Dureti Doto '19
Our theory of change lies in our deep belief of not forgetting where we came from, and using our experiences and privilege to go back to help the communities that nurtured us into the people we are today. Empowering Underrepresented Youth Through STEM is a STEM camp created to help underrepresented youth to address the educational inequities within the public school system. In many public school systems, students are not given the personal attention and autonomy that they need in order to excel and we believe in creating a space in which students are allowed to freely express themselves and find the best way that they are able to learn and thrive.
Generation Magazine
Michael Khuth '20
Generation Magazine is an up and coming publication that seeks to engage with Khmer diasporic communities in order expand upon contemporary Khmer narratives beyond the genocidal experience. It can be seen as an effort to create a thriving network of Khmer artists to showcase their work and give voice to their own experiences/identities. Generation Magazine hopes to address the question of what does it mean/look like to be Khmer now, and how are creatives within the Khmer community interpreting, critiquing, or reimagining their culture through art.