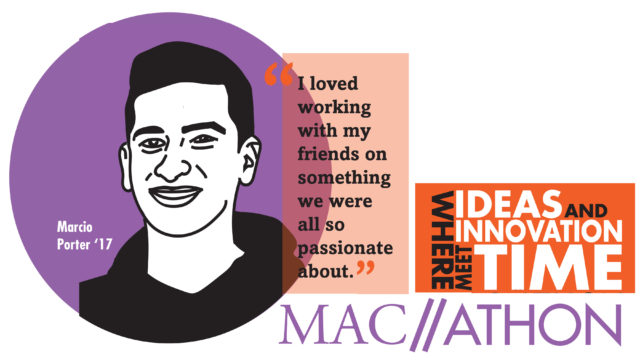 Your questions, answered
Q. Why should I participate in Macathon 2016? What's in it for me?
A. Macathon is an opportunity to work together to create something great. Survey research completed after the initial Macathon showed extraordinary levels of participant satisfaction. 100 percent of survey respondents rated the activity either Awesome (54 percent) or Good (36 percent). Participants were particularly happy with, in this order, the opportunity to work with a team of friends/classmates, the challenge, the food, and the prizes. Macathon is fun, and you'll learn something.
Q. Do I have to stay up and work all night to participate?
A. This is a team planning issue and a question for your team. Some of last year's participants did work straight though the night, but most grabbed naps or slept at some point. Also, some event participants took a break for their work-study shift or music/theater rehearsal. The schedules of individual team members should be discussed within each team before Macathon begins.
Q. Where will our team work during the event?
A. Each team will have a lab or classroom space in Olin Rice, and for a variety of reasons, including the Saturday "Tech Check," we'd like most of the work done there. But team members will be able to come and go during the event, and sending members off to dorm rooms or computer labs to work is fine.
Q. I participated in 2015. Is there anything different about the event this year?
A. This year's Macathon will be very similar to last year's event. Macathon continues to be more than a technology and coding contest: general creativity, problem-solving ability, and communication skills are as important as excellent programming.
Q. How technical and computer-y do the projects need to be?
A. Macathon is a mashup of idea generation, business planning, computer programming, web/mobile development, design, and innovation. We are looking for creative solutions to big problems. and we are looking for prototypes that demonstrate significant progress during the event time.
Q. What pre-work is acceptable?
A. Teams are to do their implementation work (writing, coding, etc.) during the Macathon period. Teams or team members are not to bring in partial or complete applications, graphics, etc. Macathon projects are not to have been designed and completed as part of previous academic work. However, prior to the start of the Macathon period teams and team members are free to brainstorm, strategize, plan, organize work, establish processes and member roles, and generally prepare for the event. Pre-work issues will be checked with faculty and during the "tech check."
Q. What do you mean by "the quality of a team's prototype, beta, or mockup?"
A. One of your main jobs is to show the judges that your idea will "work." A working mobile application, a piece of software that can be demonstrated, or a model of a website or product is one way to show this to the judges, and a requirement of the competition. In addition, anything made using a 3D printer or other type of prototype will be considered as acceptable demonstrations of solutions. This will be evaluated as part of the tech check at the end of the event.
Q. Can you say more about the presentation and the judging criteria?
A. Yes, we can, though we first direct you to the official Macathon "Project Requirements & Judging Criteria." Your presentation should primarily address those guidelines. Macathon is a contest of ideas, and the best, most fully realized idea will win. Your goal is to clearly describe why your idea matters and demonstrate how it would work. Your team's project will be judged on the quality and creativity of your team's thinking and analysis. Note however, that you will also be judged on the clarity and the impact of your presentation skills, as well as on the quality and elegance of your coding, user interface design, and application of technology.
The presentation can be made by one team member or by any number of your team members. And it will be limited to nine (9) minutes, plus some brief questioning if the judges so desire.
Q. Do we have to attend the presentations of other teams?
A. Yes. Each team will be required to end work at the same time and stay for the entirety of the presentation. More information will be provided for you once your team is accepted.
Q. If our project is a website or software application, does it have to be fully operational at the end of the Macathon work period?
A. No. However, the more "real" the site or app appears to the judges the more convinced they will be that you can develop your concept and actually execute your plan. You will get credit for making your concept come alive to the judges. This is another issue that will be probed in the "tech check."
Q. Does our project have to be something that our team would be able to eventually accomplish?
A. Your project does have to be something that your team, given appropriate resources (which would include additional personnel, funding, equipment, time etc.) could reasonably be expected to complete. It does not however, need to be a project that your team could finish by working in a dorm room over the rest of the semester (though it could be).
Q. Can a Macathon project be related to one of my recent (or old) classroom, independent research or personal projects?
A. A Macathon project can be "related to" or "inspired by" previous work. However, deliverables that were originally created for and submitted as classroom, independent study, or research projects will not be allowed in the Macathon. Similarly, a project that a team member or members has already produced for personal or commercial use is not eligible to be a Macathon project. Your Macathon project should be the original work of your team.
Q. How will the prize money be distributed?
A. Each member of a winning team will receive an individual check from Macalester College, approximately 10 days after the event, for an equal share of the team's prize. The college will not withhold any taxes from the award, but the award will be reported to the IRS as taxable income. It is the prize recipient's responsibility to report any prize money received as income when filing taxes.