Deskside waste service changes:
Custodial will no longer empty individual deskside waste bins.  Employees will need to empty their deskside waste containers (trash, compost and recycling) by bringing them to one of the centralized waste stations located throughout each facility.
Why are we moving in this direction?
Although Macalester is one of the leading institutions regarding zero waste goals, our waste reduction efforts have plateaued in recent years with a diversion rate hovering around 80%. The major gains we have made in our diversion rate are mostly from wide-scale projects like campus-wide composting and specialty recycling programs, and now we must turn to smaller changes to inch further towards zero waste. See Article from The MAC Weekly. 
Generally speaking, the data shows that schools who have stopped servicing deskside bins have better diversion rates and lower contamination rates after the project rollout. It is important to note that these schools have usually implemented other waste management strategies at the same time (like standardizing bin size and color, custom signage, adding composting, etc.), so the measured success has likely come from the combination of multiple projects. 
Check out other Colleges that are already doing this:
Frequently Asked Questions
So, how will it work?
Option 1: 
You will be provided with a small 'Organics' bin for compost items. This will be placed in your office space for Fall term rollout with a thank you note and instructions. You will keep your existing deskside bins and service all of them yourself, taking your waste to a central location at your convenience. 
*Please do not line your containers with plastic liners. They actually contaminate recycling (we get charged, equipment malfunctions, and time is wasted) and are costly to purchase–it's not uncommon to spend $15,000 on trash bag liners in a year. Please take anything messy to a central location or a smaller container that can be cleaned at the sink.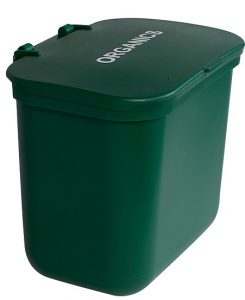 Option 2: 
'Turn in' your deskside containers – you can simply place the bins you no longer need in the hallway and custodial will come pick it up. This means you take your waste to a central location bin as you produce it. 
If your work area feels they need additional central locations for volume or convenience, please contact Facilities and submit a work request.
What do I do before fall rollout?
Custodial Services is currently working on various summer projects. The date for everyone to return to Campus and their offices is August 2, 2021. Custodial will be scheduling deep cleans of all offices with individual departments (as usual) before this return date. If you have returned to the office before this date and need service, please submit a work request specifying your needs.
So, no more liners? Isn't that kind of unsanitary?
We would encourage everyone to walk anything that could create a mess to a central location and not place it in the deskside bins. Of course, there are exceptions to every situation. 
In light of this, Facilities Services will provide a small organics bin to be used for compostable waste generated at desks (napkins, tissues, etc.).  The bins are quite small and easily washed in an office dishwasher or sink.  We will also still be providing the disinfectant spray used for COVID protocols to anyone who would like it. Simply request that through a work request or use spray units in restrooms.
Why do we have to change; I liked the old system?
The truth is that we didn't make our Zero Waste by 2020 goal. Custodial and Sustainability are doing a lot of work on the back end to get there, but we're still not making the progress that we need to.  We need everyone at Macalester to do their part by directly sorting the trash they generate each day if Macalester is going to reach its zero waste goal.
Many institutions with a Zero Waste Plan have already implemented this or similar programs that have proven to increase diversion rates.
Will we lose custodial positions because of this?
No, the custodial staff has had an immense amount of additional workload throughout the pandemic. Many of the procedures implemented during COVID will need to stay in place. The average custodian cleans 30,000 square feet a day. For perspective, the average home is only 2,600 square feet. 
What if I don't know what goes in what bin?
Don't worry! We are here to help. We are currently working on a short and informative training session (Coming soon…) We actually already have these trainings for new students, but are looking to roll them out to faculty and staff as well. 
Why are we asking high-paid faculty and administration members to do the work of a custodial worker? That is a bad use of resources and a waste of my time.
The point of this program is to move the college and community closer to it's long standing goal of attaining a zero waste rating on campus.  We are asking you, as members of the Macalester community, to participate in sorting the waste that you generate each day in order to increase our rates of recycling and composting and decrease the amount of contamination in each stream.  Accurately sorting waste means that we are sending less material to landfills and incinerators and it moves us closer to our ultimate goal of zero waste. 
It takes only a minute or two per day for an individual to handle their own waste and this task can often be combined with other tasks, such as walking to the MFD to pick up printing, or using the restroom.  These short breaks help each of us stretch our legs and give our eyes a break from screens and paperwork.  Ultimately, these types of short breaks can make people more productive.   If you would like to request a waste sorting station be added closer to your workstation, please enter a  work ticket using TopDesk
Many institutions with a Zero Waste Plan have already implemented this or similar programs and it is proven to increase the diversion rates. 
Will custodial be cleaning and disinfecting my compost bin?  
The best, and recommended, practice is to bring messy waste directly to sorting stations and not even bother using deskside compost or waste bins. 
Everyone will be responsible for cleaning their own compost bins.  Compost bins are small enough to be rinsed in a restroom sink.  Disinfectant and roll towels will continue to be provided in restrooms for use on the bins and to allow for self service cleaning that people may wish to do.  This was put in place during the pandemic and has been appreciated by building occupants.   Buildings with dishwashers will also have that option for cleaning bins.
OK, so I am responsible for my waste, but what about vacuuming and other cleaning needs?
Custodial staff will still check your office on a weekly basis to see if it needs to be vacuumed. If you have any other cleaning requests, please let us know by submitting a work ticket.
Added Benefits: Social Justice, Wellness and Mindfulness
When custodial staff serviced deskside bins, they were handling waste twice–upon collection from the office and then again from the centralized locations. By removing bins they are able to streamline their collection and spend more time on tasks that are more essential to the college.
Studies have shown that by managing your own waste, you're able to make clearer and more intentional choices about what you place where, and what you purchase in the first place. While a large part of the responsibility for packaging waste should fall to the corporations who produce and profit from it, we have to do our part to dispose of it the best way possible.
Getting up to bring your waste to a central location bin provides an opportunity to move your body and rest your eyes. The act of sorting materials itself is a little piece of mindfulness in a busy workday. 
*For additional questions or information about this initiative contact [email protected]