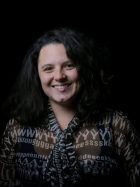 I was born in France and consider myself to be a third culture kid. That is because at the early age of 6 years old, with my family, we started moving every 2-3 years to a different country, including England, Portugal and the Tcheque Republic.
After high school, in 2008, I attended the University of Minnesota and later, in 2020, received a PhD with a focus on the memories of the French pieds-noirs and Portuguese retornados. More specifically, my research through discourse analysis of literary and televisual works authored by and about these populations in conjunction with ethnographic interviews, examines the historical, migratory and(post)colonial commonalities of pieds-noirs and retornados. I have also taught a wide range of classes in the past 10 years. These range from Adult ESL to Portuguese lower and upper division classes to French to adults and children. 
Currently, I teach lower division French at Macalester College.