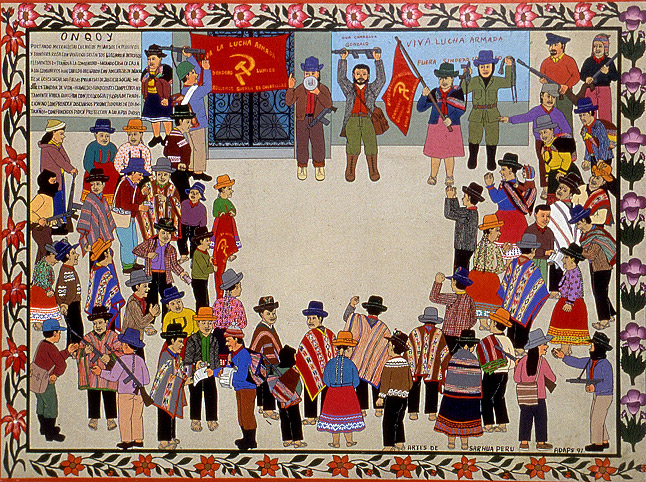 ---
Ayacucho: The Times of Danger
November 16-December 16
Curated by Olga González, Assistant Professor of Anthropology and Latin American Studies.
Ayacucho, a colonial city and once center of an ancient Andean culture, was the site of a bitter war waged between the Maoist insurgency Shining Path and the Peruvian military during the 1980s and early 1990s. This exhibition represents the response of Andean popular artists to the conflict that destroyed lives and relationships, and tore apart the fabric of traditional life in the Andean region of Peru.
Artist lecture on Thursday, Nov. 29 at 7 p.m.
The Piraq Causa [Who is Still to Blame?]:

Picturing Memories and Public Secrets in
the Andean Art of Sarhua
Professor Olga González's talk will focus on the collection
of 24 paintings entitled Piraq Causa [Who Is Still to Blame?],
which depicts the traumatic war experiences that affected
the peasant community of Sarhua in Ayacucho, Peru. She
will discuss the strategies deployed by the artists to produce
"effects of truth" that add force to this type of testimonial
art. The presentation will also address which events were
denied representation, showing at the same time how the
perceived gaps in the pictorial narrative paradoxically give
visibility to hidden truths and public secrets in present-day
Sarhua.