GEOG 365: Urban GIS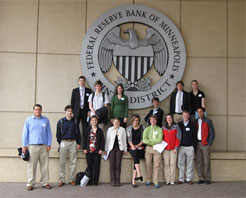 Many neighborhood and community groups, local units of government, and research organizations have begun to implement Geographic Information Systems (GIS) in a wide range of tasks related to research, planning, and management in urban areas. In this class, we participate in a "real world" application of our knowledge and skills in GIS in a semester-long collaborative research project.
In previous semesters, we have partnered with neighborhood community groups around campus to study Macalester students living off-campus, and with the Community Affairs department of the Federal Reserve Bank of Minneapolis to study the patterns and characteristics of mortgage foreclosures in the Twin Cities and the jobs-housing spatial mismatch hypothesis for the Twin Cities metro.
Laura Smith, Associate Professor
Civic Engagement Projects
*The project reports listed below may be downloaded in their entirety from the Geography Department's Civic Engagement page.

SPRING 2016: Examining the Context of the Northside Achievement Zone (NAZ)
SPRING 2015: Identifying Leading Indicators of Gentrification
SPRING 2014: The Minnehaha Creek Watershed: Mapping the Master Water Stewards Program
SPRING 2013: Minneapolis Riverfront Vitality Indicators Project
SPRING 2012: Examining Local Housing Markets: Five Twin Cities Neighborhood Profiles
FALL 2010

: Mapping Indian Land Tenure in Minnesota

SPRING 2009: Changing Conditions and Neighborhood Stabilization in North Minneapolis Neighborhoods
SPRING 2008: Examing Spatial Mismatch in the Twin Cities Metro
SPRING 2006: North Minneapolis: Examining Neighborhood Trends with GIS
SPRING 2005: Land Use Regulations in the Twin Cities: Spatial Trends
SPRING 2004: Foreclosures in the Twin Cities: Analysis of Spatial Trends