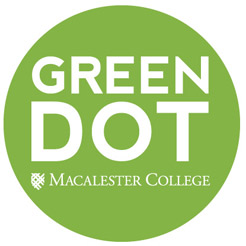 The Green Dot strategy is a comprehensive violence prevention approach that capitalizes on the power of peer and cultural influence. Informed by social change theory, the model targets all community members as potential bystanders. Through awareness, education, and skills-practice, individuals are encouraged to engage in proactive behaviors that establish intolerance of violence as the norm, as well as reactive interventions in high-risk situations. Specifically, the program targets influential and respected individuals and subgroups from across the community, and seeks to engage these groups in an education program that will enable them to integrate moments of prevention within existing relationships and daily activities.  By doing so, new norms will be introduced and those within their sphere of influence will be significantly influenced to move from passive agreement that violence is wrong to becoming proactively involved.
Learn More About How Green Dot is Research-Based and Proven Effective
Learn More About How Green Dot is Targeted at College Campus Communities
The Macalester College Office of Title IX & Equity conducts anonymous student feedback evaluations after every Green Dot Bystander Training on campus. We use this evaluation data to tweak program content and training delivery, plan for future trainings on campus, and assess campus climate around sexual violence and prevention efforts on campus. View recent feedback summaries below:
Green Dot is the copyrighted material of Dorothy J. Edwards, Ph.D. and cannot be used without explicit permission.