Liz Schneider-Bateman, MSW, LICSW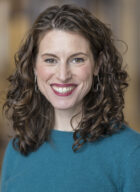 As a clinical social worker, Liz's work, both in the campus community and with individuals, is grounded in values of social justice, equity, respect, and compassion. Liz is passionate about creating a campus culture that prioritizes well-being in meaningful ways, and takes every opportunity to advocate for this with campus partners. Liz is also passionate about the power of healing in connection with others through group therapy and community outreach. In work with individuals, Liz focuses on helping students develop a more empowered and compassionate relationship with themselves through understanding the impact of the environment on individual well-being, identifying student strengths, exploring their identities and lived experience, and increasing strategies for self-advocacy and emotional wellbeing. Liz is a certified DBT clinician, and incorporates mindful self-compassion into her work.
Liz identifies as a cis-gender, White, heterosexual, female. Her cultural influence is primarily European (Irish, English, Czech). She is from the Midwest Region of the US, and the Twin Cities are her adopted home. Liz is committed to the ongoing process of self reflection, understanding and dismantling her own biases, and identifying ways she contributes to inequalities in healthcare in both interpersonal interactions and in developing policy.