Moving your body every day is an important aspect of building resilience to college stressors. And you don't need to be an Olympic athlete to experience the undeniably positive effects on your mental health and overall well-being. These free classes are designed to help students of all abilities manage their anxiety, get stronger, stretch out, sweat, and feel better.
These classes are a partnership with the Athletic Department.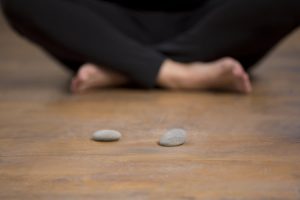 Yoga for Anxiety Management – Offered virtually for Spring 2021
Tuesdays, 4:45 pm – 6:00 pm
March 30 – May 4, 2021 – Module 4 Registration
Note: Attendance at all six sessions is required for this class.
This class will guide students in understanding and developing the tools to manage their anxiety. Each session will explore breath, mindful movement, and grounding techniques. We will focus on different skills and practices each week in order to enable students to develop insight into what helps them manage their own anxiety and skillfulness in meeting their own needs. Students will be encouraged to use in-class practices, emailed written materials, and guided audio meditations to build stability and self-compassion on their yoga mats and beyond. Practice outside of class is highly encouraged, and students will receive guidance to help them incorporate anxiety management skills into their daily activities.
During the current coronavirus pandemic, this class will provide an opportunity to connect with others, and it will support students in managing the stresses of unpredictability, isolation, and personal/collective hardship.  Led by Jacqueline Vlietstra, yoga instructor specializing in yoga for mental health.
Yoga for Anxiety Management has been offered since Fall 2018.  Over 85 students have taken part in this class.  In response to course evaluation questions:
100% of students reported that they are better able to manage anxiety as a result of taking this class.
Ongoing Classes, Module 4, Spring 2021
Module 4 classes begin the week of March 29, 2021 and meet for six weeks. Register here.
These classes are led by students. You will receive a confirmation email if you are enrolled in the class.
Yoga
No Classes during Module 4
Aerobic
Urban Dance
Thursday, 5:00 pm – 6:00 pm, virtual
In this class, you will learn step-by-step routines and dance to urban music. You will learn original pieces of choreography that draw inspiration from various street styles including hip hop, jazz funk, and waacking. You are encouraged to add your own style into the choreography as you like, based on your interpretation of the movement and rhythm. All experience levels are welcome. Take time out of your school schedule to practice coordination, stay active, and have fun!
Instructor: Mona Reddad
Strength
Weightlifting for Women of Color
Tuesday/Thursday, 11:30 am – 12:30 pm, Stadium Auxiliary Fitness Area
Weightlifting for Women of Color is for those who seek to defy the social norm of the weight room demographic with a supportive and open mentality. The sessions are open to all levels. Beginners who want to learn proper weightlifting techniques are encouraged to join.
Instructor: Katie Sowerby