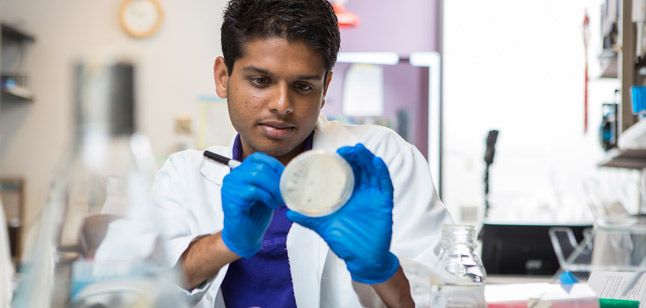 The Macalester-Howard Hughes Medical Institute Academic Health Sciences Summer Research Program (AHSSRP)
Would you like to conduct biomedical research in the laboratory of a physician-scientist at the University of Minnesota this summer?
Would you like to be a member of a cohort of outstanding students like yourself who are considering medicine, biomedical research, dentistry, pharmacy or some combination of  these?
Would you like the chance to see first hand how a physician-scientist balances a research program with a clinical practice?
Apply to join this program that will train the biomedical scientists of tomorrow! Students will conduct 10-weeks of full-time research in the laboratory of a clinical researcher and have the chance to meet and work with University faculty, graduate students, medical students and other outstanding undergraduates. You will receive a $4500 stipend along with free housing and a meal plan at the University of Minnesota.
The program starts with a 3-day orientation at the U's scenic Lake Itasca Biological Field Station with 50-60 other undergraduate researchers. Students then return to the Twin Cities campus to begin their research. Over the course of the summer, students will meet weekly for journal club to read primary literature on selected topics in clinical research and have the opportunity to shadow their mentors in a clinical setting. This program will be a component of the Life Sciences Summer Undergraduate Research Program (LSSURP), so students will also participate in all LSSURP activities including social events, graduate school and medical school information sessions, and the final student research poster session and banquet.
The AHSSRP targets students considering careers in medicine, biomedical research, pharmacy, dentistry, or some combination of these careers. U.S. citizenship is not required for application to this program.
Eligibility
Students must have a cumulative GPA and GPA in science classes of 3.0 or higher and completed at least 3 biology and 3 chemistry classes by the end of spring semester.  Applications need to be received by the Science and Research Office by 5:00 pm February 13, 2017.
Summer 2016 participants
Duncan Claypool, poster title:  The Impact of Collagen Thermal Stability on Sircol Assay Output and Potential Assay Modifications for Screening
Kareem Ismail, poster title:  Synergistic Chemotherapy and Viral Therapy Treatment Induces Immunogenic Cell Death in Non-small Cell Lung Carcinoma
Nicholas Sorenson, poster title:  Mother to Baby: An Evaluation of Cytomegalovirus (CMV) Transmission via Breast Milk and Protective Maternal CMV Antibodies in Very Low Birth Weight (VLBW) Infants
Summer 2015 participants
Isabela Alesna, poster title:  Characterization of gp138.1 and 138.2 in Guinea Pig Cytomegalovirus Infection
Ted Bebi, poster title:  Sox7 Regulates Vascular Development by Modulating the Notch Signaling Pathway
Alexander Dash, poster title:  Role of JAK/STAT Pathway in Mediating Sensitivity of Non-Small Cell Lung Cancer Cells to Vesicular Stomatitis Virus Expressing Human Interferon- β (VSV-hlFNβ)
Elizabeth Warren, poster title:  The Role PKCε in the Regulation of Nicotinic Acetylcholine Receptor Subunits α6 and β3
Summer 2014 participants
Cody Dail, poster title:  Effects of Extracellular Matrix Substrates on Osteogenic Development
Andrew Olinger, poster title:  Analysis of Guinea Pig Cytomegalovirus (GPCMV) Glycoprotein GP129 as a Potential Vaccine Candidate
Benjamin Tittle, poster title:  Spectrophotometry as a Technique for Evaluating Hemopexin in Plasma from Transgenic Sickle Mice
Hannah Whitis, poster title:  Genomic Engineering and Pharmacotherapeutics to Model Human Deafness