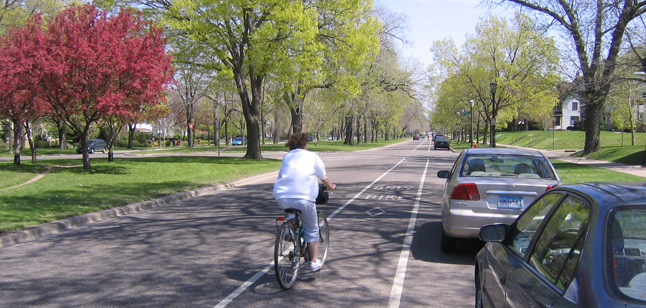 Neighborhood Location
Macalester-Groveland & Merriam Park are two adjacent neighborhoods tucked into the western edge of St. Paul.
The Macalester Groveland neighborhood extends east from the Mississippi River to Ayd Mill Road and to the north from Randolph Avenue to historic Summit Avenue. The neighborhood has a population of nearly 20,000 people living in a mix of single-family homes, apartments and dorms. Neighbors patronize a vibrant array of corner shops, locally-owned stores, grocers, restaurants, and an historic movie theater. The neighborhood is home to Macalester College, St. Paul Seminary and a portion of the University of St. Thomas campus.
Merriam Park / Union Park is a neighborhood extending north from historic Summit Avenue to University Avenue. Union Park encompasses several neighborhoods that merged to form one district council.
Neighborhood Councils
St. Paul is divided up into 7 City Council Wards and 17 District Councils or neighborhood areas. These Councils are partially publicly funded and  function as community sounding boards.  The Councils each elect neighbors and local business representatives to their boards who listen, inquire, plan and act on a wide range of matters, including zoning and land use, traffic and parking, and capital spending. The Councils are also a vehicle for area residents, businesses and institutions to identify, plan, and address community goals.
Parks
Neighborhood Information, Facts and Events
St. Paul Snow Emergencies A Snow Emergency is a declaration the city uses after snowfalls of usually 3" or after an accumulation of snowfalls of 3" or more.  Once the declaration has been made, a set of citywide parking rules goes into effect.  These rules allow Public Works crews to effectively and efficiently plow, allowing us to plow full-width while still allowing on-street parking.
Grand Old Day is the largest one-day festival in the Midwest, drawing over 250,000 people each year. The event is held along Grand Avenue, Saint Paul's premier shopping, dining, and entertainment district.  The parade is the 2nd largest in the area with over 180,000 in attendance. Grand Old Day features Family Fun Activities, Art, Sporting, and Entertainment. Several stages along the Avenue feature live music.
The history of Macalester-Groveland begins when the land was sold to a few settlers in 1854, who established farms and orchards. In 1858, when Minnesota became a state, the area became Reserve Township. Beginning in the 1880's the Short Line Railroad connected St. Paul and Minneapolis. Macalester College moved to its present site in 1884 and Old Main was completed in 1887. Also in 1887 St. Paul began acquiring land adjacent to the Mississippi River. By 1909 streetcar tracks were laid along Snelling Avenue resulting in a residential building boom. By 1930 the neighborhood was largely established.