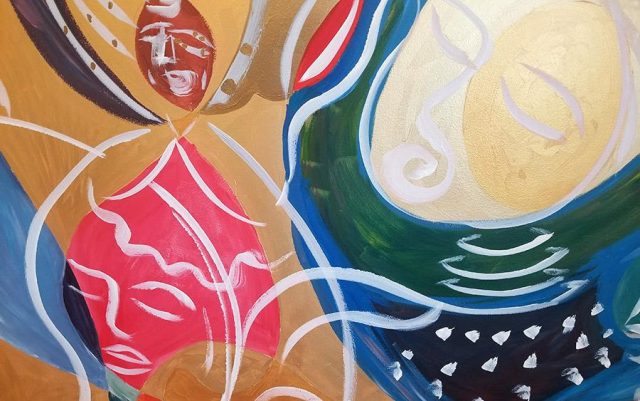 Class of 2025
Antara Bhattacharyay, Music
Leo Corral, Sociology
Karla Garcia, American Studies
Huihui Jiang, Religious Studies
Louise Yang, Sociology
---
Class of 2024
Francesca Bernardino
Major: Sociology
---
Gabriel Gonzalez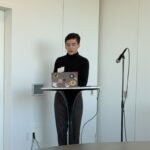 Major: Classics
Project: "(Re)imagining Sexuality in Ancient Greece: How the Present Can Teach Us About the Past"
Are the sexual lives of ancient Greeks truly different from our own? Is heavy theory needed in order to interpret the terms and conditions under which the Greeks performed sexual relations with the same sex? Or can we allow ourselves to let the lived experiences of queer individuals today be a framework through which we understand sexuality 2,000 years ago? In other words, what can queerness today teach us about sexuality in antiquity? Since the study of sexuality has become no longer taboo in higher education, the narrative of queerness in antiquity has been constructed on heteronormative terms for heteronormative consumption. Though the scholarship has reformed itself in waves, the methodology, however, has remained the same, primarily concerning itself with presenting sexuality defined in heterosexual terms. Unfortunately, this comes at the expense of the queer lived experience because it asserts heterosexuality as the only way through which sexuality can be understood. If we dare to step outside of our comfort zone and allow sexuality to be explained by queer individuals, we could reach a more thorough and authentic understanding of sexuality 2,000 years ago and, most importantly, in our present day.
---
Arushi Nair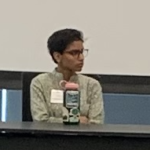 Major: German Studies
Project: "Reconstructing German Studies: Roma & Sinti Experience and Expression"
Is the future of German studies inherently white? This project engages the necessity to reconstruct the field of German Studies. My focus is on reimagining the curriculum of German history to include the Roma and Sinti as an active voice, which informs a larger ongoing effort to ensure that the current growing populations of migrants and refugees do not become victims of the same devastating history. At this stage in my research, I have analyzed the origin myth and its harms, scholarly work addressing the Roma and Sinti in Germany, as well as memoirs and literature from Roma authors themselves. Ultimately, I hope to spotlight the voices of the subjects of history and initiate a departure from the longstanding focus on ethnic Germans in the political, social and cultural history of Germany. The history of the Roma and the effort to put them at the forefront of their own history as well as in German Studies acts as a model of resistance to dominant white German culture for emergent minority groups navigating demographic shifts. My aim with this project is to impact the ways in which minorities in Germany will see themselves represented not only in history, but in the media, parliament, or the workplace. Analyzing this larger issue of representation within the discipline through the lens of the Roma and Sinti, allows us to critically reflect on what and whom we deem valuable in a nation's history, and implores us to look more closely at who is a part of history as it unfolds.
---
Neisy Rodriguez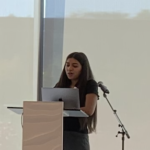 Major: Sociology, Spanish
Project: "The Effect of Illegality on Child-Rearing Practices in LatinX Mixed-Status Families"
My research focuses on the child-rearing practices of Mexican parents unauthorized to be in the United States to shed light on how they accommodate the child-rearing practices of their U.S.-born children based on their legal status. Within the field of sociology, race, ethnicity, gender, social class, and sexuality are known to impact child-rearing practices. However, through my project, I would like to call attention to the extent of the impact that unauthorized immigration status has on the lives of young adults. Lack of legal status influences child-rearing practices. My research will fill in the gap of the study of family dynamics in mixed-status families, specifically looking at how unauthorized parents make accommodations in their child-rearing practices. My main research question is, "To what extent does illegality shape child-rearing practices in mixed-status families?" I argue that immigration status is more important than other factors such as race or class because immigration status requires parents to make accommodations to their parenting styles due to their understanding of the importance of legal status and the consequences of not having one. For example, unauthorized parents often prepare their children in case they are deported; this does not happen in families where all members are authorized. I will conduct an ethnographic study that will consist of multiple interviews with Mexican parents in the Chicagoland area that immigrated to the United States in the late 1990s and early 2000s. Through these interviews, I will analyze how illegality has impacted messages, practices and resources that parents pass down to their children in their day-to-day lives. Scholars who have informed my research approaches so far are Joanna Dreby and Roberto G. Gonzalez with their terrific studies of illegality and family dynamics.
---
Jack Keller (beginning January 2023)
Major: Chinese
---
Class of 2023
Muriel Ambrus(Graduated December 2022)

Major: American Studies
Project:"Contextualizing Resistance in Minneapolis Post George Floyd: How Do Race and Class Inform How We See Violence?"
How do race, class and neighborhood affiliation shape Minneapolis residents' perceptions of the events that took place after George Floyd's murder? Growing up in the Twin Cities, I have long been interested in state-sanctioned violence against marginalized communities and the general public's acceptance of this violence that maintains the status quo and quells resistance. My project centers on the aftermath and repercussions of the 2020 uprising in Minneapolis. My work has included analyzing neighborhood demographics in comparison to voter data, interviewing Minneapolis residents from different race and class backgrounds about their position on police abolition, an extensive bibliography on police, looting and riots, and writing on abolition and inequality in the Twin Cities. Under the lens of American Studies, I seek to examine how race and class influence everyday perceptions of what constitutes violence. In the wake of a massive uprising against police abuse in Minneapolis, why were more residents seemingly outraged by property destruction than by the violence and governmental negligence that plagues the lives of Black working class residents in Minneapolis? Scholars Vicky Osterweil and Samuel L. Meyers Jr. are crucial to my work. Osterweil demonstrates how Black communities might retaliate against the state through wealth redistribution, property destruction, and rioting. In turn, Meyers Jr. exposes what he has coined the Minnesota Paradox, the intense disparities reinforced systematically that give white Minnesotans better outcomes in employment, housing, jobs, education and health care. In the wake of sustained insistence on nonviolent demonstrations only, why is there no outrage for violence on an institutional level and how can we move beyond framing racism solely as interpersonal actions?
---
AJ Papakee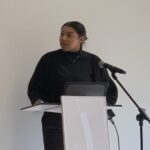 Major: American Studies
Project:"Indigenous Revitalization and Environmental Justice: Lower Phalen Creek Project in Practice and Context"
What does land revitalization and resurgence look like for Indigenous communities and how does this provide a vision for the future of our communities? I answer this question by closely considering how the Lower Phalen Creek Project, a local Dakota-led environmental project based in St. Paul, MN, recognizes land deprival and models Indigenous revitalization. As an intern at Lower Phalen Creek Project, I am assisting with compiling a comprehensive tour guide of the history of the Wakan Tipi/Bruce Vento Sanctuary. This site was a sacred meeting and ceremonial space for Dakota and other midwest tribes, which was first destroyed upon settler contact and Dakota removal. It has been a decades-long project to restore and recreate this space through renaming and re-storying the site's history. Lower Phalen's present goals as an organization are Urban Conservation and Restoration, Environmental Justice, and Cultural Connections and Healing. I hope to bridge my personal experience with Lower Phalen Creek Project alongside my Indigenous and Black environmental justice perspectives, particularly focusing on the parallel histories and present-day realities of Indigenous and Black dispossession. I am building on the works of both historians Dr. Kyle T. Mays's An Afro-Indigenous History of the United States and updating Indigenous scholar Jim Rock's historicization of Wakan Tipi to discuss how we think about place, memory, and land connections and belonging. I examine where Black and Indigenous perspectives converge and how this convergence transforms community activism and relationships to the land.
---
Zaryn Prussia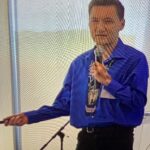 Major: Anthropology
Project:"Being a Good Relative: Decolonization Through Mino-Bimaadiziwin"
How is my Indigenous Anishinaabe community restoring itself from the environmentally and culturally destructive effects of historic and ongoing colonization? At Gaawaabaabiganikaag, or White Earth, my people's relationship with the Land was almost severed as a result of settler-colonial practices such as land erasure, forced assimilation, and extractive logging and mono-cropping. Through separating us from the natural world, colonizers have sought to alienate us from the land, weaken our sovereignty, and extract resources. We continue to deal with the consequences of colonization such as sickness, loss of culture, and poverty. Inspired by my elders and community, life experiences, and volunteer work with Indigenous Kichwa communities in Ecuador on decolonial projects relating to sovereignty and sustainability, I spent this past summer researching and volunteering in my community in Minnesota. Through working with my community on decolonial projects, such as community gardening, traditional leather making, and language revitalization, I have come to know more about what decolonization looks like in my community at a practical level. Decolonization involves restoring responsible, reciprocal, and familial relationships with Mother Earth and the natural world through traditional land-based practices, such as foraging, learning one's ancestral language, and giving back to the land. I have come to understand these relationships as part of Mino-Bimaadiziwin or "Good Living," a concept and practice that is rooted in our traditional Anishinaabe way of life. In this presentation, I share the history of my people on Gaawaabaabiganikaag, discuss the meaning of colonization and decolonization from my Anishinaabe perspective, and show how being a good relative can contribute to sovereignty.
---
Isabel Saavedra-Weis

Major: International Studies, Spanish
Project:"Pachuquismo and Constructed National Identity in the U.S. and Mexico in the 1940s"
Pachuquismo was a counterculture born in the barrios of East L.A. in the 1940s. Mexican-American youth created their own social group defined by specific clothing, music fusions, and linguistic dialects. However, on both sides of the U.S. and Mexican border, pachucos had a poor reputation. In the U.S., mainstream media portrayed pachucos as juvenile delinquents and domestic threats. In Mexico, pachucos were mimicked and heavily criticized for their Americanization. In this essay, I identify how U.S. and Mexican mainstream media reacted to pachucos, and what those portrayals can tell us about the imagined national identities in both countries. I am centering my studies around three main research questions: (1) How did U.S. mainstream media portray pachucos, and what can that tell us about the imagined "American" national identity in the 1940s? (2) How did the Mexican film industry portray pachucos, and what can that tell us about the imagined "Mexican" national identity in the 1940s? (3) How do pachucos portray themselves through their music? To answer those questions, I look at three media sources from the 1940s to analyze the ways pachucos were criminalized, rejected, and celebrated: a Disney cartoon, a Mexican comedy movie, and a music album compiled by pachuco musicians from Los Angeles. Taken together, these sources demonstrate that the U.S. and Mexico were creating imagined national identities that were in direct opposition to each other, and excluded pachucos for their fusion and hybridity. I argue that contrary to the messages in mainstream media, pachucos were not purely rebels without a cause. Pachucos had agency: they asserted their belonging and cleared space for future generations of Mexican Americans.
---
Gabby Whitehurst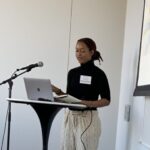 Major: Religious Studies, American Studies
Project:"Healing Separation in Schools"
How can we reimagine American K-12 education as a restorative and healing space for Black students? This interdisciplinary project is rooted empirically in the fields of education and American Studies, but will be using methods found not only in those fields, but centrally in religious studies, sociology and anthropology. This project looks at the American school system as an apparatus of capitalism from its conception. Much like other institutions of capitalism, the school system works through punitive conditioning to create separation between students, teachers, and their classroom community. This conditioning also includes a separation between actions and consequences that can tear away at students' sense of self and belonging. I want to focus on education specifically for Black students and Black communities because throughout United States history, literacy and other forms of education were criminalized for Black people, who, since slavery, have found insurgent ways to communicate and educate. Even after slavery, Black history has been considered subversive to teach, and insurgent education, or "fugitive pedagogy" continues to this day. This history is often not considered in the classroom when thinking about what accommodations and safe space for students look like. This summer I worked with Breakthrough Twin Cities as a 9th grade literature teacher. Part of the teaching model that is one of the reasons I chose to work with Breakthrough is that they claimed to work from a restorative justice framework. One main question that I reflect on is how can educators create healing communities in schools in an increasingly policed environment? Looking back to insurgent Black means of education like oral histories, storytelling, learning through music and dance, and even the creation of secret or discreet spaces of learning, can help guide practices that, in addition to restorative practices, can aid in Black education.