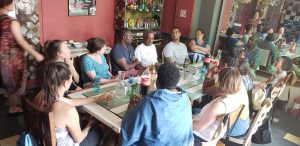 (Photo credit: Harry Waters, Jr.)
The Annan Institute for Global Citizenship works with partners across campus and in communities to provide meaningful professional development seminars for faculty and staff. Using immersive learning strategies, participants explore emerging cultural and political issues in communities close to home and around the globe. These multi-day transformative experiences generate scholarly and pedagogical innovation and interdisciplinary collaboration.
Faculty Development International Seminars foster collaborative learning about scholarly topics, the exploration of new pedagogical approaches, and reflections on engaging political and cultural issues across disciplines and identities. Past seminars have brought participants to places such as South Africa, Australia, Malaysia, and Brazil.
Urban Faculty Colloquia bring faculty and staff participants together with community members in local and national urban settings. Participants explore historic contexts of place as well as emerging issues facing neighborhoods today. Participants consider how urban environments connect with academic programs as they consider curricular collaborations across disciplines.