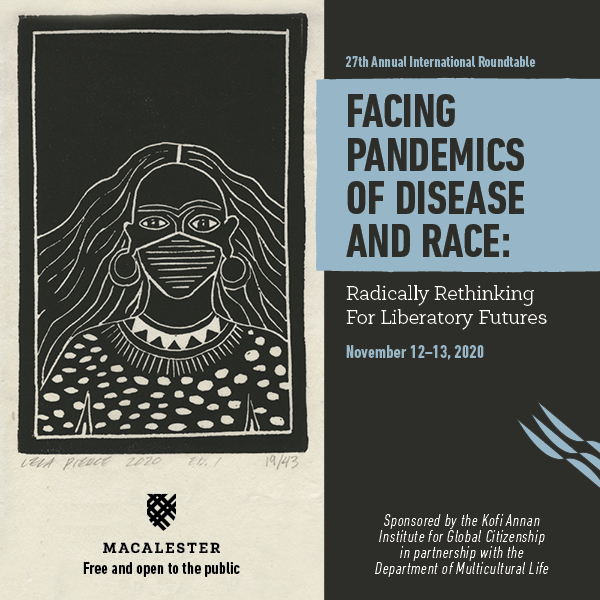 Thursday, November 12
11:30 a.m.-1 p.m.
Plenary Panel discussion
State of Emergency or State of Opportunity? Tools and Practices for Self-Determination 
Opening Welcome, President Suzanne Rivera

Moderator: Donna Maeda, Dean, Kofi Annan Institute for Global Citizenship

Cecilio Ortiz García, Hubert Humphrey Distinguished Visiting Professor of Energy Policy and Governance, Environmental Studies, Macalester College
Marla Pérez Lugo, Hubert Humphrey Distinguished Visiting Professor of Environmental Sociology, Environmental Studies, Macalester College
Duaba Unenra,

Director of Neighborhood Engagement and Learning, Confluence Studio

Quito Ziegler,

Professor of Humanities, School of Visual Arts, and Co-founder, Mutual Aid NYC
The COVID-19 pandemic has created a state of emergency that has disrupted "normal" ways of living, learning, working, and interacting. Protests against the murder of George Floyd and ongoing police violence have contributed to the sense of social destabilization associated with a state of emergency. Both the coronavirus pandemic and the protests have brought to the surface inequalities and inequities related to long histories of anti-Blackness, racism, and white supremacy. Communities of color have been the hardest hit by the coronavirus due to existing health, economic, and social inequities that affect access to health care and employment in sectors that are vulnerable to transmission of the virus. The proliferation of images of police violence on social media has brought attention to these disparities and increased calls for more equitable distributions of rights and access to resources. 
Yet uneven attention to emergencies of COVID-19 and police violence raises questions about the nature of the emergencies, the inequities they unveil, and their pervasiveness long before the pandemic struck the United States. The president of the U.S. has heightened the public health crisis by a failure of leadership and has created fertile ground for anti-Blackness and racism to proliferate. While some point to a political crisis created by this presidency, critical analysis of anti-Blackness, racism, and white supremacy shows that U.S. notions of freedom and democracy are built on enslavement, genocidal practice, the stealing of indigenous lands and resources, and colonialisms. These relations are built into political and legal norms and structures. 
In "State of Emergency or State of Opportunity? Tools and Practices for Self-Determination," panelists Quito Ziegler, Duaba Unenra, Marla Pérez Lugo, and Cecilio Ortiz García will speak to the experiences of those on whom exceptionalist notions of the U.S. have been built. For some communities, the founding and development of the U.S. has been the catastrophe; inequities related to COVID-19 and policing are its symptoms. Thus, the endings of known worlds is not a new experience. Those who have survived enslavement, colonialism, genocidal practice, displacement, the theft of land and other resources as the groundwork for a nation, its laws, governance structures, and ideological legitimation note that the colonial state is breaking and ask: What is worth saving? Panelists will consider opportunities made possible by ruptures to "normal" worlds.
Panelists will look at alternatives created by communities who have survived and developed spaces for living outside systems and on the margins of structures of power under U.S. "democracy." They will discuss innovative approaches to self-governance and self-determination  that can lead us to rethink our relationship to dominant forms of governmentality and education.  
Professors Marla Pérez Lugo and Cecilio Ortiz García will speak from their experiences developing mutual aid for collective survival and energy justice in the wake of hurricane María in Puerto Rico. Duaba Unenra, who identifies as a survivor of both Hurricane Katrina and reconstruction efforts in its wake in New Orleans, takes off from Black philosophies to move alongside notions of liberation and resistance toward collectively building alternatives. Quito Ziegler draws from years of organizing in intersectional queer communities in Minneapolis and New York to build community-based forms of self-governance. Both Unenra and Ziegler are engaged with developing mutual aid in neighborhoods near George Floyd Square. Panelists will draw from their experiences in Puerto Rico, New Orleans, New York, and Minneapolis to talk about tools and practices to move beyond survival as resistance to self-determination.
---
4:30-6 p.m.
Discussion and Reflection
Participants will have the opportunity to reflect on and discuss questions that emerge from IRT themes: how might we better understand anti-Blackness, racisms, and white supremacy as foundational as we see inequities that the pandemics unveil? As worlds we have experienced as "normal" shift or end, what might we learn from communities that build mutual aid and alternative forms of collective care and governance for self-determination? What does this mean for our work in higher education, in the Twin Cities, and at Macalester?
---
Friday, November 13
11:30 a.m.-1 p.m.

What Do We Want? Printing the Future
Professor Ruthann Godollei, Wallace Professor of Art and Art History
Come by the exterior of the Art Building (location TBA) to co-create ideas for change in printed patch and poster form. You lend us your 1-2 word ideas, inspired by the IRT, and printers, led by Art Professor Ruthann Godollei, will print one free for you to keep and one to post. We will have a clothes line exhibit of the collected prints and post them in the IRT and online. We will be hands on printing in a safe, socially distant process promoting equitable exchange. Look for the printing press on wheels.