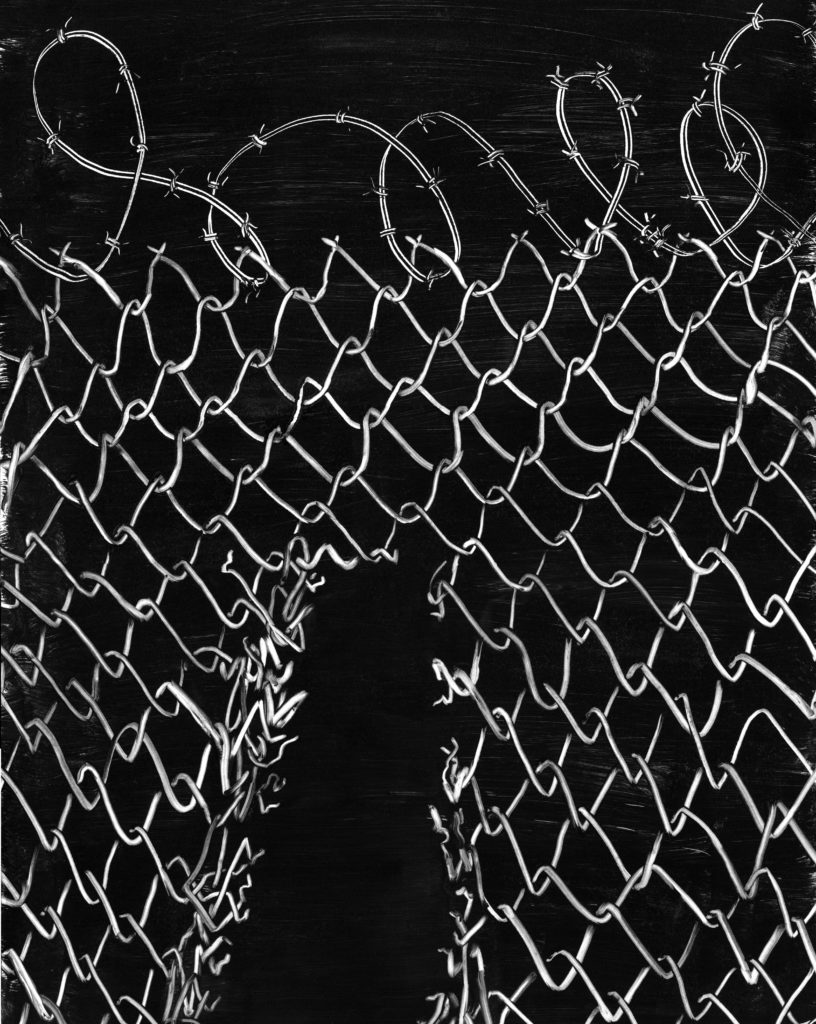 ---
26th Annual International Roundtable
Incarceration (Un)Interrupted: Reclaiming Bodies, Lands, and Communities
October 9-12, 2019
Every autumn, Macalester hosts the International Roundtable, a community-wide and globally-focused forum exploring critical issues from a variety of perspectives. Macalester invites speakers, academics, practitioners, artists, community members, and performers to offer their work and experiences to galvanize student engagement and prompt thinking across local, national, and global levels through plenary sessions,
student-led sessions, and campus-wide activities.
The IRT builds on the spring 2018 series, CONFINEMENT BORDERS RESISTANCE:
*  American Studies Conference: "Narrating Black Women's Incarceration & Resistance from the 19th Century to the Present" and "MPD 150: A People's Evaluation of the Minneapolis Police Department"
*  Asian Studies Symposium: "Disappearing Muslims: Islamophobia and Mass Detention in Northwest China"
*  Latin American Studies Symposium: "Shifting Borders/Movilizaciones Inciertas/Mobilizações Incertas"
---
Videos of police brutality across the globe… Images of immigrants in cages in the southern United States… News stories of Indigenous people creating an "encampment" to live together along a street in Minneapolis…
Early conversations about a potential theme for the 2019 International Roundtable took place in a context filled with explosive rhetoric about Latinx immigrants and Black protests about violent systems of policing, accompanied by the circulation of vivid images, videos, and narratives on social media. In this context, it was not surprising that the theme of confinements emerged, as campus community members expressed a desire to better understand connections between mass incarceration, immigrant detention and deportation, and the removal of indigenous peoples from their lands. As the Kofi Annan Institute for Global Citizenship partnered with the Department of Multicultural Life to open up brainstorming sessions for the IRT, student, staff, and faculty participants raised questions about the rapidly growing numbers of people confined across the globe; transnational networks for managing populations through global technologies of surveillance and control; the rise of the carceral state; connections to histories of the exploitation of labor and bodies and genocidal practices of removing indigenous peoples from their lands; histories and forms of resistance; and much more. The process of developing the International Roundtable has raised other questions about the relationships between academic scholarship and analyses from communities most affected by practices of confinement. The planning team pondered how to create conversations between those who are directly impacted and those who are working to understand the issues from a greater distance. The planning conversations have brought to the surface basic questions about the role of academic institutions in addressing key social and political issues. As we create spaces for learning and discussing, what is our role in making changes to unjust systems? How is the creation of "safe" and "excellent" places for learning related to practices of setting aside and removing communities who are deemed dangerous (to the nation and "good" citizens)?
We are excited to learn from the plenary speakers and student-led sessions, and to engage in the community-based workshop on Saturday. We have made no attempt to cover all issues or approaches to the broad theme of Incarceration (Un)Interrupted: Reclaiming Bodies, Lands, and Communities. Instead, we hope that the 2019 International Roundtable provides space for learning—and for generating ways to continue to engage after the end of the formal program. We invite you to join us in continuing to decide: what do we do now?
---
As we begin the International Roundtable, we honor the fact that Macalester College and the IRT events are on Dakota land. This is the ancestral homeland of the Dakota people (particularly the Sisseton and Wahpeton bands) who were forcibly exiled from the land because of aggressive and persistent settler colonialism. We make this acknowledgement to honor the Dakota people, ancestors and descendants, as well as the land itself.
International Roundtable 2019 Planning Group:
Karin Aguilar-San Juan, Professor & Chair, American Studies
Paul Dosh, Associate Professor & Chair, Political Science
Olga Gonzalez, Associate Dean, Kofi Annan Institute for Global Citizenship and Associate Professor, Anthropology
Jason Jackson, Director, Lealtad-Suzuki Center, Department of Multicultural Life
Ruth Janisch, Assistant Dean for Educational Partnerships, Kofi Annan Institute for Global Citizenship
Erik Larson, Professor & Chair, Sociology
Donna Maeda, Dean, Kofi Annan Institute for Global Citizenship and Professor of American Studies
Sedric McClure, Assistant Dean, College Access, Retention, and Success, Department of Multicultural Life
Paul Schadewald, Associate Director, Civic Engagement Center, Kofi Annan Institute for Global Citizenship
Marjorie Trueblood, Dean, Multicultural Life
Harry Waters, Jr. Associate Dean, Kofi Annan Institute for Global Citizenship and Professor, Theater and Dance
Acknowledgements:
We would like to thank the many members of the Macalester community who worked to make the 2019 International Roundtable possible. While we are unable to list everyone who contributed, we would like to give special thanks to the following:
Bon Appetit; Campus Activities and Operations; Communications and Marketing; Information Technology Services; DeWitt Wallace Library; Professor Ruthann Godollei, Art and Art History; Samuel Fleming; Catherine Westby, Briggs House; the staff of the Department of Multicultural Life, and the staff of the Kofi Annan Institute for Global Citizenship, particularly Melanie Campana-Gladstone, Paul Schadewald, Matthew Katsaros, and Meg Thorson, Zinnia Schwartz, and Amy Vandervelde.
Shortcuts
---

Eddy Zheng is co-founder of the Asian Prisoner Support Committee.

Dr. Joy James is Ebenezer Fitch Professor of the Humanities at Williams College.

Dr. Stuart Schrader is Lecturer at Johns Hopkins University.